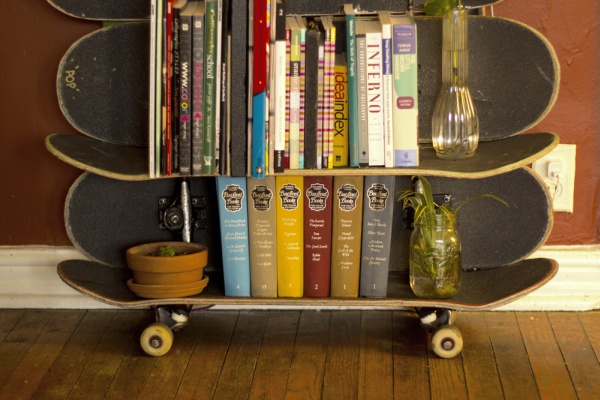 All lot of emphasis is being laid to come up with products that rank high on the sustainability graph. A lot of useful material is dumped in junkyards where it keeps piling up, without anyone trying to make good use of it. Patrick Drake's love for the environment made him come up with a brilliant design, which gives recycling an all new meaning. The designer has crafted a shelf, which has been made from old skateboards.
Christened the Pure Skateboard Shelf, it has been made of nothing but skateboards and its parts. The designer had a passion to collect these parts from many years and Patrick made sure he exploited them well. He made good use of the shape of a skateboard, natural holes that existed in the design and all the hardware that came tagged with the product. This meant that additional cutting, drilling, use of hardware or brackets took a backseat while designing the Pure Skateboard Shelf.
The design is pretty interesting and eye-catching. It is simple and can be used to stack books, magazines and display decorative items like photo frames and ceramic pots. A complete skateboard has been swapped into a bottom shelf and the wheels have not been removed. But, don't worry! The shelf won't roll as the wheels have been tightened to make sure they don't move at all. The base is further stabled as the tails vertical boards used in the design give it additional support.
The two vertical boards are made to rest completely on the base shelf using trucks in the skateboard design, which makes sure the Pure Skateboard Shelf doesn't fall backward or forward. The trucks have been turned in an irregular manner towards the outside of the design. Such a presentation makes these trucks function as a book ends, making sure the books don't fall down. Pure Skateboard Shelf is totally eco-friendly and is a great way to use those old skateboards lying around the house.
Via: Patrick-drake