If you are fond of sparing some evenings spending time with a bottle of wine, good music and good food, you will probably agree with me that not only is wine a delectable beverage, its bottle too has a symbolic significance. Even an empty bottle is reminiscent of the taste of wine and its eerie green sparkles vibrantly enough to dissuade you from throwing the bottles away. Many have in the past repurposed them to make candle holders, vases, etc. But, here we are to tell you about more useful recycling of old wine bottles, which is attributed to Pure Bottles.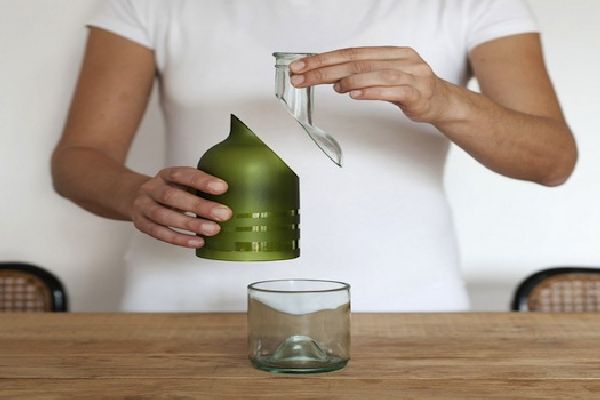 Lucirmas, a Barcelona based studio has designed each Pure Bottle article, including a glass, a spoon and a lantern. These three items are made from a single Pure Bottle, neatly cut for these three. The minimalistic form of these new objects is so designed that the originality of the wine bottle is well preserved and if the they are stacked; they will easily reconstitute the bottle.
Talking about each object respectively; the glass is simple, yet very useful and durable. The lantern will protect the candle light from the wind and create a warm ambiance, and, finally the spoon; it is versatile and functional, both.
This little collection of recycled wine bottle items is exemplary of how recycled stuff can be functional, stylish and economical, all at once. Try re using wine bottles at home or if not that do your bit for the environment and purchase repurposed items from the market.
Via: Psfk