Smart phones are everywhere and have shrunken the world further. They have become as essential as oxygen for working individuals as these phones help us stay connected and bow down to many demands that crop up in this fast paced world. This has further pressurized designers and companies to come up with reliable portable power solutions to ensure that these smart gadgets always remain juiced up.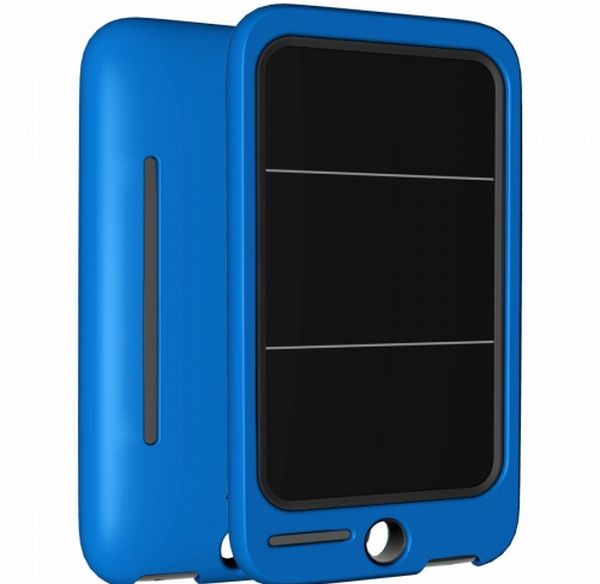 Keeping this ever growing demand in mind, a company named PowerSkin has come up with sustainable charging solutions and SolarCharge and KeyCharge are part of the line. These are battery boosting skins that will provide extra talk time by keeping the phone charged. Both the solar chargers have a blue colored rubberized skin. The skin has been fitted with LED lights, which indicate the battery level of the charger.
PowerSkin's KeyCharge is a 750mAh charger and will provide approximately 90 minutes of extra talk time by harnessing rays from the sun. It can be attached to a key chain and has been crafted in an eye-appealing way. Simply, attach the smart phone to the microUSB of the KeyCharge and see the gadget getting charged without much effort.
PowerSkin's SolarCharge is a 1000 mAh universal charger for all kinds of smart phones as well as iPod touch (all generations). It will lend a good 350 minutes of additional talk time that too in an eco friendly way. The SolarCharge makes good use of sunlight, which is stored and used to charge smart phones. Apart from this, it can also be recharged with the help of a USB in case there is no sunlight.
These environmentally-friendly chargers will be available in February and will come stashed with a price tag of $69.99 (SolarCharge) and $24.99 (KeyCharge).
Via: Alternativeconsumer