As there is a constant need to take steps toward saving precious earthly resources and the natural surrounding, Architects Djuric Tardio also thought of contributing to save the earth by utilizing their sustainable architectural skills. This thought resulted in the creation of the Finnish Larch Home, which is a prefabricated eco friendly house. This beautiful home has several environmentally friendly features and has also been fully developed out of a green construction material, the Finnish larch. To build the house, architects have used a construction system that itself is sustainable.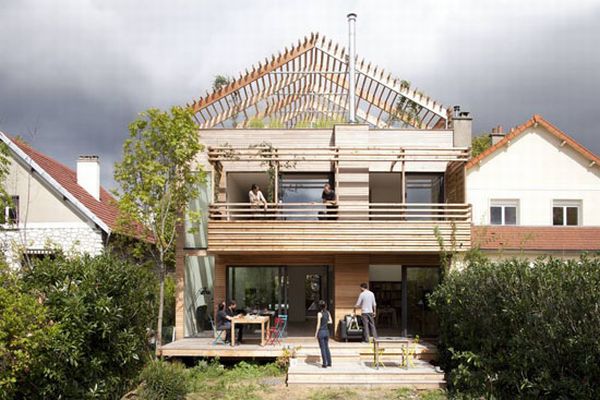 To reduce carbon footprint, the design materials are prefabricated. These pre-constructed units are required to be assembled at the main building site. Architects Djuric Tardio have the proficiency to complete this assembly task within just two weeks. Though the open roof of the house appears to be unfinished, it has been kept as a standard framework so it is harmless to the environment and saves space. There are inhabitants inserted into the roof that get nourished by the incoming sunlight and get transformed into a vegetable terrace. House occupants may choose their favorite climbing plants for this roof terrace and get to eat healthy. The roof is designed to be very much friendly to the environment.
The Finnish Larch Home has a pedestal made of Finnish wood panels that are received from cooperatives of owners of a self-sustainable private forest. For non-treated siding and wood fiber insulation, these cooperatives supply pre-cut panels. These panels are almost finished before delivery and thus contribute to reducing pollution. The south facades and patios of the house allow ample sunlight during winters, while a canopy offers a cool shed during summers. There is provision of natural lighting through windows, as well as proper ventilation supported by shutter openings. Also, the collected rainwater feeds the garden and planters in the house. Thus, the Finnish Larch Home not only has an Eco-friendly architecture, but also runs on multiple green operations.
Via: iGreenspot