Doris Salcedo, a sculptor born in Colombo has exhibited an installation named 'Plegaria Muda' meaning 'Mute Prayer' at the MAXXI, national museum of XXI century arts, Rome. Monica Trombetta a curator at MAXXI organized this exhibition along with Isabel Carlos, the Moderna Museet of Malmo, CAM Fundacao Calouste Gulbenkian of Lisbon, a collaboration of MAXXI and MUAC, the university museum of contemporary art of Mexico City and the Pinacoteca do Estado of Sao Paola, Brazil.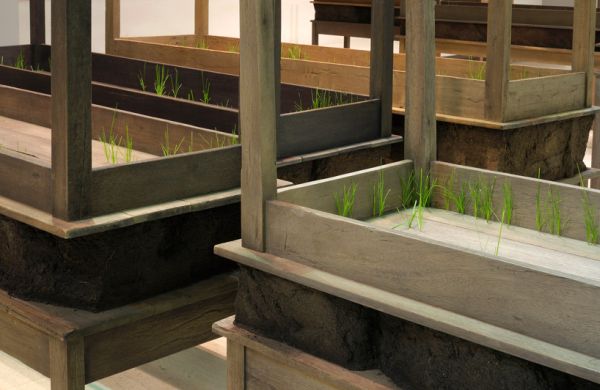 The piece is made of more than one hundred rectangular wooden tables' pairs. The tops of the two tables book end a mound of earth and small grass blades grow through the gaps between the wooden planks of upturned table's surface. The arrangement is repeated and set in such a manner that the observer gets engaged in work, weaving through 'Plegaria Munda' rather than following a set path, mindlessly.
In order to introduce the artist to the public, the installation also has a reading room where photographs of Salcedo's works, monographs, catalogues and detailed descriptions of her process can be found. The sculptural work involving architecture of the MAXXI has spanned gallery space in such a way that both power of Salcedo's work and the vastness of the space are improved due to their relationship.
Via: Designboom