Recycled art is appreciated all over the world mainly because of the creativity it embodies and the green tag it carries. There are many creative people all over the world, who have fascinated us by their recycled art. Sculptor Stuart Murdoch created a copy of a Challenger II tank out of egg cartons to raise money for 'Help the Heroes', a program started by 'Eggs for Soldiers', a charity that helps wounded servicemen.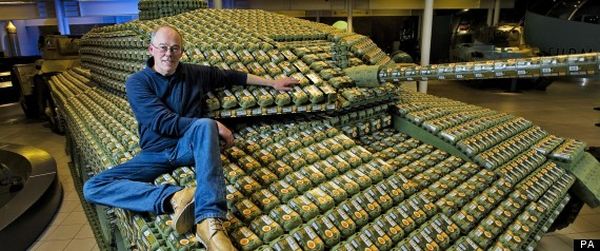 The tank is made out of 5016 egg cartons and the total time taken by the sculptor to make it was 512 hours. The sculptor used 26 liters of glue, 10,100 nails, 15 liters of paint, 80 square meters of steel and 5,013 staples. Although, the looks of the tank hint that it is sturdy and strong, in reality this prototype is fragile and delicate to be used for battles.
The fund raising endeavor, 'Eggs for Soldiers' was started in 2011, whereby 15p from the sale of every egg carton box will be given as charity for injured serviceman and for women returning from conflict.
This sculpture will be showcased to general public at Clap ham Common in London, on March 4. This recycled piece of art will definitely inspire people to be creative and encourage them to make use of discarded material for helping in conserving the environment.
Via:Huffingtonpost