By opting for an eco-friendly lifestyle, we as people can do a lot. However, for the most part, this responsibility hangs on the government that we elect. The masses would force their governments to form a more eco-friendly policy regarding architecture and building design. Since construction forms a major part of our emissions, it would be a great step. In fact, when we are willing to take such steps, there are many examples of sustainable architecture for us.
Examples of sustainable architecture for the future
The current world scenario demands sustainable and Eco-friendly architecture so that we, the citizens of the world, can benefit from them in the future. With similar thoughts, there are certain architectural designs that stand out as wonderful examples of sustainable architecture. Here are 10 such examples of sustainable architecture for your information.
1. Solar Plaza Fargo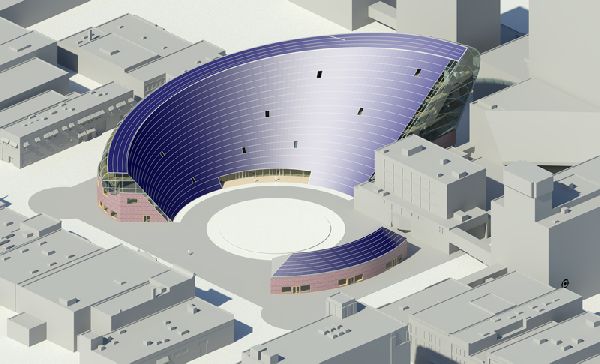 The Solar Plaza Fargo, a mega project in North Dakota in USA, is a great example of sustainable architectural development. This project, built on a sprawling site area of 90,000 sq. ft., has a large solar panel surface in it that's covered by a glass layer. The project houses both residential and commercial use structures. This structure consists mainly of glass so as to let natural sunlight enter the interiors of the buildings. The design of the project encourages and allows space for plantations, sun dial and a central fountain.The parametric design helps to harness solar power through the frameless PV solar panels. This makes Solar Plaza Fargo capable of producing 70,000kWh units per month which totals to 850,000kWh units per year which is around half of the total requirement of the project.
2. Charleston sustainable architecture by Wagner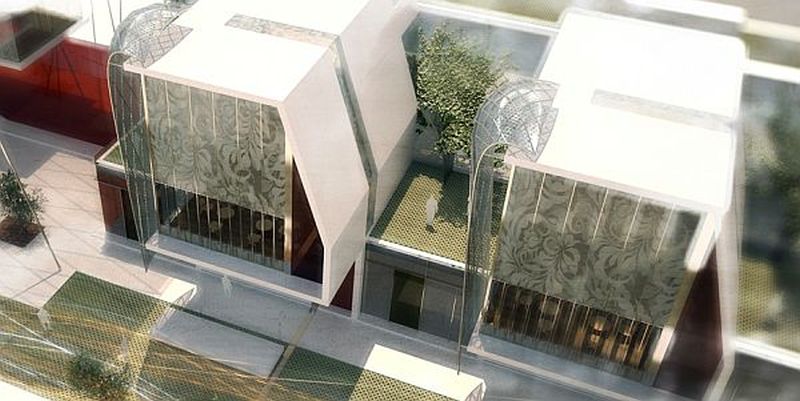 The designer of Charleston, Mathew David Wagner, is a professor at Virginia Tech's School of Architecture & Design who believes in the creation of eco-friendly structures. The design of Charleston includes a group of independent structures. These are meant to be gathering spaces for different outdoor activities which actually are done indoors. Charleston also includes a range of sustainable elements that boost green practices such as provision for storing storm water, exploitation of natural light, cross ventilation, appropriate shading and high albedo surfaces.
3. Georgian CCHR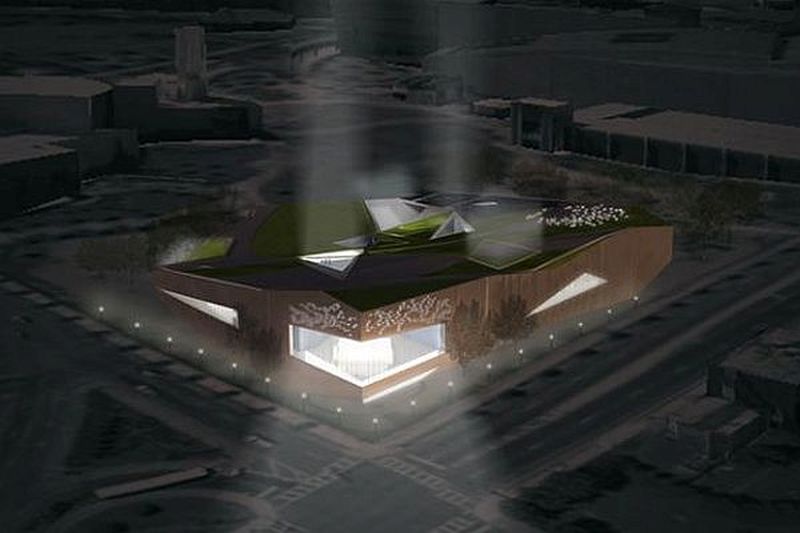 The CCHR or Center for Civil and Human Rights in Atlanta in Georgia, designed by Antoine Predock Architect in collaboration with Moody – Nolan and Perdock Frane, boasts of sustainable architecture that includes green roof and photovoltaic cells. The roof garden works as the cooling system of the building. Moreover, in this design, the photovoltaic panels are there at the most beneficial solar orientation. The architecture of this building also includes various other Eco-friendly features like holding and filtering rain water. The design of the building aims at fossil fuel consumption reduction, utilization of the mass of the earth for heat exchange and introduction of fresh air.
4. Bullitt Center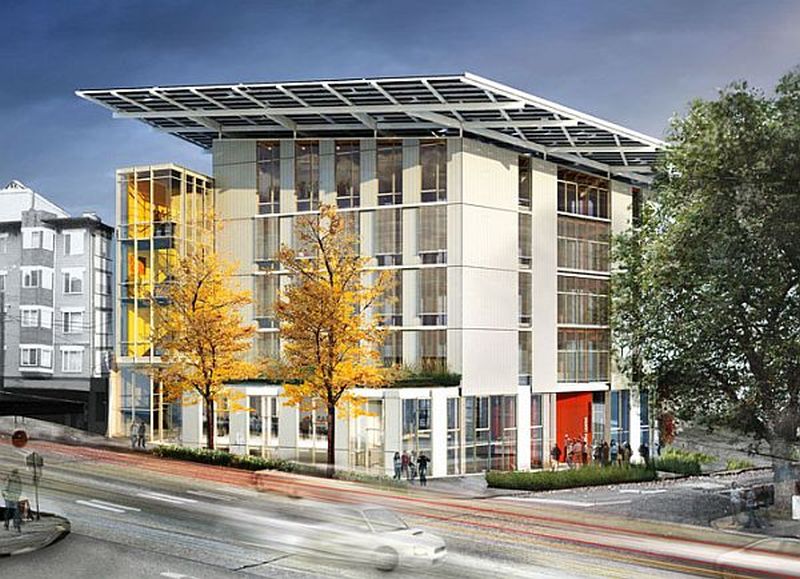 Cascadia Center for Sustainable Design and Construction, Bullitt foundation's new headquarters, is supposedly the most sustainable design for a commercial building in the world. To be set up in North America, the design includes a photovoltaic power plant. It would generate all the necessary power for the building. Not only that, the architecture will also include a 50,000 gallon reservoir that will collect rainwater which then will be treated so that it is suitable for consumption.
5. Lycee Jean Moulin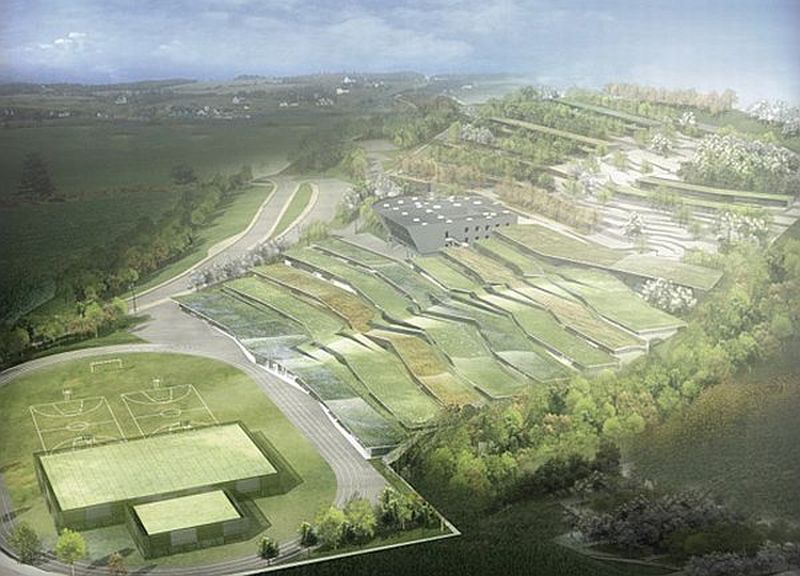 Lycee Jean Moulin is a school in Revin in France that has been built following green practices. The design developed by OFF Architecture along with Jeans Giacinto and Duncan Lewis Scape Architecture is so off-beat that from a distance it is difficult to locate the structure of the building as it blends so well with green landscape of the hilly location. The terraces of the school has layers of grass. Therefore, it does not break the beautiful, natural, and green look of the hills.
6. Project Eco Link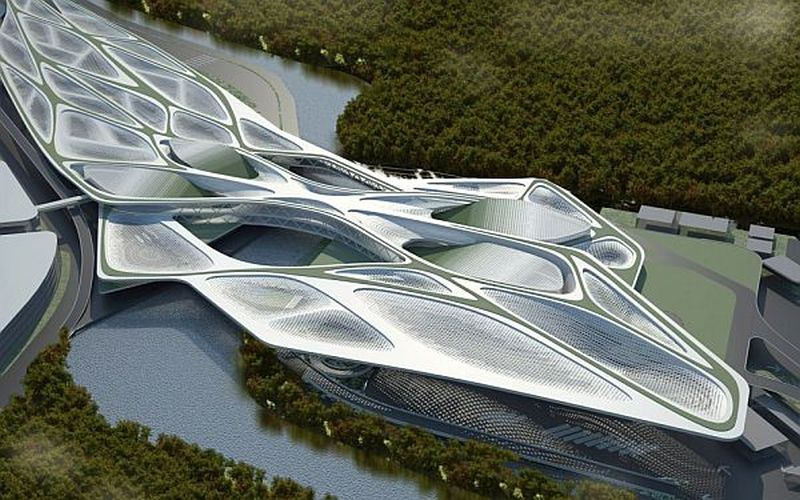 Named as the Eco Link project and designed by architects like Junkai Jian and Jinqi Huang, this is a huge passenger terminal building that is located on a river side. The structure designed in an asymmetrical form with a sloping demeanor allows a lot of natural light inside the building. The building's design allows rainwater harvesting that can be used to meet the water requirement of the irrigation and other plantations and vegetation which are located inside the compound of the structure. The project has solar panels in its roofs that would generate solar power to meet the power requirement of the project.
7. Egyptian Fine Arts Center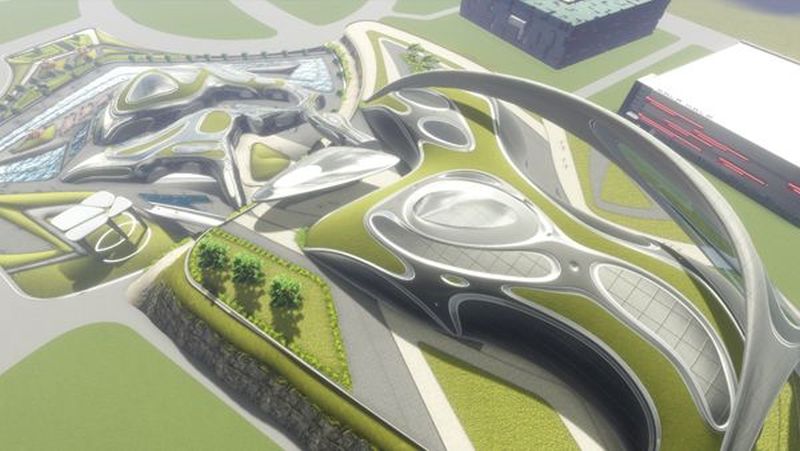 We might soon witness this design for a new Fine arts center in Helwan in Egypt. It is a great example of sustainable architecture. The designer, Moatesem Esmat of Mataria Engineering School, has included various green features in this brilliant, futuristic design. While wind and solar energy would be used to power the premises of this fine arts center, provision for rain harvesting has also been looked into. A lot of the place of this design has covers of greenery. The places that are to be used as courtyards include mechanism. This would allow natural light and ventilation.
8. Wuhan Energy Flower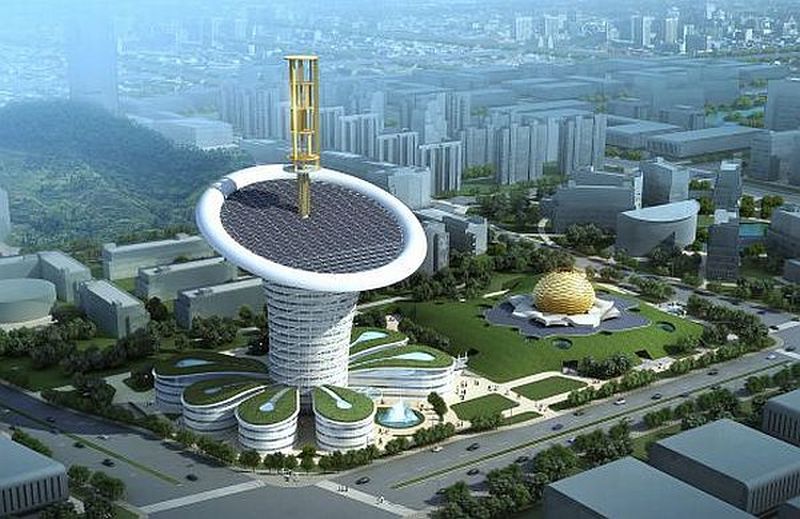 This building is an astonishingly beautiful creation. It is flower-shaped and is the brainchild of Grontmij and Soeters Van Eldonk Architects. Furthermore, it hosts a lot of efficient d green features like rainwater harvesting, solar panels at the roofs, solar chimney etc. While rainwater harvesting and solar power generated through solar panels help to meet the water and power requirement of the building, solar chimney in the middle of the structure helps to maximize natural ventilation. The rim around the bowl functions as a sunroof and helps to heat and cool the structure. The pistil made in vertical axis wind turbines collect renewable energy for the building. This design is the first one in the entire world to be accredited by the BREEM outstanding award.
9. Sustainable Circular Taiwan Tower
The Taiwan Tower, designed by STL Architects, is the tallest structure in the city of Taichung. This circular tower can resist the force of wind along with making the most of renewable sources of energy. The architecture of this structure eliminates the need of mechanical cooling or heating of the building thus saving a large quantity of energy. The central part of the tower is lighter and holds lesser material while saving more of energy.
10. Sustainable educational complex in Denmark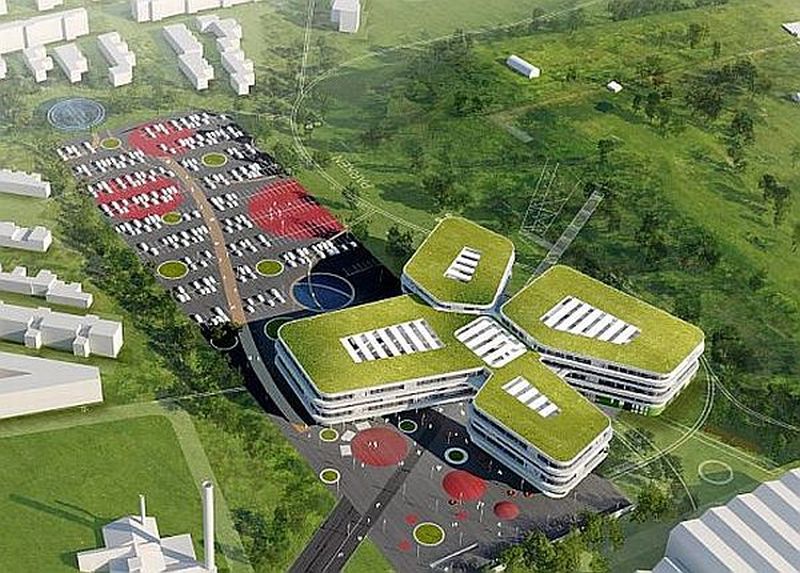 UCN IMAGO is an educational complex. The main purpose of its design is to have a sustainable building for University College Nordjylland. It owes its inception to the GPP architects. To be set up in Aalborg in Denmark, the design consists of four buildings around a common space. The design considers the impact on the environment and therefore the entire concept surrounds around energy efficiency. The architects plan to use solar power to meet the energy requirement of the buildings while making the balconies and overhangs of the common central space act as green sunshades.
11. Rotterdam's Floating Pavilion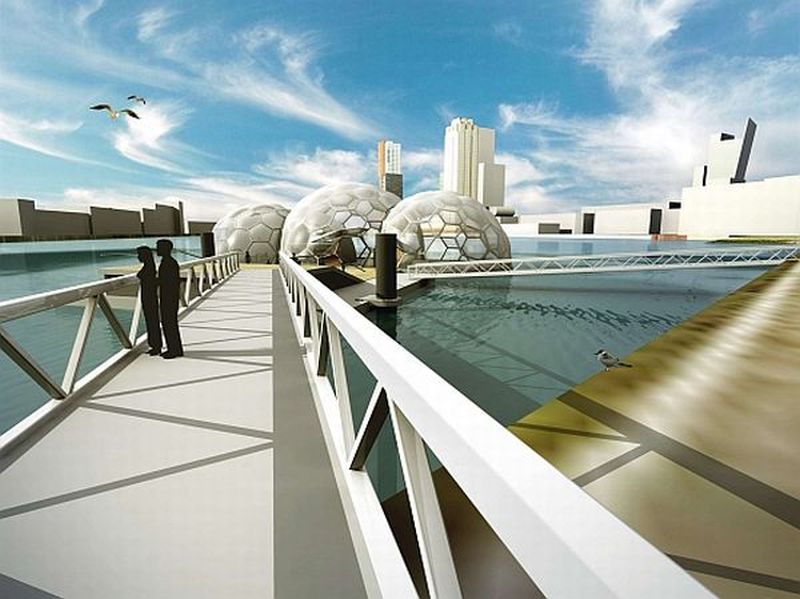 The Rotterdam's Floating Pavilion is designed by Delta Sync Company and this project is still under construction. This amazing structure has a unique design which will consist of three igloos like semi spheres made from a foil named dubbed ETFE which is lighter than glass. With a height of 12m, covering an area equal to four tennis courts, the structure will be mobile. This project will definitely get rid of the tension of rising sea levels because as the level of sea will go up the structure will also be up automatically so there is no question of structure's drowning.
This structure is entirely based on floating architecture. But there are other things as well which will add to the project's eco attributes. The entire structure has been designed to harness clean solar energy, with surface water being used for air conditioning. The structure also contains a distinct quality of having various climatic zones which means that the energy will be used in particular area where it will be required.
Since the structure has been designed to be powered by renewable energy, there rises an obvious problem of powering the structure at night or during cloudy days. Moreover, the strength of the structure is debatable as it might have to face the attack of oceanic currents and salty water.
12. BOA
BOA is another gigantic project founded by E. Kevin Schopfer, AIA and RIBA, which is based on the principles of floating architecture. The structure is designed to provide a safe and sustainable living space for around 15,000 people. The complex will include offices, hotels, condominiums, museums and a massive city hall. The foundation of this incredible city will be formed by pouring concrete in a series into the sea combined together to build a firmer base. To make the city more sustainable there will be sky gardens on the top of the structure.
This city of wonders will have feature like the energy needs will be fulfilled by using photovoltaic systems, wind turbines and harbor-based water turbines. Moreover, freshwater recovery systems will also be incorporated to reduce freshwater demands. The inclusion of passive glazing system and sky garden heating and cooling systems will help in reducing energy demands.
13. Gyre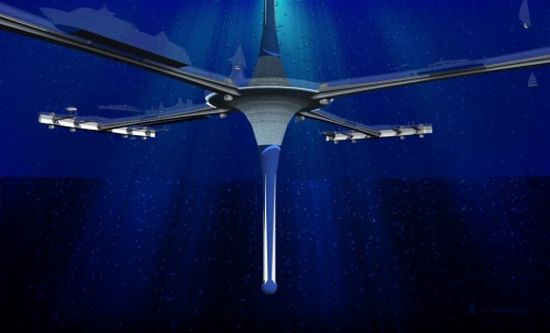 The Gyre project is based on the concept of making a city under water. This gigantic city will have many skyscrapers below water and will cover an area equal to 40 football grounds, an area big enough to have amenities like recreation centers, gardens, malls etc. The idea behind this grand project is to provide housing in future as the ever-rising sea level will one day swallow the cities situated on the sea coast.
This underwater city will make use of sources like tides, sun and wind to generate renewable energy. For water supplies this mammoth structure will rely on fresh water storage basins which will be located at the bottom of the structure. Moreover, the design also includes rainwater harvesting systems.
14. Gyllehaugh Lake House displays sustainability with style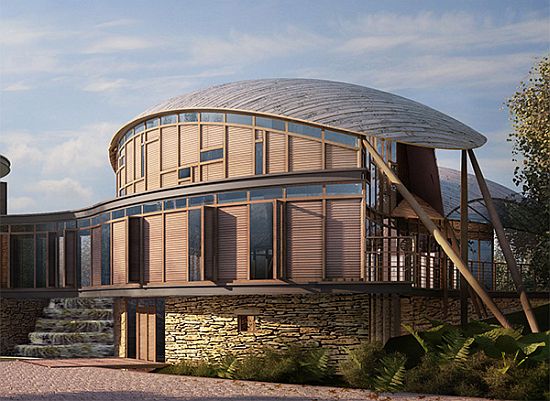 Reid Jubb Brown Architects have shown that going green doesn't always mean compromising on looks and style. The architecture firm has designed a sustainable house design for Northumberland, England to promote green living. The home is to be made from ecologically responsible materials using green building practices and making the most of the renewable energy sources like solar energy. The modern looking home's structure will be made from timber shell constructed of green oak formed using timber gridshell technology.
The home is to be constructed in two parts that would later be connected via a footbridge. The use of wood will guarantee better insulation when coupled with a thermal insulation coating. The windows will carry double-glazing, which apart from providing that also provides insulation to a certain degree. The home would incorporate various active and passive solar technologies that would provide electricity and keep the house warm during winters. Water for irrigation and cleaning will be captured using the latest in rainwater harvesting technologies.
Final Words
Today due to global warming the glaciers around the world are melting and as a result of that the sea level is going up and there is an ever-prevailing peril of sinking of cities standing by the sea and coastal areas. And there are other dangers like hurricanes, lashing rainfalls, tsunamis and earthquakes as well, which are originated because of eco-imbalance and always haunt the cities especially low lying and coastal civilizations. So, a possibility of permanent drowning of these cities under sea surface is ever present there.
The technology and architecture that is presently used to make structures on the land makes them vulnerable to all these natural calamities. So, a question arises for how long all these dangers will spare the coastal civilizations. So, there is an urgency for a change and new technology as it will be more intelligent to have a solution to these problems. Moreover, there is also a shortage of inland housing today. Hence in order to overcome the crises the concept of floating architecture is being promoted. This concept today might be tried for the sake of a change but it will definitely inspire the future housing and architecture.