A couple of years ago, Plantagon, a Swedish American company, had unveiled its plans for designing and constructing an entire series of huge skyscraper greenhouses that would transform the face of farming in large cities. Finally, after a long wait, Plantagon has finally broken ground with its very first vertical farm project at Linkoping, Sweden. This innovative 'Plantscraper' would be the hub of urban agriculture and would provide a solution to the deficit of produce in densely populated cities.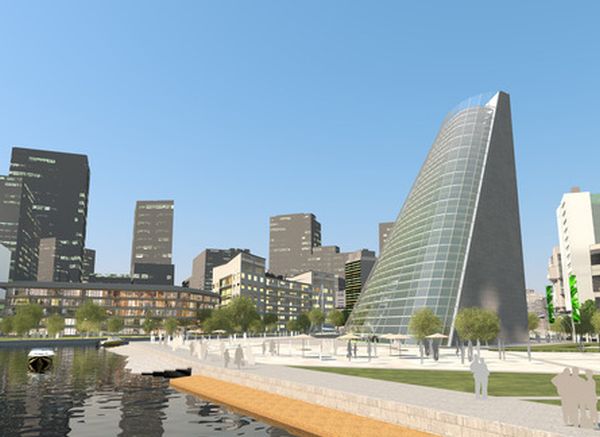 However, one thing that was apparent in the design of the Plantscraper, was that Plantagon had changed its initial design of the geodesic dome and has replaced it with a sheer tower that actually functions as a showcase for the plants that are growing inside of it. This building would be the first prototype of its kind and would be called the 'International Center of Excellence for Urban Agriculture'. This building would provide the scientists with a new place for testing new pathbreaking technologies for optimum urban farming methods.
Inside the plantscraper will be numerous pots, which will be planted with vegetables. These pots, upon germination of the seeds, would be placed in large trays that will be taken up inside a special 'tray elevator' to the huge central helix for giving them the perfect growing environment. The plants grow as the trays slowly move downwards from the helix to the basement for harvesting. The harvesting of the food happens in batches with the help of an automatic harvesting machine. After harvesting, the empty pots and trays are disinfected and separated for replanting them with new seeds. The main machinery of this greenhouse is located in the base of the building.
Along the way, local manure and plant residue would be collected for production of biogas in an anaerobic digester. The biogas that is generated would be used to power the cooling and heating mechanisms of the greenhouse such as the chillers and boilers for dehumidification, and heating inside the Plantscraper. This self production of biogas makes the entire building sustainable and cost effective. The technology used, leads to reduced use of fertilizers and harvesting labor, reduced water consumption, lesser land and simultaneously allows better quality production throughout the year.
The construction of this ambitious greenhouse skyscraper would take anything between one year to sixteen months for completion. However, if the prototype proves to be successful, then it could be a path breaking solution in the field of urban farming.
Via: Treehugger