If you are planning a fun trip around the town with your family and friends and want to enjoy a good fitness workout that also spreads the message of being environmentally inclined, a pedal powered bus might be something to opt for. This is an appealing option for anyone looking for a green active time and some entertainment along the way. There are many pedal buses to choose from but here are some of the best options currently ruling the green market.
The Pedal Pub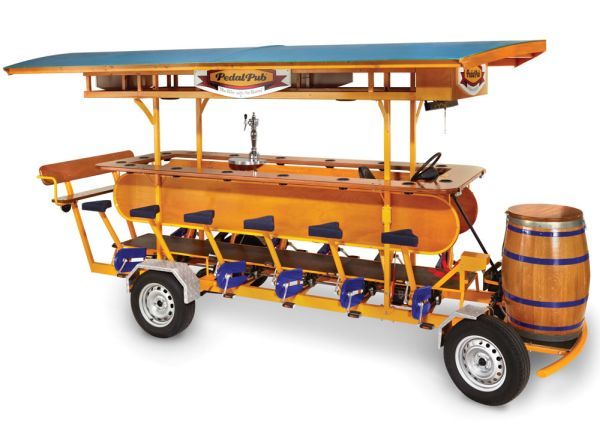 Image Source : Digital.Hammacher.Com
Serve, drive, imbibe, and pedal together with your family and friends in an economical ride with Pedal Pub bus. A vehicle that can accommodate up to 17 people, the bus has a high-grade steel chassis that is reliable and safe. This bus has an open deck with five pedals per seat.
10 paddlers can propel the vehicle for 5mph on flat surfaces. There is a bench in the rear with two seats for accommodating five passengers. There is a steering wheel with a seat for the driver and a low interior deck that runs the full length of the vehicle for a bartender. There is a sound system that supports AM/FM and MP3 connectivity with four speakers above the bar, which also has storage racks beneath its wooden roof.
Off the Chain Bike Bus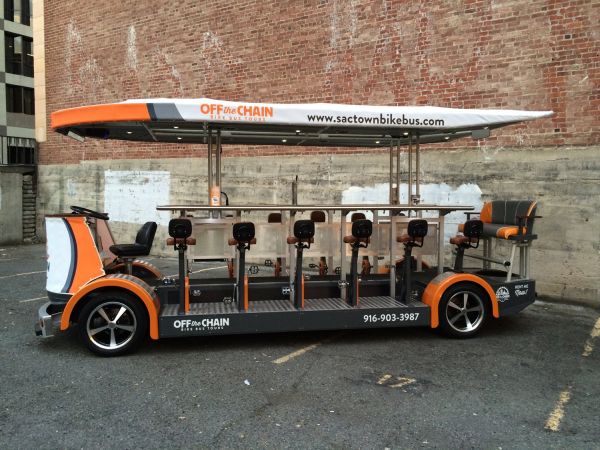 Image Source : Vp.Cdn.Cityvoterinc.Com
Stylish, comfortable, and safe to ride in, the Off the Chain Bike Bus is at the pinnacle of eco-tainment. This Luxury bike bus can accommodate 15 people and a tour instructor and chauffeur. The Bike Bus has an electric feature too in addition to the pedal-powered drive mode. A sound system that offers crisp and high-quality MP3 connectivity has been installed onboard. The roof has LED lighting system for nightrides and adjustable seats for riders.
Sanford Limo Cycle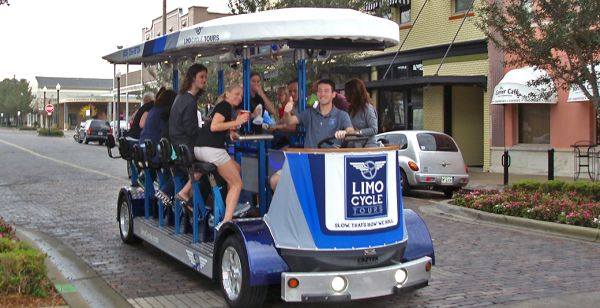 Image Source : Limocycle.Com
The Limo Cycle features 14 seats, 10 of which have pedals for the riders. 10 peddlers can cycle the bus to a speed of 5mph. This pedal powered bus has a complete interior setting for a bar to serve drinks as you peddle. The sound system on this bus can connect to your tablet or smartphone and delivers crisp sound clarity. The canopy of this vehicle has tiny fans that are available for every seat and an open deck for socializing.
Freewheelin pedal bus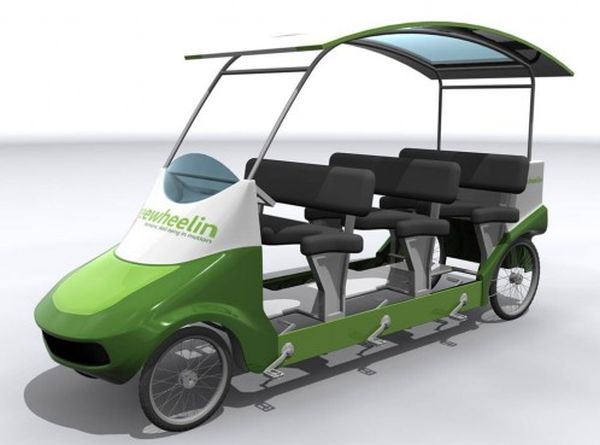 This pedal bus is shaded for allowing easy and comfortable travelling even in hot days. The bus is provided by the company Humana, which is committed to giving people the opportunity for lifelong health and wellbeing. This pedal bus empowers social interaction as well as exercise and can accommodate up to eight people at a time. A 30-minute ride in this vehicle can burn up to 140 to 380 calories. This vehicle keeps the air free of nearly one pound of carbon dioxide for each mile pedalled and is a sustainable way to travel.
Bicycle School Bus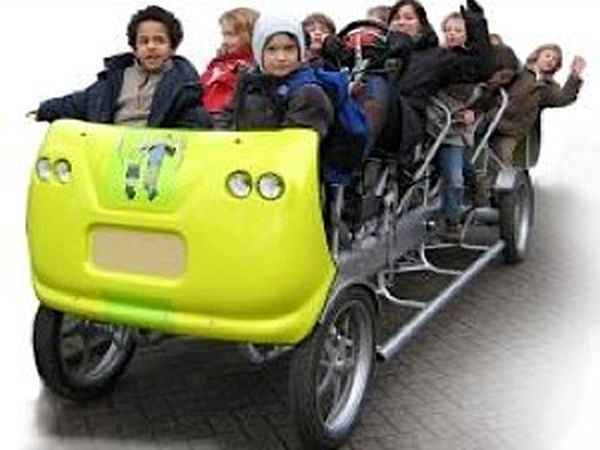 Image Source : Goodnewsnetwork.Org
This innovative avatar of a school bus is pedalled by children to reach school and then back home in Netherlands. Built by TolkampMetaalspecials, this pedal school bus is sold by the company De Café Racer. It has a basic pedal bus design with eight sets of pedals designed for children of ages 4 to 12. There are three bench seats for additional passenger children and a driver seat for the chauffeur.
The bus can achieve a maximum speed of about 10 miles per hour and has a canvas waning for traveling easily in rainy days. The Bicycle School Bus also has a sound system installed in it for a joyful ride where children can enjoy music and also benefit from the workout.
Pedal buses are an innovative and fun way to travel in large groups without leaving any carbon print. These environmentally conscious vehicles are used by many people for travelling while having maximum fun with chilled servings of their favourite beverages.