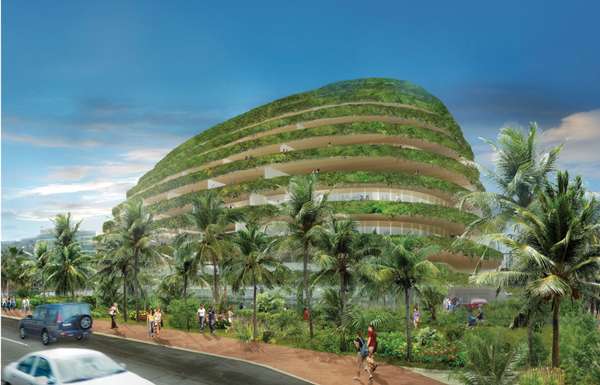 Giving an all new meaning to building designs and topography is Parcel D, which is a housing and green space. The unique concept is brilliant and fresh, which revolves around providing a green design. The environmentally-friendly housing concept has been designed by an architectural company named Oppenheim Architecture + Design and will be situated in San Juan, Puerto Rico.
Parcel D is an unusual concept that will put together the charm of open spaces and privacy. All this will be provided within an urban setup and will prove to be very convenient for single family homes. The clean and green building will consist of 165 housing units. The facade will be draped in vegetation that give the surface of the building a lush green appearance.
Parcel D will unfurl a very friendly environment as all the units share a large courtyard. This centrally placed courtyard will act as the heart of the building and will give it an all new brightness. It will feature many windows that are connected to balconies and are caked in total greenery. Airborne pollution will be reduced because of cross breezes and evapotranspiration, a result of interior greenscape that is a micro-climate. This will also cool the units/residences as well as the interior greenscape will offer gardens and a pool that can be used by all the residents.
The beautiful building will also comprise of a café, restaurant, gym and ground level retail. The plants or green cover will receive all the water required for survival as rain water is collected and stored in the structure. It has been made sure that parking space on the ground level doesn't disturb the pedestrian walkway hence it has been tucked under the ground. Parcel D will help reduce pollution and will also make sure that water consumption is controlled.
Via: Trendhunter