The sight of old literary classics like 'To Kill a Mocking Bird,' 'The Iliad,' '1984', etc. lying across library shelves, smelling of decay surely makes me nostalgic. There was a time when libraries were expansive worlds of books, with hard bound publications, placed in silence, but the lack of spare time and the whimsical digital world is logically changing all of this. For keeping these old time memories alive, artist Daryl Fitzgerald has dedicated a corner that shelves brick book volumes i.e. bricks refurbished into old classic titles and arranged in stacks just the way it would be in a traditional Library.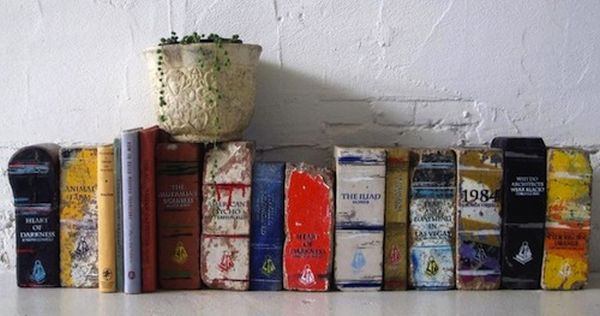 The collection of old brick classics by Daryl is called 'Light Reading'. The name is somewhat ironical, given that bricks are not lightweight and in the olden times there existed a direct relation between the weight and the gravitas of the book, always making sure they looked bulky.
The light reading books are nothing but old bricks that have been stenciled on both sides with titles of literary classic. It is the outer hard cover that have been copied and that too not the way a brand new book would look like, but how an old frayed, overused book would appear. This was precisely why he used only shredded and reclaimed bricks lying around Melbourne, leasing them a new life.
Via: Designtaxi