The influence of technology is inadvertently revealed through today's tech-savvy homes. When designing a house, comfort and appearance are overwhelming elements and (more than often) sideline the idea of incorporating natural ingredients. A nature friendly house, primarily aimed at using nature materials (against man-made ones), is really practical and feasible. A green house can be designed using simple techniques and resources. These components not only restrict further pollution in the environment but also save on unnecessary exploitation of scarce resources. Environment oriented techniques are inherently natural, have an aesthetic value and inadvertently give a natural feel to the residence.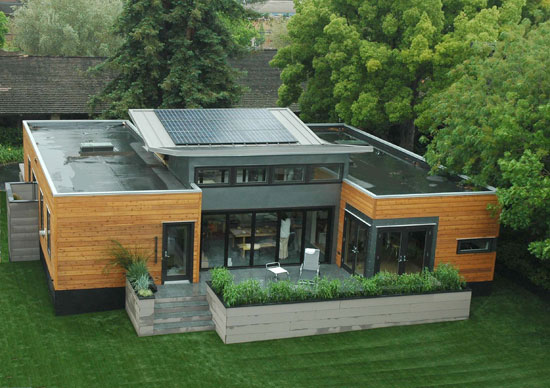 Getting closer to nature through a green home
A house adorning nature friendly components promotes a healthier lifestyle and is a promising effort in protecting the precious planet. The natural and specialized building materials are aimed at keeping the home healthy and sustainable. With increasing inclination towards nature's demands, current trend facilitates new and innovative materials which can be utilized when building an environment friendly house. There can be a considerable amount of saving on money and resources with nature friendly specifications.
A green house, which is essentially sustainable, can serve beyond being an effective shelter protecting you and your family from natural consequences. There are many vital considerations like using non-toxic materials, reducing indoor air pollution, cost effective heating and cooling, appropriate ventilation and increased re-usability of components. A green house is a responsible use of land which performs highly with natural resource management. Other important and helpful inclusions can be optimized use of sun (solar energy), moisture-resistance and strategic window layout for maximized natural ventilation. A green house also entails minimum construction wastage which is also a saving on the scarce resources and energy consumption.
Sloped roof enable solar energy panel installation. Eco-friendly building materials like insulated panel system and bamboo wood floor are also helpful when designing a sustainable home.
There are many other options which can make your house environment oriented. Whether it is the light-weight concrete counter top or bathroom ventilation to remove water vapors for reducing the risk of mold and mildew, all are aimed at making the place healthier and naturally efficient. It is reasonable and rewarding to enhance your home with vivid nature oriented components which speak of the green aspects.
Worthy inclusions in designing a green home
There can be endless options which contribute in making your house design nature friendly. From stone flooring to using energy efficient energy appliances, the opportunities are diverse. You can have your own selection, particularly from your budget's point of view. With time, many amenities are emerging competitively and can be obtained at reasonable prices.
Some important inclusions can go a long way in highlighting the nature friendly arrangement.
Foundation
Foundation is the platform to support your house and can be had in different selections. Concrete slabs, ICF concrete stem wall and embedded post/pier system are some of the options to look for. Concrete, a limestone product, is abundantly available in nature. It has unique properties like absorbs heat, reflects light, can be recycled and is sustainable. Contractors find this a promising construction material which needs minimum repairs and lasts for years.
Other green materials can also serve the purpose depending on the design of house and the underlying requirement.
Flooring
There are attractive Eco-friendly flooring options which can provide sustainability to your house without compromising on the appearance. From the traditional bamboo flooring to exquisite marble floors, the opportunities are manifold. The environment oriented flooring options are made out of naturally existing elements and provide both beauty and durability to your house. Many of them are easy to maintain and cost-effective.
Roof
Roof is another crucial part of a house where you can implement nature friendly specification. The standard EFDM rubber roofing system comes as a sustainable choice to complement your green home. It has a flat appearance but designed with taper to enable removal of water. The drained water can be utilized for purposes like harvesting or watering plants.
A carefully implemented roof design can protect your house from ozone and UV radiations, facilitate sound and heat insulation and can be almost maintenance free.
Windows and Doors
Besides using green construction materials, you can also enhance the usability of doors and windows by choosing the right locations. Naturally ventilated houses are low on energy bills and keep the atmosphere nature fresh. Double glazed, argon filled window and door panes can provide high insulation properties. These can be comforting both in summer and winter seasons.
Lighting
Lighting is one of the simplest green additions to your home. Sustainable lighting systems brighten your house and simultaneously reveal your compliance to nature. Low power and LED lighting can directly save on energy bills.
Makers today provide a wide array of lighting fixtures made from recycled materials. These are made of earth friendly ingredients, like timber, and can serve an alternative to the traditional (non-green) ones. A CFL (Compact Fluorescent Light Bulb) can potentially save energy costs and reduce pollution. CFLs enable high-quality lighting without the heat of incandescent bulbs and can last up to 10 times longer.
Eco-friendly accessories
Energy efficient products have adorned the market, enabling healthy and resource saving techniques for green homes. Using energy saving appliances like dishwashers, washing machines and other home appliances can be less burdening on the power grid.
Among other things, carpets and rugs also serve as important accessories. Carefully chosen carpets and rugs can reduce the levels of indoor pollution. Many usual carpets (and padding options) have plastics made from petroleum. New carpets and rugs can pollute the air with organic compounds (like formaldehyde and benzene). Carpets made of recycled materials are both durable and cost effective.
Conclusion
Living in a green home can be a satiating experience with all the nature supporting elements into it. You can have your green home designed from scratch imbibing all the worthy nature friendly specifications. Else, home buyers may also explore the Eco-friendly house models which are provided by makers. These models are probably customizable to suit individual requirements.