Active volcanoes in Asia and anywhere in the world are the most challenging of dares. They offer shares of thrills and are packed adrenaline pushers. Fuming crater and red ribbon of flowing lava is a sight that you would be relishing the first time. A volcanic eruption is a term associated with fear and widespread destruction.
Everything coming in the route of running magma is reduced to charred remains. Volcanic eruption and the resulting catastrophe are known to have wiped out civilizations in a matter of few hours. The time for evacuation hardly gets a chance before the fury of all-consuming molten rocks.
10 best active volcanoes in Asia for hikers:
If you are ready to brave the treacherous hike up an active volcano, the scenery awaiting you is certainly worth taking a risk. Asia has a number of volcanoes of worldwide fame offering some of the best places to hike. Considered an international benchmark in volcano hiking tours, some isn't an easy climb. And yet some throw down the gauntlet right at you. Here we go:
Ijen volcano, Indonesia: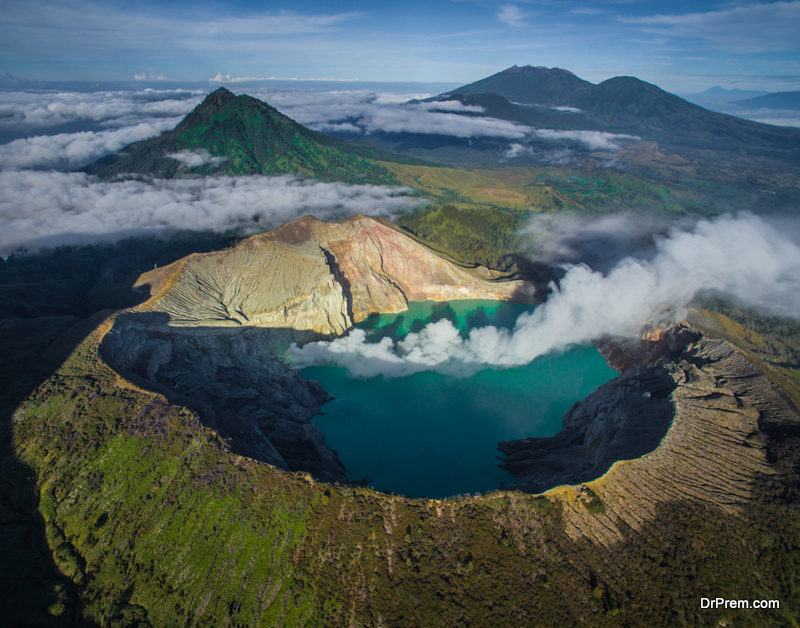 Located on the Pacific ring of fire, Ijen is a spectacular volcano boasting of a turquoise lake at the summit cavity. It's difficult to resist the lure of a bracing atmosphere up there as you take a glimpse of the lake. You feel like taking a dip in crystal water and you will be doing that risking your life. It is highly acidic from heavy sulfur content.
The blue flames of Ijen visible against a dark night sky set up a surreal charm. Its gorgeousness is clothed in an unmatched magical enigma. The blue lava as is often reported spurting from the crater has science behind it. Large deposits of sulfur gas, set aflame at 600 degrees Celsius, impart a blue hue to fire. But the flame and surrounding gas is poisonous. Hikers are strictly advised they wear gas masks while hiking near the crater.
Mt. Aso, Japan:
Its large sized caldera had made Mt. Aso globally famous. An entire prefecture is named after it. The steaming Cyan Lake of the 24 kilometers wide Mt. Aso is its chief attraction. Access to the volcano is made by a cable car ride, so there is hardly any physical stress involved.
At the top, a large gathering of tourists can be seen crowding around souvenir and snack stalls. A number of hot spring resorts make good business. This volcano is more of modernity where civilization has made a dent with less of wilderness and hiking challenges.
Mt Merapi, Indonesia: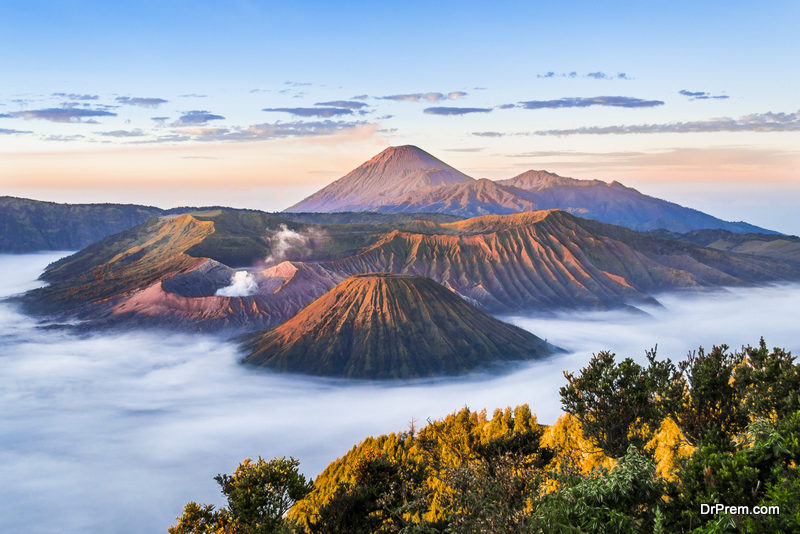 This is the hyperactive volcano in Indonesia promising the best treks in South East Asia. The volcano is nicknamed the "Mountain of Fire", a fitting allegory to its being one of the most active volcanoes in Asia. But despite all its infamous reputation connected to spewing of lethal fire, Mt Merapi is well worth a try.
From here you have a staggering vista of the panoramic chain of Mt. Sindoro, Mt. Sumbing, Mt. Lawu and Mt. Mer Babu encircling the region. It's pretty hot here and hikers are instructed to start at early hours when it is still dark. This enables making it to the summit before the scorching sun beats down.
The 4-hour climb demands physical fitness of hikers. Along the route, gradients are challenging. Besides, rocks existing along the climb are not to be trusted much as they can come loose and cause an accident. Before commencement of the hike, a lot of preparatory steps are required.
Kadovar, Papua New Guinea:
It spewed its wrath in January 2018 announcing its threatening existence as one of the active volcanoes in Asia. Eruptions sounded like an impending disaster afoot. With a two kilometer width, Kadovar stands 365 meters above the coast of Papua New Guinea.
Local tribes dwelling on the rim of the crater had to make a panic rush as plumes and smoke were thrown up. The debris and smoke traveled across more than 10 kilometers from the epicenter. Still, it is well worth a hike.
Mayon Volcano, Luzon, Philippines: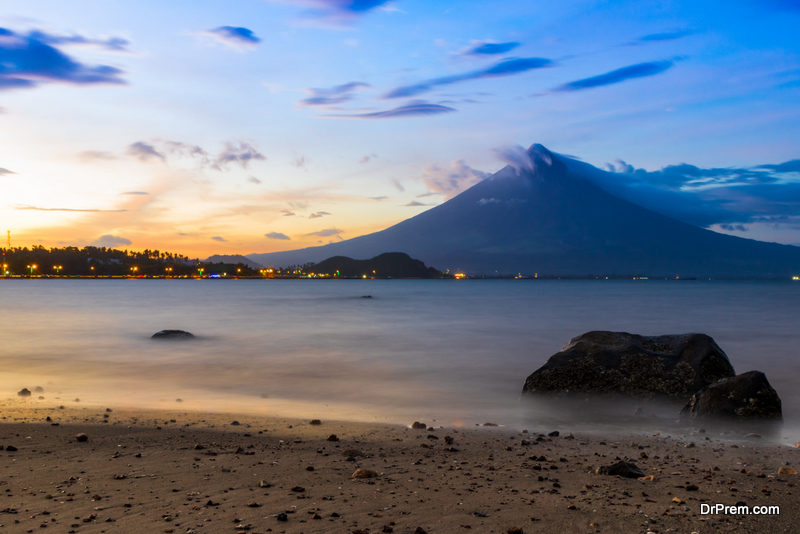 This is another one of active volcanoes in Asia named after a beautiful Filipino princess with a face appreciated for unparalleled symmetry. Mayon is lauded for its perfectly symmetrical shape. As you get close to the crater, smoke rising from the cavity would throw an arresting charm.
There exists an array of routes around the mountain to scale the summit. All of them are challenging and wonderful. The route to select would largely rest on the physical fitness of hikers. From the summit, a breathtaking panorama of the city of Legazpi and the Pacific Ocean is clear. However, climbers are warned against the unpredictable character of this volcano known for sudden eruptions.
Mt. Hallasan, South Korea:
This volcano stands 1950 meters above the sea level and home to 4000 species of animals and 1800 species of plants. The Crater Lake Baekrokkdam offers an amazing view. This splendid destination which means ' Hundred Deer Lake ' has a lore attached to it.
Mystic fairies from heaven land on the lake to have a fun frisk with white deer. Spring is the favorite season for the hikers to catch the blooming azaleas up in the mountain. It is an easy climb for hikers and needs a daylong 10-kilometer hiking tutorial.
Mt. Bromo, East Java, Indonesia: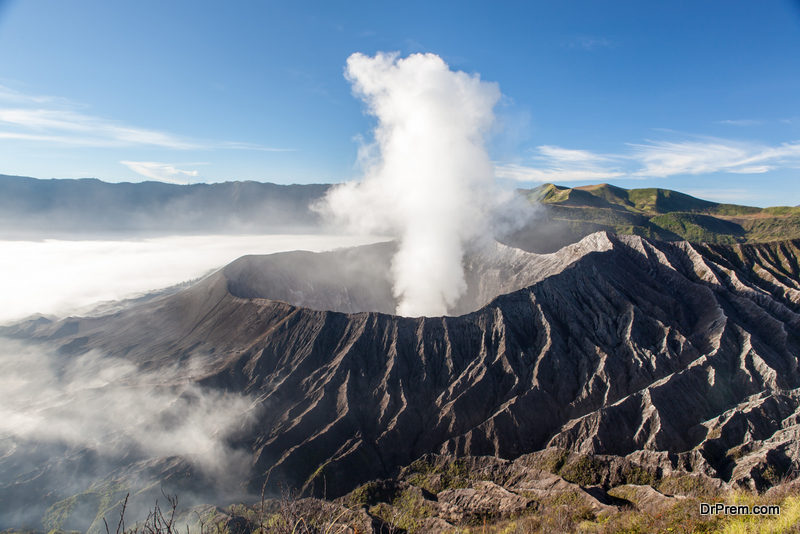 This is another amazing active volcano in Asia, which is also one of the best places to hike in the sense the climb is smooth and short and sweet. The sweetest part of it is the hike is over soon and yet the scenic beauty up in the wild is mind blowing. The sunrise is the show stealer and to get a full view of its celestial glory, you need to start at two in the morning.
An early schedule helps you avoid the crowd that gathers as the day progresses. The scenario up in the mountains recalls scenes from Mad Max. The best time to visit is from June to August. For a great stay, Jiwa Jiwa resort is recommended. Make your booking after checking the climate forecasts. It promises one of the best treks in South East Asia for sure.
Sanabung, Sumatra, Indonesia:
After 400 years of slumber, Sanabung proved itself as one of the active volcanoes in Asia. Since September 2013, there is a constant eruption accompanied by a volcanic earthquake. Magma shoots up and plumes are thrown up into the air through 11 kilometers. Volcanic mudflows and emerging hot gas, rubble and ash have heightened its menacing character.
25 victims fell dead hit by the catastrophe. Indonesian Natural Disaster management Authority had announced displacement of 7214 people in August last year. Nevertheless, for those adventure loving hikers, Sanabung is a name to reckon.
Taal volcano, Philippines :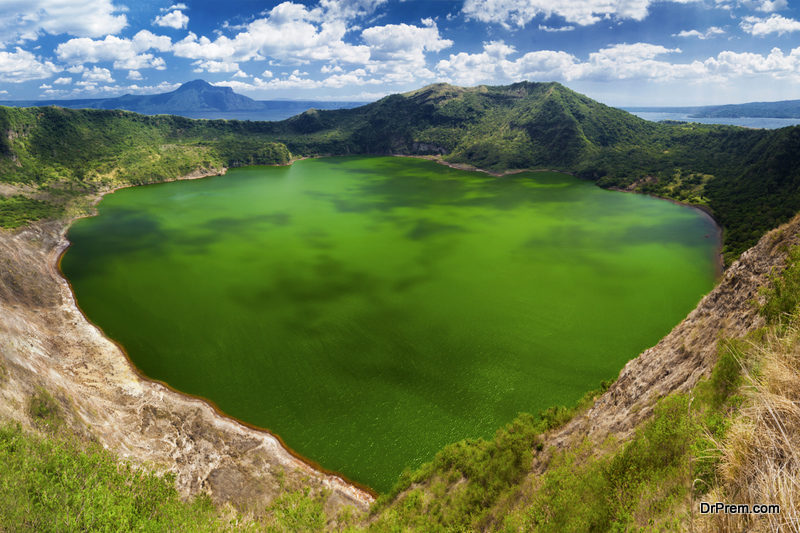 Taal is among the most active volcanoes in Asia and a dangerous one too. Yet a large number of hikers cannot resist its enticement. Located on a picturesque island and sitting in a lake, Taal is one of the smallest volcanoes. It hasn't spewed flame since 1977. That makes it foreboding as to when it would vent its fury all of a sudden.
The holiday town of Tagaytay is close by, featuring spa and golf attractions. The lake can be crossed on boats to reach Taal for hiking at your pleasure. Small horses are available for a ride if you find hiking a little too tiring. Trekking around the narrow rim is the cream of the trip. The best time to visit is from November to March
Mt. Fuji, Japan:
No volcano hiking is complete without Mt. Fuji featuring in. At 3776 meters, Mt Fuji stands majestic, rightly tagged the national icon.  The scenery is picture perfect and had inspired thousands of landscape artists. If you are in the quest for an adrenaline rush, Mt. Fuji is your destination.
It is a 4-8 hour hike and every summer sees about 200000 enthusiasts hiking up the slopes. Gliding bases and schools exist at the 5th station Gotemba parking lot. Cloudy spells may keep you from scaling the summit. Those who cannot make it, divert to the scenic Hakone to the east of Mt. Fuji. An alternate attraction is Fuji's five lakes to the north of the volcano.