Opting for "Green alternatives" as flooring options is a trend fast catching up with environmentally aware consumers, who want to do their bit by sustaining the delicate balance of nature. A host of materials have thus made their entry to the field. The use of these eco friendly materials do not harm the nature in any way, are replenish-able and to top it up are equally aesthetic in appeal. The following list of materials are the latest green flooring favorites amongst the eco conscious buyers: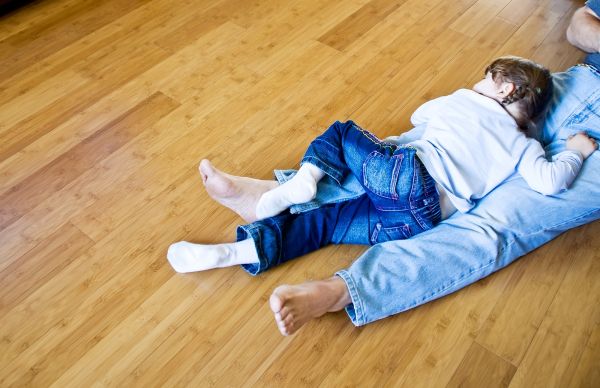 1. Cork
Cork is obtained from the bark of the cork oak tree without harming the tree. The process of extracting the bark partially in every 9 years and leaving the tree to replenish itself makes cork as one of the most desirable green flooring alternative. Besides, being environmentally friendly, cork enjoys other advantages over the other conventional man made options. Cork being naturally available comes in delightfully abundant textures and patterns, is light weight, mold and fungi resistant, noise insulated and equally easy to install. Not only that, it is soothing to feet and good for health too since it does not contain any artificial toxins.
2. Reclaimed wood
This is one option for people who love to transport back in time. These reclaimed woods come from salvaged ancient buildings, schools and barns. The hardwood is collected, assorted, converted into planks for easy installation while retaining its age old charm. This wood is suited for people who desire wooden flooring without harming the nature or cutting down trees. Reclaimed wooden floors are durable, offer a variety of choices to the end user such as coming from maple, oak, white pine or chestnut trees besides, ofcourse holding a part of history in their folds.
3. Bamboo
Another renewable material that comes from the womb of mother earth, bamboo, is a fast growing grass rather than a conventional tree that takes years to grow. Bamboo as a flooring option is durable, microbe, pest and water resistant. It produces 35 percent more oxygen, does not require any harmful pesticides for growth and is easy to harvest. It is available in various naturally occurring textures, is light weight and comes in planks for easy laying and installation.
4. Linoleum
As a flooring option, linoleum is picking up as a preferred option for architects in the current times. Linoleum is biodegradable, non toxic, anti microbial, water resistant and long lasting. It is a compound that is made from materials that occur naturally. Linseed oil, wood flour, cork dust and tree resins being the main ingredients are subsequently pressed together onto a vegetable fiber backing. These are then made available as tiles or sheets in vibrant colors. Linoleum floors are hypoallergenic and repel dust, thus are apt for use in kids rooms, hospitals and offices.
5. Wool carpets
As opposed to the synthetic carpets that hold volatile chemicals that remain in the environment for a long time and thus are harmful, wool carpets are made from the naturally occurring wool. These are soft on feet, light weight, last longer and are biodegradable. Although wool carpets are eco friendly in nature, there are certain disadvantages such as its highly absorbent nature that attract molds, moisture and dust that contribute to its not making as a preferable choice amongst end users. Wool carpets are also a costly option ranging from about $25 to $100 per sqft. However, their superior quality, softness and durability make up for the disadvantages.
6. Stone Tiles
These eco friendly tiles are most preferred for wet floors. Stones retain their age old beauty and texture and thus bring nature into one's home or office. Besides, even if the flooring is required to be changed, the same stones tiles can be recycled by making them a part of external landscaping. Thus they never lose their charm and can be reutilized in variety of ways. While limestone is best suited for use in bathroom flooring due its slip resistance properties, it is equally soothing to walk in bare feet. Another advantage of stone tile is its solar heating character which makes it a great choice for use in places with low temperatures.
Thus the modern customers have a variety of eco friendly options to choose from in the current times that not only look chic in their natural forms but also do not violate the ecological balance by depleting natural resources.