If you are passionate to learn about new green residences, Monika Wierzba's Floating Eco House concept will keep you amazed for a moment. The mesmeric green residential facility is designed giving much heed to the current challenges to the nature. The impressively designed Floating Eco House, which can be moved along water and land, will provide residents a great green ambiance and as well help reduce their carbon footprints in a significant level.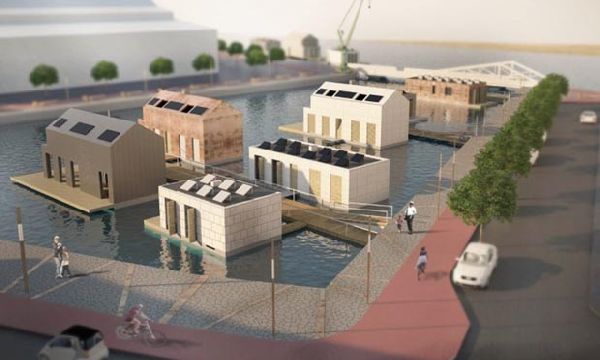 Wierzba has envisaged the project as an ultimate solution for many contemporary natural issues. The ecologic residential facility, first of all, faces the major challenge of the lack of space in cities. It becomes fully economical and environmental with the use of various alternative energy options to power the houses. The project largely makes use of several low-power solutions, eco-friendly materials and other innovative technologies.
The entire construction is modular and made of prefabricated materials. It means residents themselves can change the very layout, location and style of the houses. The prefab method of construction prevents much waste from being produced and dumped in the construction site. The houses can be rearranged as per the requirements of the residents in a matter of time thanks to its modular capability.
The designer proposes to reuse many materials in the Floating Eco House. For power, the residences will utilize solar and other alternative green options. For drinking water, the eco house will feature water purification and rainwater harvesting. Indeed, most of the structure's materials are non-toxic and also environmentally neutral. Far amazingly, they are collected from local sources as well.
Via: CubeMe