In the year 1950, a massive St Louis housing project named Pruitt Igoe was designed by Minoru Yamasaki, who also designed the World Trade Center. Although, within two decades Pruitt Igoe was torn down, but it became an inspiration for Damian and Rafat Pryzbyta, who have designed these Migrant Skyscrapers.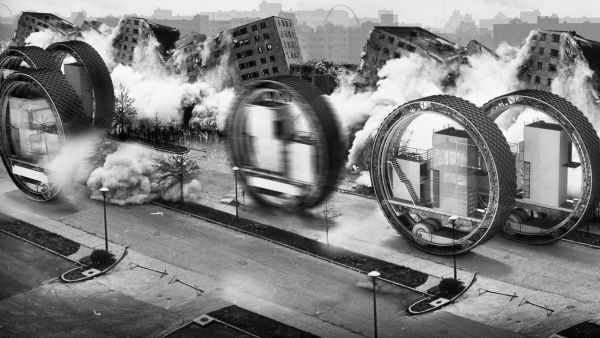 All enclosed in huge rubber tire, these three story skyscrapers are self sufficient housing facilities that have their own water and agricultural management systems. As told by designer Damian Przybyta, the world we are living in is driven by extremes and nowadays it is getting more unlikely and significantly difficult to predict the reality of the future that lies ahead of us. It's architecture that should make sure the possibility of acting in response to events and highly doubtful realities to come.
No matter if its social disorders or natural calamities, a free willed, spontaneous and dynamic space and social groups will be created by the Migrant Skyscrapers. The great possibilities and different dreams of every individual are the assumptions that may become an integral part of the design of this architectural marvel.
At the first glance they may seem unique and crazy, but such architectural forms that we have at present, too can get us about 90 percent in this direction because of the increasing prices of fossil fuels.
Via: Fastcodesign