Green designs have been entering the architectural realm like never before. With buildings and occupants leaving large carbon footprints all over the place, it is up to architects to rethink building designs. With this in view, MDW Architecture has completed work on a social housing project located on the site of what used to be a soap factory near Brussels. The project is a sustainable one that involves insulation, solar energy and as many natural building materials as possible.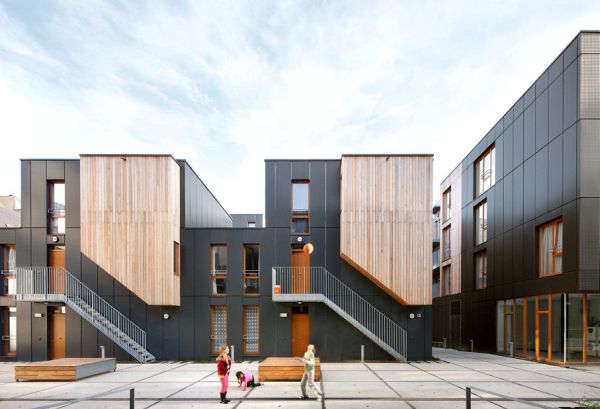 The housing project comprises 42 accommodations including 1 to 6 bedroom apartments, studios, lofts, duplexes and maisonettes. The intelligently designed project incorporates different spaces to cater to the diversity of the community. Housing is just one of the provisions; there's a list of other amenities as well. Outdoor gardens and playgrounds for children provide recreational areas, while space for social meetings and other events and a public game library (an indoor recreational area) offer residents a place to socialize and come together.
Parts of the old buildings left standing prior to the completion of the housing project were used for the new structures. For instance, a chimney was used for constructing the ventilation system. In keeping with the green aspect, MDW constructed loggias that are acoustically performing and thermally efficient. Aside from this, the loggias also add an interesting dimension to the building's facade. They sport glass closures to provide a view of the outdoors while protecting occupants from heat and outside noise.
The Loft building is so well insulated that it needs less than 15kW of power per sq meter every year to heat. To address the issue of hot water, solar panels have been installed on 60 sq meters of space. In addition, rainwater is harvested for the toilets and gardens. MDW also claims to have used as many natural materials as possible in the construction of the project.