Tennessee's Maryville College has taken the green approach by installing solar powered picnic tables on its campus. The novel idea harnesses energy from the sun via rooftop solar panels that feed power to the tables to charge cellphones and laptops. This will not only help offset dependence on conventional power, but will conveniently cater to the students' energy needs.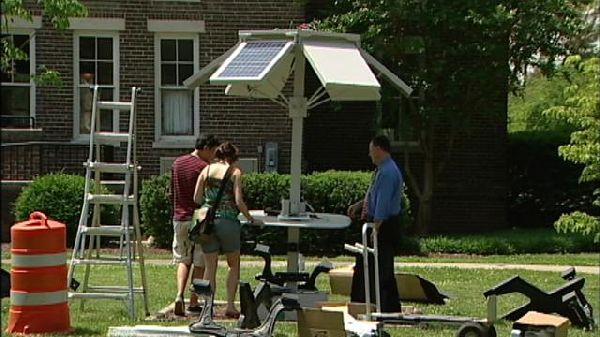 EnerFusion, a Michigan based company, installed two Solar Doks on the college's campus recently. The tables have outlets and USB ports that are powered by the sun. With the installation, Maryville College has become the first university or college in Tennessee to have solar powered tables. Both of the Solar Doks have three 45 watt photovoltaics and one 100 watt panel.
EnerFusion's Doks are wireless and feature four 110 volt standard GFCI outlets, a 700 lumen LED lighting system and two USB power outlets. The lighting system can be activated by the push of a button for nighttime use. Furthermore, the table and the seat tops have been made from 100 percent recycled materials and can be customized to suit school colors and logos.
The sun is increasingly been looked at a major source of energy. With the ability to power the whole world, if harnessed and stored properly, corporations, individuals and cities are gearing towards replacing, or at least supplementing, their power needs with solar energy.
True, solar power may not be feasible in areas that receive less sunlight. Nevertheless, it can be used as a major source of power in many other areas. Aside from being renewable, it is nonpolluting as well, making it the ideal source of energy for modern times.
As for EnerFusion's initiative, we can expect to see more colleges and universities looking to incorporate its Solar Doks on their campuses. Since students spend a lot of time outdoors, it's only natural that the Doks will be made use of to the maximum.
Via: Thedailytimes