If you thought that test tubes were just meant for chemistry labs, then have a look at the Maria S.C. Lamp. The lighting unit has been conceived by Pani Jurek and is shaped like a finely crafted crystal chandelier. The design of this awe amazing lamp has been inspired by Maria Sklodowska Curie, who was a Polish scientist and a Noble Prize winner.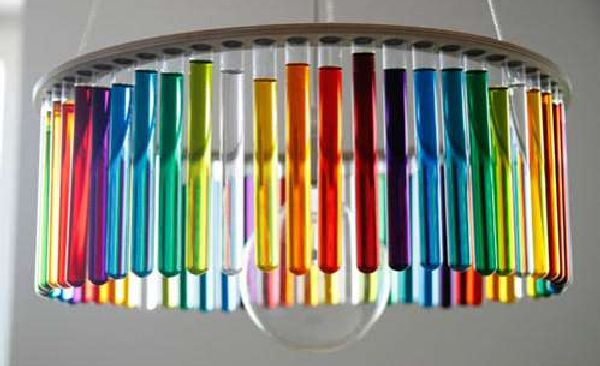 The ceiling lamp will lend warmth as it glows through the test tubes that are the most striking part of the Maria S.C. Lamp. The design features plywood bands that have been bent into circles. There are two band circles arranged in rows; one row is bigger than the other and is positioned on the top. The chemistry containers are then placed meticulously around the band and hang down in style, giving the product a striking silhouette.
The design gives users a flexibility to fill the test tubes with colored liquids, flowers and other accessories as per their whims and fancies. This will add vividness and make your living space livelier when the lamp is switched on.
People from all fields including science, architecture, interior designing, etc. will all be left impressed from the unique use of test tubes, that have been deftly crafted into lamps. They will bring science inside your dwellings and will jazz up spaces in a crazy yet cool way. If you like adding funky decorations to your house, then the Maria S.C. Lamp will definitely be a great pick.
Via: Trendhunter