The world is facing a lot of dangers these days from serious issues such as pollution and global warming and it would not be wrong to say that it is us who are responsible for letting these demons loose on the world. People from all across the world are coming together to work and save the environment. People are adopting sustainable or eco friendly techniques in order to make their contribution in making this world a better place to live. You will find that almost every sector from architecture to jewelry designing is shifting their focus on sustainable means.
Eco friendly clothing is also very popular these days and every kind of clothes can be made through sustainable methods and materials. Many new brands and some of the existing ones are manufacturing sustainable clothing such as sweaters and dresses. Some people think that eco friendly clothes are not stylish but they are definitely wrong as these clothes as very much stylish and trendy and they definitely have an edge over other clothes that are not sustainable at all. Let us talk about Debbie Mastrocinque who is taking initiative in this area and designs eco friendly sweaters but with a twist.
Sustainable sweaters with a twist
Debbie is a professional dance teacher by day and in her free time she is busy upcycling the already worn sweaters to give them a new look and make them sustainable. Debbie is a successful and a good dance teacher and she is also a personal trainer in Port Washington. You will usually see her browsing through consignment shops for gently worn clothes so that she could make them into artisan clothing for the children. She does this all for her new venture which happens to be a new firm called Haru Fashions.
Upcycling is a process of transforming old clothes into new ones and Debbie seems to be good at it. She usually likes working with materials such as wool and denim and also some others which she thinks are more sophisticated than the materials that are usually utilized to make children's clothes. Debbie's favorite pastimes happen to be looking for new materials in the consignment shops. She first washes the clothes in a thorough manner so that it becomes soft enough for a child's skin. The next step is making them into beautiful sweaters by methods such as re-sewing.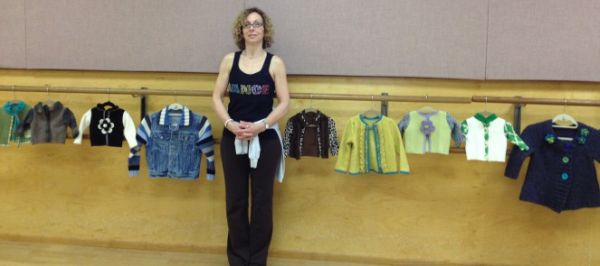 She tries to completely change the look of the garment she has chosen to make the clothing from. Debbie accomplishes her goal by putting some colorful buttons and ribbons on the sweaters and jackets she makes for the children. The end result of her efforts is truly worth appreciating as she knows what the kids would like to don. She really enjoys what she does and that is what makes her work even more special and beautiful. It was Martha Stewart's website that encouraged Debbie to start her own venture and hence Haru Fashions was born.
Debbie explained the name of her company and told that Haru actually means spring in Japanese. The spring season symbolizes renewal and that is what she does with the clothes. Her work is quite impressive and that is why it is gaining the required attention by the people. Debbie also said that she has some good contacts with some sellers which are a good thing as that will help her find a suitable market for her clothes. Debbie is working very hard in order to make Haru Fashions work and she is planning on expanding her business on the internet by making a website as that is the first step.