Designers these days are coming up with wonderful new improvisations that promise to offer the best in green and clean energy sources. This cool Italian LED concept creation is in vying for the James Dyson Award and while we are not sure about how it stacks up against other competitors, the idea of an LED lamp that doubles up as emergency lighting is indeed something we can totally get behind. The innovative spark of Lumos is not so much in its function as you would find many other lamps that can easily offer the same combination.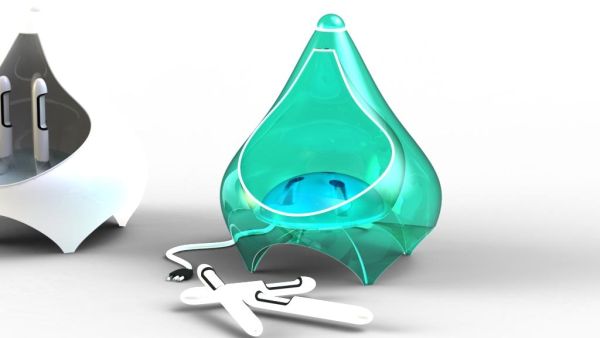 Lumos offers you a LED lamp with three separate LED light sources that are shaped like glow sticks and each one of these comes with its own individual handle. The Lamp itself is like a dollop of ice cream or a water droplet that adds to the beauty of the design. You can plug it in to the socket to use it in a conventional fashion and since the LED lights save up on energy, you will not be eating up power. The battery of Lumos gets charged simultaneously and in the case of a power outage you can get as much as 18 hours of back up on a full charge.
The three LED lamps can be removed and the unit can be used in various forms to create different lighting options. You can use as many LED lights as you want depending on the intensity of power that you need.
Via: Jamesdysonaward