Japan is often hit with fatal earthquakes. Researchers in the country are busy developing various techniques to avert the dangers of quakes. Recently, a Japanese firm called Air Danshin Systems has developed an ingenious method of using giant airbags to lift a house off its foundation in case of quakes. Well, it is a levitation based quake resistant system that pushes the house up around 3cm from the base.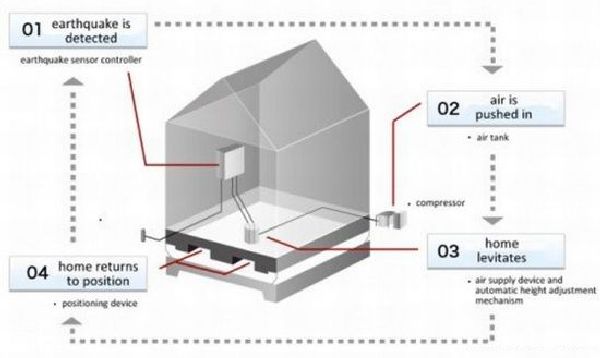 The levitation system makes use of a set of mechanisms to push the house up during earthquakes. They mainly include a sensor, a compressor and an indoor air valve. Once the sensor detects a quake (it can do it in a moment), it propels the compressor to force immense air under the building. As a result, the house will go up from its base and thus residents in the house will be safe.
When the house is up, the indoor valve will control the flow of air to reside it steady and floating. The house will get back to the foundation after the quake is over. Indeed, this concrete foundation should be solid and quake proofing.
This levitation system has been agreed by many analysts as one of the best methods to take on the concurrent quake worries. In countries like Japan, where quakes are common, this levitation quake resistant system will bring wonderful results, analysts say.
In the aftermath of the 2011's huge earthquakes, this technology is applied in around 100 houses across Japan. Air Danshin works to integrate the levitation system in more houses across the country to save lives in occasion of severe quakes. Check out the video below to see how the levitation system works.
Via: Dvice