What is Rammed Earth?
Rammed Earth is an ancient technique for constructing foundation, walls and floors using natural raw materials like gravel, lime and sand. It is done by mixing these natural raw materials with damp earth and then ramming them into a frame or mold to form individual structures or blocks that can be used for forming structures needed for the construction. It was how our ancient structures used to be built.
How is modern process different from traditional ramming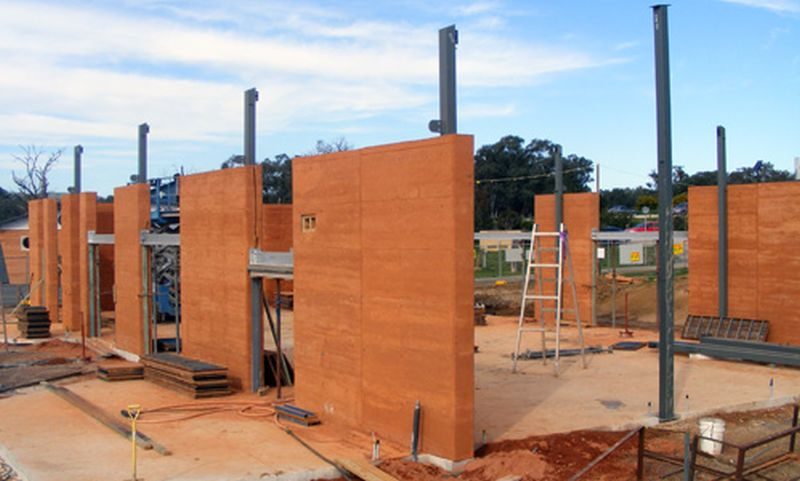 Image Source : rammedearthaustralia.com.au
The technique was re introduced again with some tweaks to match with the desired needs of the customers today. Traditional ramming employed a wooden pole for ramming whereas the modern one employs mechanical ramming heads for the purpose. Small quantity of cement is mixed with the raw materials today to form Stabilized rammed earth structures, they are believed to aid in the strength of the structure. Other additives are added to the mixture to fulfill desired properties like water proofing and so on.
Structural performance
Rammed earth walls are quite strong and can be used for multi-storied constructions. However, it is not advised for high-rises or for too many floored structures, as the load may crack the walls.
Monolithic walls are earth-quake resistant opposed to the ones built from blocks. They are also better for sound insulations.
Structure appearance
The rammed earth structure's color largely depends on the earth and mixtures used. Sometimes aggregates added can get desired texture to the structure.
Thermal conductivity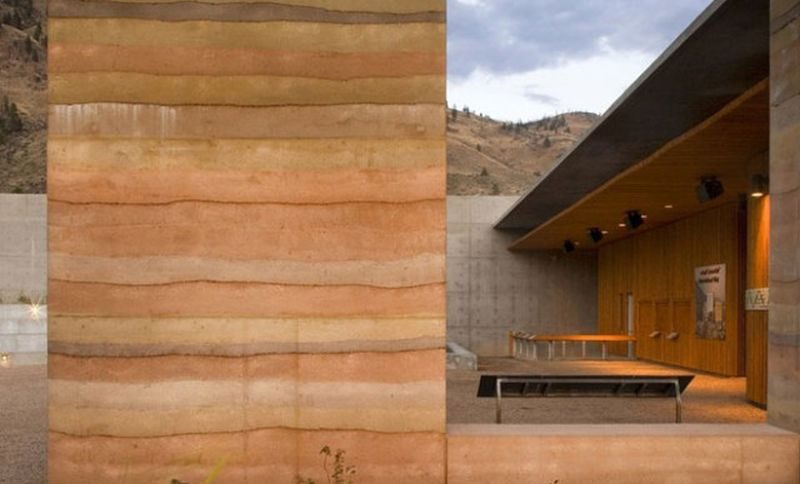 Image Source : cdn.materia.nl
Rammed earth has high thermal mass properties and it can dissipate thermal energy, which it stores within when the temperature drops inside the structure. However, the insulation qualities of rammed earth structures are quite poor because they cannot seal the heat within and freely allows its passing.
Resistance from fire and pests
Since the structure is, build from earth and natural raw materials, the rammed earth walls have no flammable components present in them and have excellent resistance to fire. Similarly, there are no components in them to attract vermin and no cavities in the structure due to ramming and compression; there is no place for pests either.
Durability
The proof that there are so many structures that used this technology are still standing, proves it be a durable one. However, since they are porous in nature they need protection from rains and long-term exposure to moisture.
Environment friendliness
There is a low impact on environment, as the materials required for erecting rammed earth structures are generally acquired from the surrounding.
There is also considerable cut on logistic, reducing the emission of greenhouse gases.
These structures are generally non-toxic in nature and safe to breathe the air inside, unlike the homes made of concrete, which is not breathable.
Why is the rammed earth process not used more often?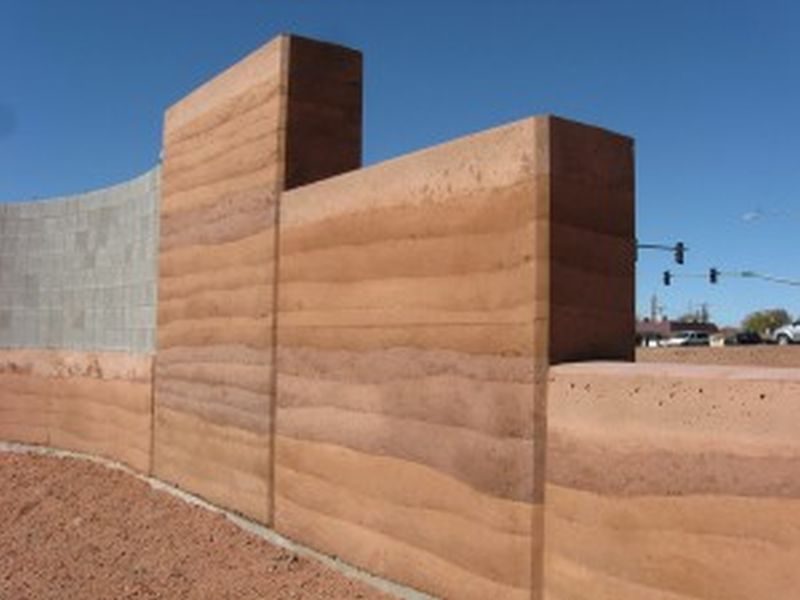 Image Source : earthstructures.com
Requires special additives
Even though the rammed process just uses the materials from around, it requires special additives depending on the need to get the desired quality we intend from the structure. This could become more costly than the existing conventional ways. For example, we need to add special derivatives for waterproofing since rammed earth has less water resistant qualities.
Requires skilled labor
Since rammed earth technique is not a common practice today, it lacks skilled technicians today. It is a labor-intensive process. All that ramming and compression requires a lot of work force and this could actually increase the cost of construction. Therefore, this type of construction is generally feasible where labor is cheap.
Limited application
Very high structures cannot be made like the ones we see being made out of concrete today as it will not be able to bear the load and may succumb under its own pressure.
Not fit for all the climates
It is not fit for all types of climates. We may need additional insulation or expensive energy sources depending on the need to retain heat, which will also add to additional expenses. In cold conditions, rammed earth homes may need additional heating devices and in rainy places, they will need additional insulation.
In general, even though rammed earth houses are eco friendly and would satisfy all our dwelling purposes, it cost twice as much as the concrete structures.