Transformers, an alien fiction has lured many hearts around the world. In the movie it was all computer animation, but people were so inspired that they made costumes, sculptures etc. resembling the characters for real. Recently, Mr. Iron Robot, a park based on Transformers theme was inaugurated in Jiaxing City, Zhejiang Province of China.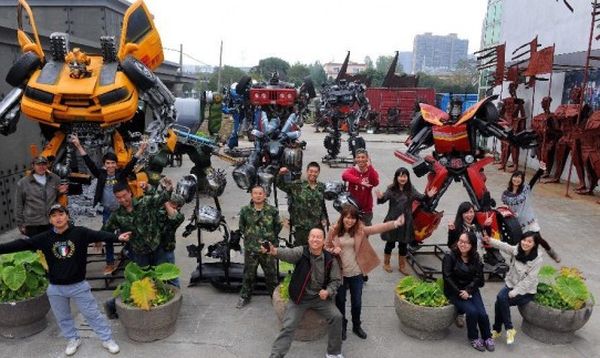 It took ten years for Zhu Kefeng, a 49 year old artist and his team to build the giant metal robots out of recycled steel parts and iron. In the beginning Zhu started by making real models of cars, then after opening his own studio he started creating more complex sculptures. Soon he started commission based work for the people who liked his art, and, he also set up a recycle bin for large orders so that discarded metal parts could be easily donated by the people. In 2010, Zhu sold his Shanghai apartment and invested the money in creating metal sculptures for the Mr. Iron Robot theme park. The hard work of Zhu and his collaborators team turned an old abandoned factory into a modern attraction that features more than 600 Transformer inspired sculptures.
For every sculpture of Transformers at Mr. Iron Robot theme park, recycled metal parts from used old machinery, motorcycles and cars were used and though, Zhu is not the first Chinese to create transformers on his own, but he is definitely the one to build the maximum, making the erection of a park possible.
Via: Odditycentral