Old denim jeans are hard to part from and often we like to keep them safe inside our wardrobe even if we don't use them too often. But won't you like to give a new lease of life to your favorite pair of denims? You can do so easily with a little use of creativity and innovation. Apart from your old favorites, chances are that some jeans do not suit you well anymore or are too old-fashioned for your liking. A good quality pair is a great investment as you can recycle it many times and reuse it in a great many ways.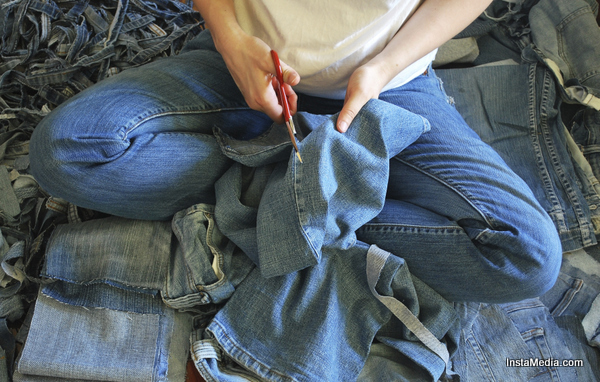 Five great ideas for reinventing your old denim jeans:
1.     Cool Camera Cosy/Sweet and Small Purse
We all love to take pictures and share them with our friends and family. The love for social networking has increased the love of taking snaps on the move. To carry your camera around, you need a good bag that could protect the lens and keep LCD/LED screen safe from scratches. You can make a cool looking bag using your old denims. You can use a soft material, like cotton, for lining your jeans and making the inner side soft.  You can also make a small yet spacious purse to carry your cash around with the worn denim. They look chic and unique. The hardiness of the jeans as a material makes your cosy or bag last long. All you need are needles, gum guns, stitching thread and some decorations of your choice.
2.     Use your oldies for relieving back pains
You make pads or packs for using in times of body ache from your old jeans. Cut a leg of your jeans into half.  Then stitch one end and fill it with corns or rice. Then stitch the other end of the jeans too. Use the jeans of your kids or younger siblings for small to medium sized hot pack and use full sized jeans for making a bigger pack that you can use in cold days for warming up your bed for a goodnight's sleep. Such pads are really helpful in relieving different sorts of aches.
3.     Shorts or skirt
Bored of your old black, red, blue, or printed skirt? Renew it with the help of your jeans. Cut your jeans into thin, even and long strips. Then stitch the thin strip at the bottom of your skirt. You can also make small bead embellished squares from your jeans and then sew them around your skirt for giving them a makeover. You can also chop your narrow fit/ slim fit jeans and fold the hemline a bit to make stylish shorts.
A beautiful pair of ballet slippers is the chic accessory you need to add glamour to your outfit while you go on shopping spree with friends or a lazy, casual Sunday brunch. All you need are some fabrics like gingham and cotton, sewing needles, velvet, leather and tiny bit of iron along with the old denim, ready to play a new role.
5.     A Stylish Rug
Make very thin strips from your jeans to weave a rug. You can combine other materials with the shreds of jeans to make your rug look even more stylish.