When planning to go green, do look at your basement too. If you have traditional style basement, it is all the more important for you to think of some nature friendly basement remodeling ideas. This will include focusing on a much more eco-conscious and energy-efficient approach. Remember green home includes a green basement too. This includes using products that are an optimal choice for a durable, energy-efficient, and environmentally friendly finished basement. For the eco conscious, there are various ways for an eco-style living basement. Remember finishing your basement green will help you promote a healthy and comfortable space that is good for both you and the environment. While planning to remodel your basement, look for ideas that save energy, cost, and non-renewable resources by opting for natural, renewable, and biodegradable products. Here we bring you some ideas to ensure that your basement looks green.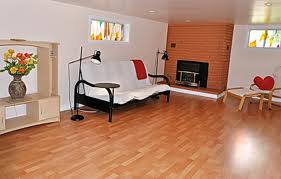 Energy efficient lighting methods
What is the first thing you do when you go downstairs? You switch on the lights. Then it will be a good idea to first remodel to effective eco friendly ways of lighting in your basement. Try to replace your traditional incandescent bulbs with fluorescent lighting. CFLs use less energy as against incandescent lighting and last many times longer. CFLs and other energy efficient fixtures produce higher output by consuming lesser amounts of energy as compared to their conventional counterparts, thereby offering cost savings too. The kind of bulbs and fixtures you use will determine the amount of power and energy you use. Remember that your incandescent bulb converts only five to ten percent (approximately) of its expended energy into light and the rest is turned into heat. On the other hand, CFLs produce less heat, thus reducing your cooling load during summers. Similarly, LEDs can reduce energy consumption by approximately 90 percent and are extremely energy efficient and long lasting. Try to keep the lights off when no one is around in the basement. Once you get into the habit of switching off the lights when not in use, it will become your second nature gradually.
Use sustainable products
You can choose to make your basement as green as possible by using nature friendly materials. Look for products produced by recycled materials else plan to use recycled building products. Ensure that your ceiling products, cabinets and flooring options – all are made from sustainable sources. Try to decrease the impact on the land by opting for organics. Use eco-friendly ceiling boards like calcium silicate ceilings that have nil toxic substances and are 100 percent asbestos and formaldehyde free. Try to opt for eco friendly ceiling products like cork ceiling. Basement is prone to moisture and usage of materials like cork ceiling will help absorb the moisture as it is made of natural material. Look for environment friendly flooring options like linoleum, bamboo, or cork flooring. Products like linoleum flooring are moisture resistant, possess anti-bacterial, and scratch proof properties. Cork flooring has the ability to absorb anything that falls on it and returns back to its original form. It is also a natural insulator, making it an ideal flooring material for your eco home basement.
Choose eco friendly furniture
When planning to go green in your basement area, it is a good idea to opt for furniture built from sustainable wood, bamboo and other environmentally safe materials. Try to use furniture and its related accessories, which are ecologically safe. Today many companies are offering environmentally friendly furniture to suit your specific needs. For instance, manufacturers today are offering chairs that are manufactured from recycled steel or straw particleboard. For the eco conscious, there are variety of eco-furniture options, which are produced from post-consumer materials, wheat panels, sunflower board, and more such natural and recycled products. They are available in attractive designs and colors. You can also opt for bamboo furniture or handmade furniture, which uses less energy during its production process as compared to machine made furniture products.
Conclusion
With increasing awareness about going green, modern homeowners want their home spaces to be environment friendly. By using natural renewable, recyclable, sustainable and biodegradable products, you can reduce energy costs and simultaneously translate your basement into a healthy and comfortable living environment. Recycling would not only save tress but also help curb global warming. It also reduces the need for landfills and promotes economic development. Greener living can help to save the planet, its limited resources and offer a healthy life to you.