Cabinets are the focal points of any kitchen area. You would want them to look stylish and trendy at all times. You would want to choose a color that blends well with your existing kitchen décor including fixtures and other fittings. The right colored cabinets can add that spice to your kitchen without changing the overall structural setting of your kitchen. Color of your cabinets can transform the entire look and feel of your kitchen. Choosing the right color for your kitchen cabinets could be a tedious and difficult task. To help you save time, here some classic color combinations you can choose from for your kitchen cabinets to warm up your kitchen.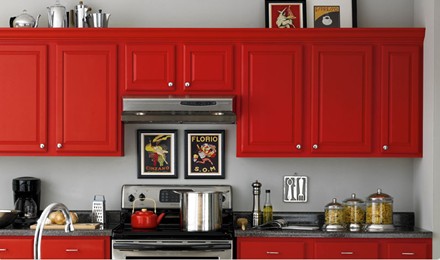 Blue
Kitchen cupboards painted in shades of blue can change the look of your kitchen into a laid-back retreat that radiates an indulgent country charisma. You can pick many shades ranging from the light blues to darker blues. Your choice should depend on the ambience appeal you are looking for and the amount of color you want. However as a quick tip, note that washed blue colors tend to compliment the lighter accents. You could add life to your old, worn cabinets easily with shades of blue. You can choose to update your traditional kitchen into a classic and contemporary kitchen with a blue finish warmed up with brown glaze.
Gray
Shades of gray can help you break the monotony of your white kitchen wardrobe. Losing your cabinets to gray color will enhance the over feel of your kitchen, especially if your kitchen is painted in conventional shades of white. Gray colored kitchen cabinets would add that warmth and softness to your kitchen area and are easy to clean. They will always give a feeling of being clean and tidy. Your kitchen cabinets will get a modern look if painted in shades of gray, maintaining that classic yet chic appearance you always wanted.
Vibrant red
If you are the one who does not want subtle shades for your kitchen cabinets, then vibrant red should be your pick. Red cabinets warm up the kitchen while adding a pinch of positivity to your cooking area. Ensure that your kitchen is lit well and bright and has a light colored background to blend beautifully with this bright shade of red. Red-hot cabinets blend well with dark furniture shades as well as white accent pieces. If you are a small kitchen owner with a traditional style setting, then red cabinets should be your definite pick. A tip here is to keep everything else in light shades like white or else premium dark shades of black to compliment your red cabinets in a contemporary way. Vibrant red color is slowly becoming the choice of many interior designers due to the aura of happiness that it creates.
Brown black
A dark brown black kitchen cabinet is a bold color choice that usually compliments the warm kitchen settings. Typically, kitchens with white or light shade backgrounds opt for brown black colored kitchen cabinets. This color type is easy to maintain and is available at hardware stores. This color's growing popularity has made a great choice amongst various homeowners. Black brown color is readily available in the market including home improvement stores as it is gaining popularity among the buyers. This color looks trendy with any style setting and is a low maintenance color as it does not highlight any dirt or stains as compared to other cabinet colors. It is very easy to maintain these cabinets as they absorb a dark stain well.
Conclusion
Your shade selection should not only depend on one factor – color of your countertops – but should match your entire kitchen space. Choose the right color to add that zing to your kitchen and give your kitchen a new look. The right color can also alter your mood and help you spruce up your kitchen life. Remember budget can play an important role here. Color schemes, brands of paints you use, finishing techniques and more will all depend on the amount of money you can shell out to make your kitchen look fresh. To give that eclectic style, coordinate the color of your cabinets with the pattern and style of your kitchen. This will help you give a decorative and a finished look to your kitchen cabinets.