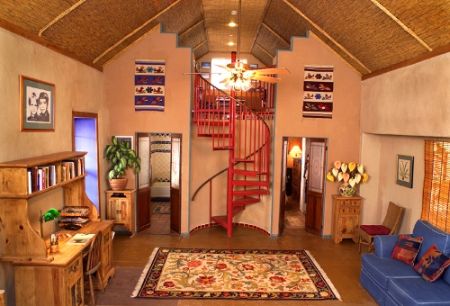 It is in the prairies of Africa that houses are made from a straw material. The straw bale constructed home is very much popular in Midwest of America as well. People used to utilize bale straws extracted from their cereal crops for building up their homes since there was a wider scarcity of timber for building houses on the plains.
Today, building up straw bale houses has become the need of environment awareness, protection and preservation rather than been utilized for the purpose of serving a necessity. Straw bale home is considered one of the healthier choices among people who are environment conscious, environment friendly and health conscious too.
Benefits of building Straw bale Homes:
Beauty: They tend to enhance the beauty of your home. Straw homes offer a unique quality of artistic style to suit every person's individual taste and preference apart from being appealing to the eyes of the visitors and guests.
Energy Efficiency: A straw bale house which is properly constructed contains certain superior properties of insulation thus consuming nearly about 1/4 energy of a conventional home.
Non-Toxic: Houses constructed out of a straw bale material assure a healthy living environment for people. The entire look and feel of those houses reflect a sense of hygiene and good health.
Cost Effective: The overall cost of constructing a straw bale house can range anything from $30,000 to $130,000. However, everything depends upon your elaborated designs and the work contracted out.
Environmentally friendly benefits of Straw bale house:
Utilizing local natural material like straw bale for building houses tends to consume lesser energy. This directly helps in protecting an entire environment and preserving some of the most crucial and natural resources of the global environment.
Normally, straw is one of the leftover by-products extracted while harvesting wheat, grains, and rice. This product is later on burnt which largely pollutes the air. Utilizing straw bales for building up houses can cut down air pollution to a substantial level.
The erection of bale walls is considered an easy process that does not require any specific skills. However creating the rest of the building requires the same skills as required for any wooden framed house.
Straw bale house saves about 15% of the wood that is utilized for building a conventionally framed house. Building up straw bale house however requires a specialized work for plastering both sides of the wall.
There is a greater achievement of superior insulation and wall depth besides while building up straw house when compared to any standard construction. The plaster walls also tend to increase the R-value of the house besides being energy efficient. Its incredible insulation helps to keep heat both in or out of course depending on the requirement and needs of the home owner.
A straw bale house saves up to 75 percent on cooling and heating costs on annual basis. This is considered a huge investment for the entire life of the house.
Environment conducive ways of building straw bale houses:
Straw bale home can be build up almost anywhere. However, the primary center for building up straw bale houses is currently in the desert climate of the Southern California and Southwest United States.
The straw bale construction demands extreme temperature as the value of insulated walls is increased solely depending upon its capacity to block excessive cold or heat.
With an increasing popularity of building straw bale houses, there are more and more resources and books that are easily available for people who are genuinely interested in constructing straw bale house and that too well within their budget.
The widespread interest in building environment friendly straw bale homes has spawned the whole industry of people desirous to live in a green surrounding.
Straw bale houses are not only environment friendly but also affordable, attractive and energy efficient. They can be easily designed by matching and comparing the needs, budget, aesthetics and personal space of the people.