Our earth is what gives us life, so we have taken up the responsibility of preserving it. Our efforts to go green apply to the things that we consume and even the clothes that we wear. There are a lot of people who believe that high end fashion does not agree with the environment, as they use fabrics like fur and leather to create some of the designs. A lot of fashionistas have turned green and this decision is also reflected in the clothes that they choose to wear.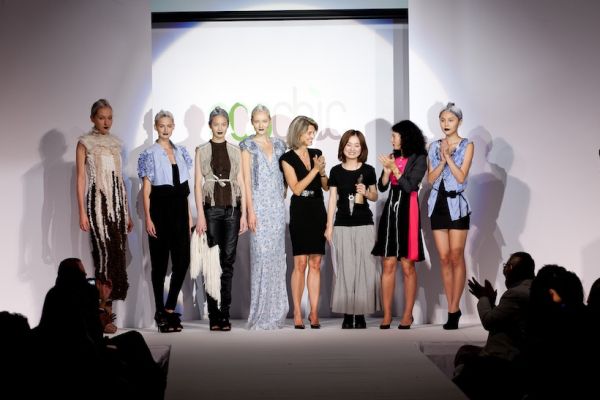 The EcoChic Awards Fashion Show:
There are a lot of brands that offer clothes made from organic fabrics; these fabrics are made from fibers that have been extracted from pants that have been cultivated using natural fertilizers over chemical ones. Since going organic has become such a big trend, a lot of designers are now hopping on to the green bandwagon. Most of us don't consider the impact that the fabrics used to make our clothes have on the earth. This is especially true when slipping into your favorite pair of jeans. Denim is a very popular fabric that is used to make a range of things from jeans, jackets, handbag, belts and even hair accessories. But the production of denim harms the environment, a fact that designer Alex Law Kam-on is all too familiar with. This is because the denim production process uses a lot of metal, chemicals to color denim to create the various washes and colors. The artificial substances are harmful to the earth and people
Law Kam-on is one of the finalists who may receive an EcoChic Award in 2013; this is a competition that encourages designer clothing that is sustainable and even includes a fashion show to showcase the designs created by the participants. This one of a kind program was opened in Hong Kong sometime in 2011 and has moved overseas for the first time. There are a total of eight finalists who are nominated for this award, who created some remarkable designs using design techniques like reconstruction and reshaping. They have refurbished garments from flea markets to create something completely new, used extra textiles and sample clothing sourced from factories.
The main aim of the competition is to shed light on textile wastage and use these designers to show that sustainable fashion is possible. These designers also serve as a strong voice that will jointly push this message. Founder and CEO of Redress, Christina Dean, believes that going international will bring more attention to this problem.