The South Korean city of Suwon was the first to host the Eco-Mobility Event that had showcased the best options for sustainable transportation. The event took place over a week and has ended on the 30th of September. The entire month of September was dedicated to people experiencing the benefits of eco mobility modes and had attracted over one million people from all over the world.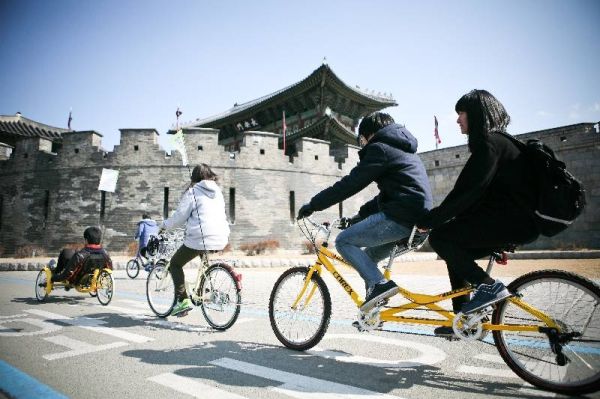 The aim of the festival was to highlight sustainable mobility including the use of public transport, non-motorized transportation means. There were also some eco cars that helped people to get to where they needed to be wihtou having to use private cars. The event also aimed at spreading awareness about the latest developments that have taken place in the worlds of eco vehicles and the technology that is used to create them. The festival was a joint collaboration among the Government of Suwon City, the UN Human Settlements Program and the International Council for local Environmental Initiatives
The Festival saw delegates from ninety eight cities of over forty one countries who felt that it was absolutely necessary to take part in this spectacular festival to help promote a greener cause and the ways that we can encourage people to use sustainable vehicles. In the Haenggung-dong province located near the festival venue, people have lived without motorized transport by opting for transportation that moved away from their normal vehicles to those modes that were more people oriented. The city of Suwon had adopted only eco vehicles along with other options like cycling, walking, to be implemented by all the citizens of Suwon for the entire month just too private that sustainable vehicles were far better than motorized ones.
Yeom Tae-young, mayor of Suwon City, is thrilled with the success that the festival has seen; he is sure that people now understand that it is possible to live without traditional transportation, it is also a good way to encourage the people of Suwon and the old to use public transportation as much as possible. A reduced number of private cars will lead to cleaner air, the festival had also made time for special events, workshops and a four day conference that brought together noted persons from the field of sustainable transport to speak and share their thoughts on how this concept is possible.
The city of Suwon is now planning on working out ways in which they can keep the new system.