Existing energy storage methods miserably fail to keep up with the recent evolution in technologies and gadgets. There should be more consistent energy storage options apart from the traditional chemical batteries. A new kind of electrochemical capacitor for storing more charge here gives immense hope for us. Developed by a team of researchers under Maher F. El-Kady, the graphene-based capacitor can store more energy. In addition, it is a highly inexpensive and eco-friendly method when compared to the traditional battery options, the researchers claim.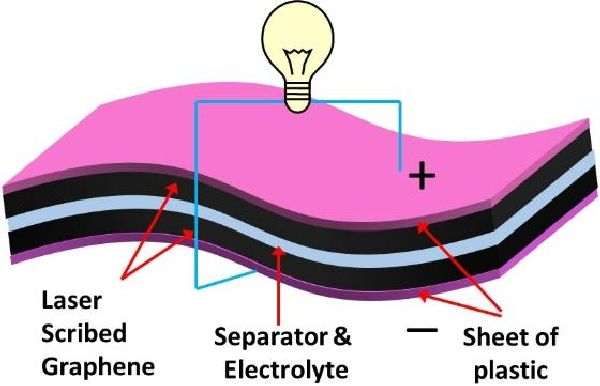 The supercapacitors, as the researchers call them, can hold a lot of energy on a comparatively smaller surface area. The researchers made use of a DVD disc and a drive to prototype the technology they have developed. They covered the graphite oxide film, which is immensely cheaper, on the DVD disk and inserted it to the LightScribe DVD drive to reduce the graphite oxide (GO) film into graphene via radiation. The peeled-off graphene was later applied to a flexible substrate, even if the stuff alone is strong enough to act as an electrode on its own.
Thanks to the special electronic assets of graphene, the capacitors made out of the laser scribed graphene, separator and plastic layers (see the image above), show better power output that is surprisingly higher than the equally sized lithium-ion batteries. This way, according to the researchers, more dependable battery storage facilities can be built up. Multiple graphene capacitors can better replace the traditional chemical batteries in laptops and other electronic gadgets for an increased battery life and performance.
The study was conducted by a team that includes researchers like Veronica Strong, Sergey Dubin and Richard B. Kane besides El-Kady. The researchers have published their findings in a recent edition of Science magazine.
Via: Artstechnica