Working together to build up a community is the duty of every citizen and Norwegian architectural firm TYIN tegnestue seems to have done it in spades. Teaming up with a local community in Bangkok, it has constructed a basketball court and climbing frames that will help provide a platform for kids to play and let loose their energy.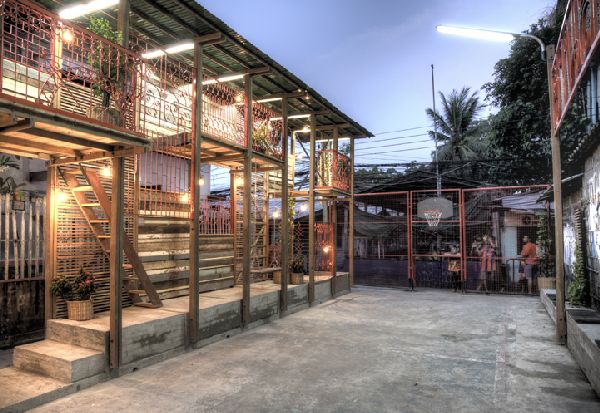 The innovative project was completed with the use of recycled wood panels, patterned orange metal frames and bright lights. The frames act like a scaffold for children to climb on as well as seating areas for adults. The Klong Toey community is the lucky beneficiary of the project and also helped with the construction. The best part is that it took the team just three weeks to complete work. However, prior to completion, TYIN tegnestue took a year conducting interviews and holding public meetings.
The orange metal frames sit on a large concrete block. Platforms have also been laid on the scaffold for kids to sit or do what they do best: play. The project was conceived of in such a way so as to allow community members to add more dimensions when required. Bright lights ensure that the recreational area can be used at night as well.
There is also a stage for local performances which will be hugely beneficial as the community won't have to pay for a venue. Basketball hoops at either end of the court add even more substance with kids having a chance to hone their dribbling and shooting skills.
Most of the Klong Toey community lives in substandard homes with little scope for development. With no help from the government, it's virtually impossible for the community to develop infrastructure. As such, TYIN's initiative comes as a blessing and offers the inhabitants something to look forward to and participate in.
Via: Dezeen