The architectural firm Denoldervleugels has come up with the concept of the Nature Activity Center, planned for Oostvaardersplassen (OVP). It will be constructed on the edge of the forest overlooking the Oostvaarders fileds and is capable of astounding you with its aesthetics as well as its eco friendliness. The inside as well as the outside have been designed to provide ample space for hosting a number of activities.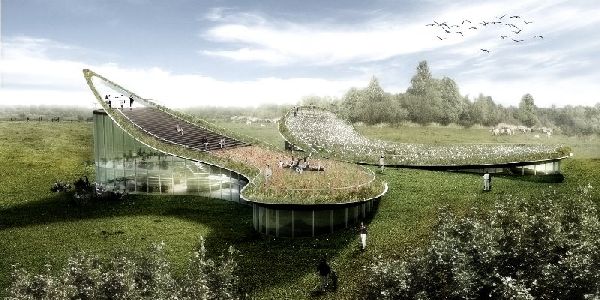 The structure of this activity center has been designed by combing the expertise of an ecologist and a landscape architect. A complete different look has been conceived for the building, which will have no front or back, blending it naturally with its surroundings. The architectural attributes of the structure are supposed to give you both physical and mental peace.
A thin glass façade will separate the inside and outside of the building with an open floor plan, giving it a flexible layout. Durable materials will be used for its construction and hence, the overall design of the building will ensure it remains in sync with nature.
A lot of emphasis has been laid on the ecology of the building as it is pivotal to the existence of this eco friendly activity center. The whole concept revolves around making this center a nature friendly structure vis-à-vis not compromising with the facilities it provides.
Via: Denoldervleugels