Dutch dairy cooperative, FrieslandCampina, traces its roots as far back as 1897. Now, it has expanded its operations to many countries, trying to get people to realize the importance of milk. In Vietnam, it has its office centered in the city of Ho Chi Minh, where it is looking to further expand its base. With this view in mind, the headquarters of FrieslandCampina in Vietnam is being designed in a thoroughly progressive manner.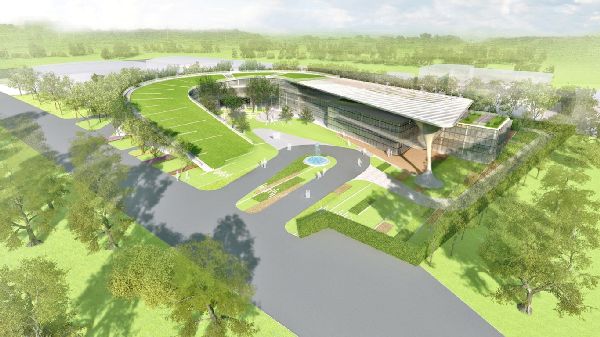 The state-of-the-art 'House of Milk' office is centered around a novel theme based on the company logo that features a splash of milk. A sloping green roof greets visitors and employees under which sits the three-storied office. The complex itself is massive, measuring about 6,500 sq meters and incorporates Feng Shui principles that lend a calm façade.
The building loop falls in towards a side entrance and resembles a drop of milk or a vague horseshoe pattern when viewed from the sky. This interesting piece of architecture allows plenty of natural light to enter the building which will greatly save on power bills. The sloping living green roof is a functional patch of vegetation that absorbs rain water, insulates against noise and heat and reduces the overall heat island effect (a phenomenon that sees urban areas witnessing higher temperatures than the surrounding countryside).
The building's approach ramp also acts as a walkway that links to a coffee bar on the rooftop. The House of Milk office is currently seeking LEED certification from the Green Building Council of the United States.
Considering the amount of work that's gone into designing and building the headquarters as a green building, there's little doubt that the House of Milk office will receive the much sought-after certification. Like all green buildings, it seeks to bring together human habitation with the natural surroundings so that it lives with it instead of against it.