Flight simulators have been in existence for a long time now, but having one in a real flight is taking it a bit too far it seems. Not for James Price, a resident of Pleasanton, California who has created a flight simulator of a 1969 Lufthansa Boeing 737 shell. This might be the only in kind in the world and it is integrated with visuals from all over the world to give the user freedom to fly 'anywhere in the world'. Price hopes to fulfill his dreams of flying around the world through his simulator experience.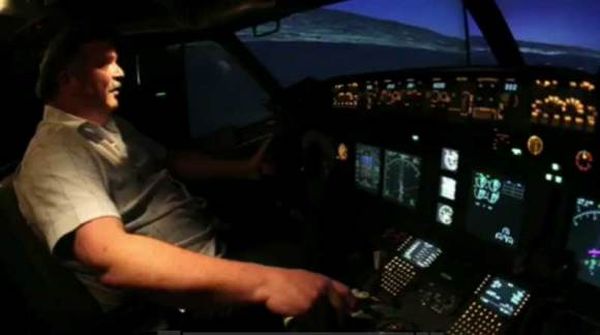 It is not as if Price is a novice. He is an air traffic controller at the Air Traffic Control Center in Oakland and has also been trained as a regular pilot. He has shelled out $150,000 on converting the plane shell into an aircraft experience. The project began in 2000 originally in a hangar. For the last three years, Price shifted it to his three car garage. Price has absolutely no qualms about the price of his dream project.
The cockpit is neat and once inside, nobody will be able to tell the difference between the simulator and a real aircraft. With the detailed controls along with the exhaustive videos, Price says that the experience is exhilarating. And he has no plans of announcing the completion of his project. He wishes to keep updating and tinkering with the model for years. The advances in technology promise to give him newer ideas and innovations.
A crazy hobby some may say, but Price has found excitement and fulfillment, all at the same time.
Via: HuffingtonPost