It is quite fascinating how we can at times typecast things and believe that the form of a device or gadget has to be of certain design despite changing time and technology. That is the case with automobile industry as well with most of the modern vehicles and cars following a set pattern when it comes to design. Sure, there is sound argument in the fact that it is tried and tested, but sometimes there is merit in exploring new form factors. A new and energy efficient vehicle of the future with a new design is ready to be showcased at the Hannover Messe and it has already stolen a bit of the spotlight.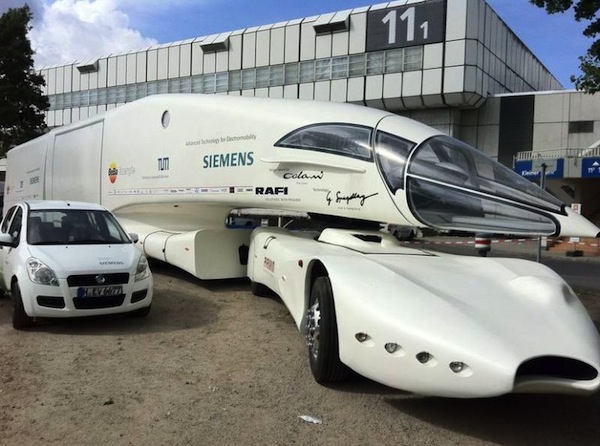 Designed by a team of experts at Technical University Munich and part of their innovative new project called 'Diesel Reloaded', this vehicle should turn a few heads just with its looks. Coming with a trailer, the Innotruck sure looks like a vehicle of the future with its design straying away from the current form, but its true capabilities lie on the inside. It is an electric vehicle that sports drive by wire operation, shares information and updates from the car to a connected grid and receives important alerts as well and also has controls that adapt to individual driving styles and habits while also taking into account the traffic on the road.
Innotruck is obviously fuel efficient and with a vehicle that is intuitive and manages driving styles according to external conditions, you more than expect that. With centralized computing and an ability to deliver alerts while on the move, it always keeps you connected and gives the best possible driving experience. The idea here is to offer a vehicle that is not just emission free and efficient, but also one that makes your driving experience pleasant and safe. If you want a closer look do attend the MobiliTec international trade fair at the Hannover Messe starting April 23rd.
Via: Mytum