The simplest outfit can be transformed into a stylish fashion statement if you wear a necklace with it. You can elevate drab outfits withhandmade fabric necklaces, which you can make at home using scraps of fabric. If you're wondering what to do with those old tops and tees, think no more. Just repurpose them into beautiful fabric necklaces which look stunning. These are quite eco-friendly too, and cost next to nothing! Here are some fabric necklace ideas which will make sure you will outshine everyone at any occasion:
15 handmade fabric necklaces ideas
To make handmade fabric necklaces at home, you need some plain chains and hooks which you can buy at extremely economical rates. Or you can just add some fabric zing to your old, plain metal chains. 
Perler bead necklace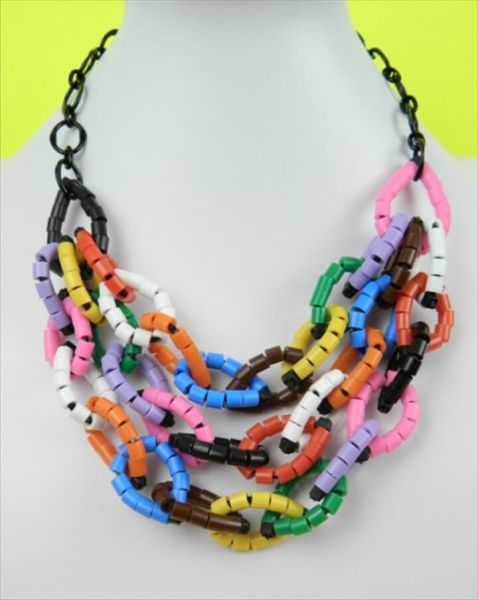 Image Source : diytomake.com
If you have some Perler beads lying around, stick them on a piece of cloth and stitch the cloth to a chain. You'll have a colorful bead necklace which is one of the easiest diy handmade fabric necklaces to do.
Fabric covered marble necklace
This is one of those handmade fabric necklaces that we really like. It's a little crafty, but the result is too good to be true. You can use any strip of fabric you want – plain or printed. Take it up a notch by using some gold or silver silk scraps. Sew together two fabric pieces to make a 60 inches length. Then fold it in half and sew the ends, leaving it open in the middle. Insert the marbles and tie it up on both sides. Keep doing this for the number of marbles you want. At the end, you'll have a gorgeous piece of DIY fabric jewelry.
Felt bib necklace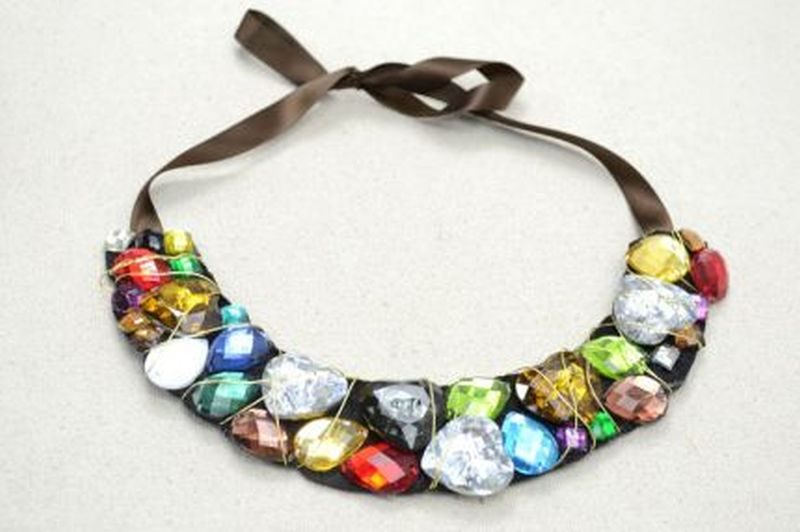 Image Source : craftstylish.com
Do not throw away the felt pieces from your kid's school project. Or you may have some felt pieces from an old bag which is no longer usable. Cut out the felt pieces into big and small curved pieces in the shape of a rose petal. Stick the pieces onto a bigger piece to make a flower. Stick a pretty silver or gold bead in the middle of the flower. Your flowers are ready to be stuck on a piece of old T-shirt. Put this on a chain to make a lovely, gorgeous and unique fabric necklaces 2018. 
Beautiful tulle necklace
We just love this DIY fabric jewelry. It looks ultra stylish and is actually quite easy to make. You just have to stick a panel of beads and chain glued on to a piece of cloth. Tip: You can use any panel from an old dress which you don't wear anymore. This piece of handmade fabric jewelry will surely cause a sensation when you wear it!
Scarf necklace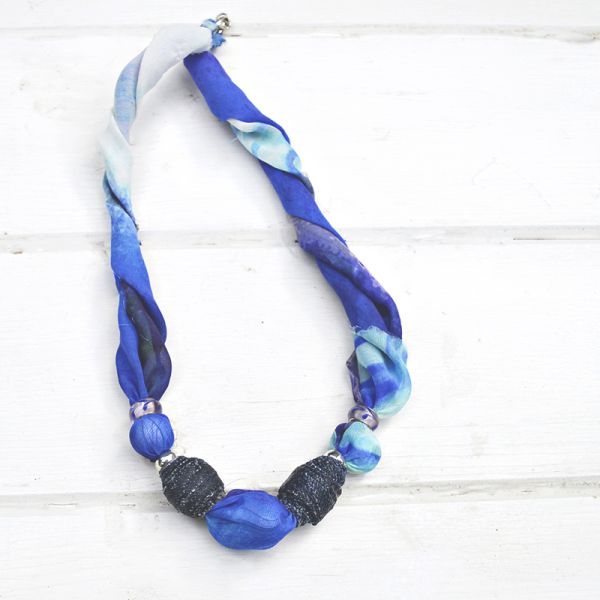 Image Source : pillarboxblue.com
This is just one incredible necklace which takes just a little bit of practice to make. Tie up a silk scarf into bauble type knots. This will dress up any plain dress, T-shirt, or top. It's not exactly a handmade fabric necklaces, but still it's a great diy necklace idea.
Fringe necklace
Cut out an old T-shirt into thin, long strips. Cut enough strips to create a thick fringe and tie them to an old chain. The fringe look is in these days, so you'll look quite trendy with this necklace. It's a playful, fun look for warm summer days.
Chain with ribbon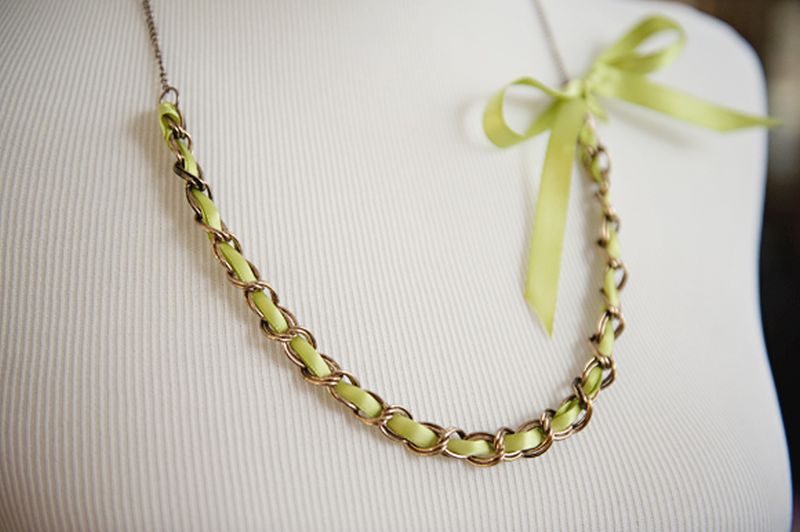 Image Source : fabyoubliss.com
Use some brightly colored ribbon on a chain to soften the look. Use different widths of ribbon with chain to create a unique fabric necklaces 2018.You can change the color of the ribbon to match your outfit, or contrast with it.
Dior inspired necklace
This necklace is a classy one. You can make it at home as part of your handmade fabric jewelrycollection. It will elevate any old dress to a whole new level.
Chunky necklace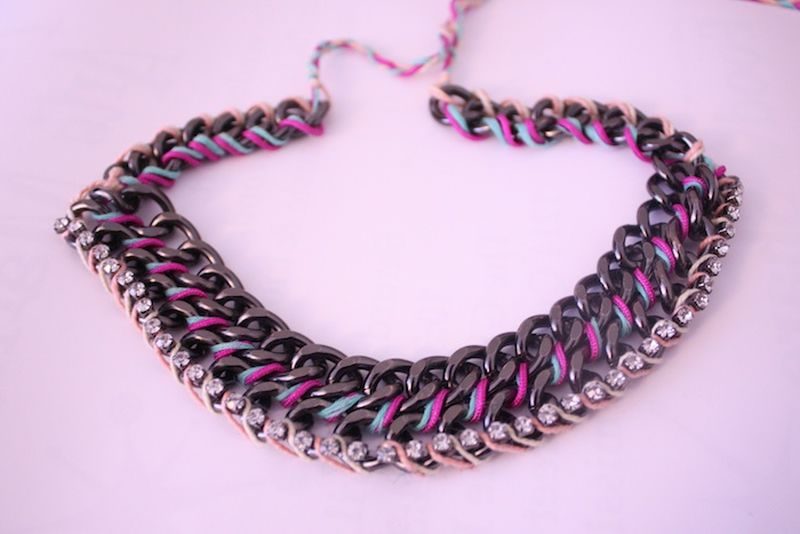 Image Source : shedoesthecity.com
Gather all odds and ends like extra buttons, chains, ribbons, trim, and shoelaces to make this necklace. It looks funky and pretty, and you can get rid of all the random scraps you have. It's handmade fabric jewelry which gets rid of all that unused bits and ends.
Shower curtain necklace
This necklace takes only 5 minutes to make. Just loop some T-shirt pieces around shower curtain ring or brass rings.Key rings and washers can also be used to make this ring necklace. The result is a pretty and cute necklace you can wear on casual occasions.
Ombre tassel diy necklace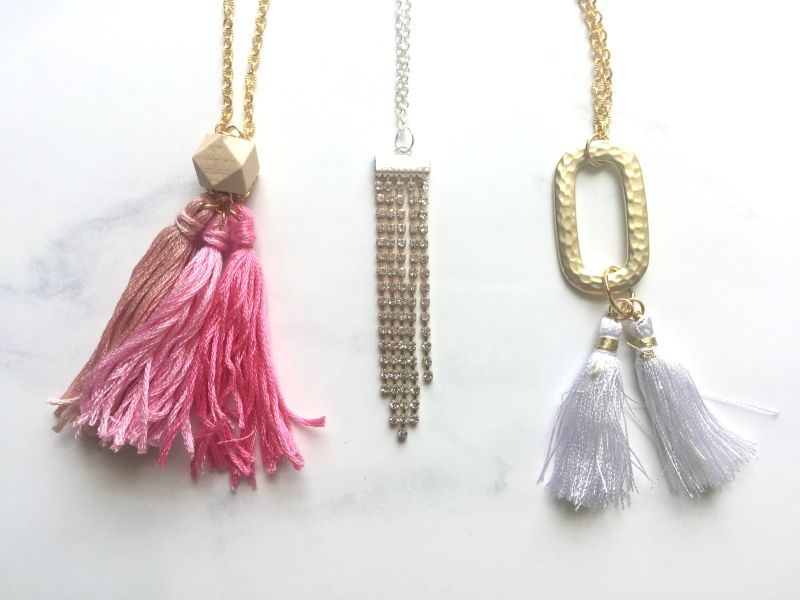 Image Source : static1.squarespace.com
With all these great ideas to make necklaces at home, you definitely must try this one. You can cut out the tassels from old tops or make one yourself at home. It's not so hard – just cut some threads equally and tie them up. If you're the crafty sort, dye them at home to this beautiful ombre shade. Then just tie them to a chain. It looks seriously cool!
String and gold rings necklace
This is an elegant handmade fabric necklaces you will adore. You can use rope instead of string to make this. Wear this necklace at summer weddings with élan and style. People are going to ask you where you bought it from, for sure!
Sequined chain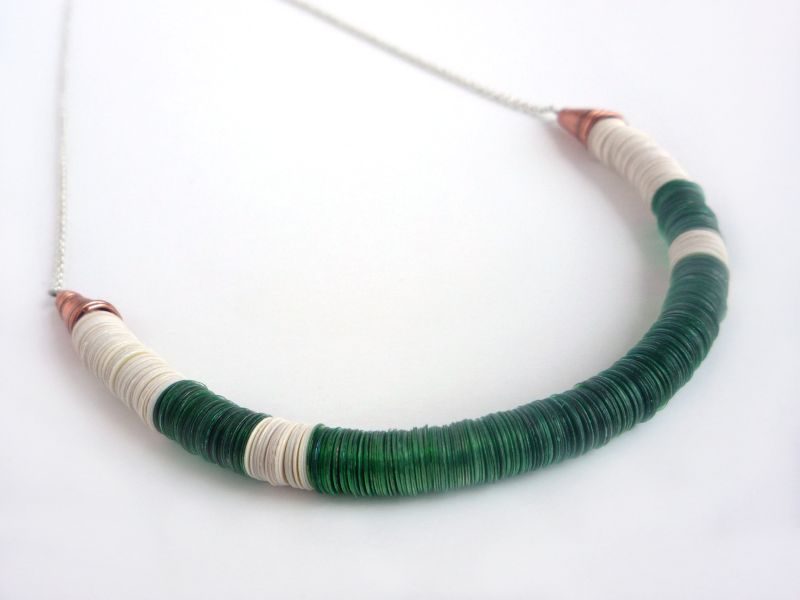 Image Source : littlekoo.files
Get this lovely piece of jewelry by sewing on beautiful turquoise sequins on a golden necklace. You can use any other color too – whatever color sequins you have will do for this necklace. Make a multi-colored piece of jewelry using multi-colored sequins. This one is for keeps and your friends might ask you to make one for them too!
Fabric choker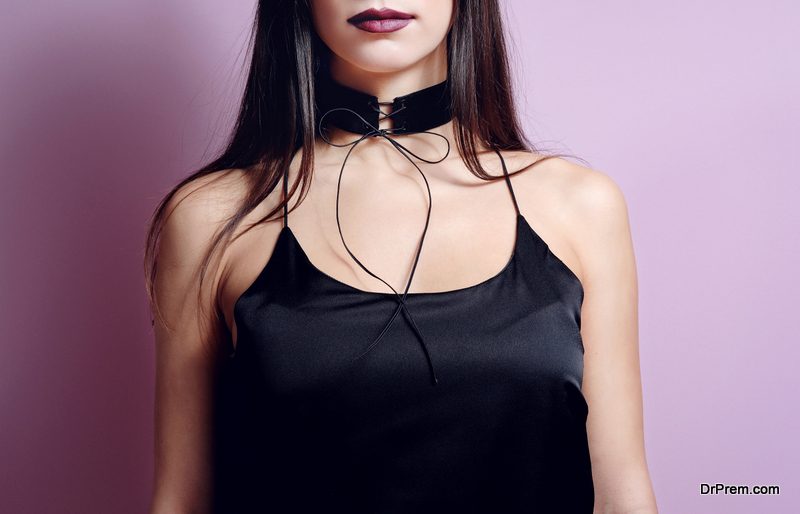 Attach a fake pearl/ pearls to a piece of cream silk cloth. Then stitch this cloth to a golden ring necklace. This will create a magnificent choker necklace which you can wear even on formal occasions.
Handmade jewelry from old scraps of fabric looks pretty and gorgeous. Lovely necklaces can be made easily with a little bit of effort. It's a great way to make your own collection of homemade jewelry. Who knows, if you're really good, you may even end up as noted jewelry designer!