You all must have heard the name of Peter Root, the mastermind who created a boom in the world of design through his inconceivable installation of 'Ephemicropolis', a miniature city made completely out of stacks of metal staples. It was an incredible piece of work by a brilliantly creative mind. This UK based artist has an eye for intricate details. Recently he has come up with another unbelievable expression of art, an exclusive potato cityscape made of engraved potatoes.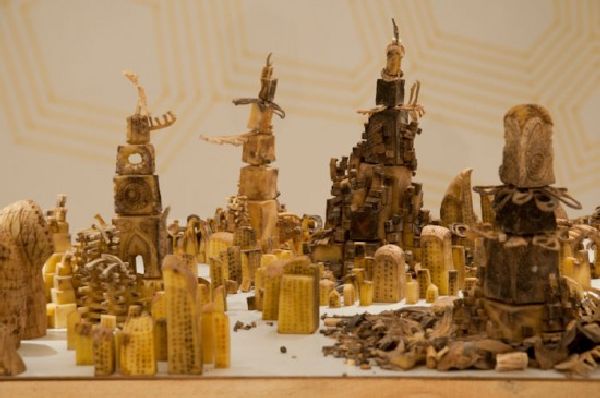 This inimitable potato city model named 'Plot' was created in Istanbul, the artist Peter Root took three weeks to carve eighty kilograms of potatoes, to shape homes, office buildings and many other formations. This entire process he materialized using only a knife and a bicycle repair equipment. He used only potatoes for this creation as they are most readily available in the market and above all they are most wonderful to work with, as they can be engraved, chopped, sliced, pierced and also dried.
Potatoes often dry out and harden after some time and Peter used these potatoes for making the designs look like remnants of some ancient empire. Peter Root did not unpeel all the potatoes, as he wanted to let them grow afresh. This not only reduced his labor of peeling a huge quantity of potatoes but also gave a fresh component in a work of art made from decayed and dried out materials.
It was during a holiday in Istanbul that Peter Roots got inspired to create this miniature city made of potatoes. This magnificent formation shows the minutest and complex of the architecture details including religious symbols on mosques, TV aerials, windows,etc.
Via: Odditycentral