Art in any form whether it is recycled art or work of art that include the use of everyday objects, all arouse our imagination and make us think as to what heights ordinary works of art can really achieve and cardboard art is one of them. Many artists and designers have used cardboard earlier to make different, innovative works of art such as old sculptures, cutlery, lamps to name a few but this time a Berlin based artist creates miniature apartments and cities from different cardboard boxes.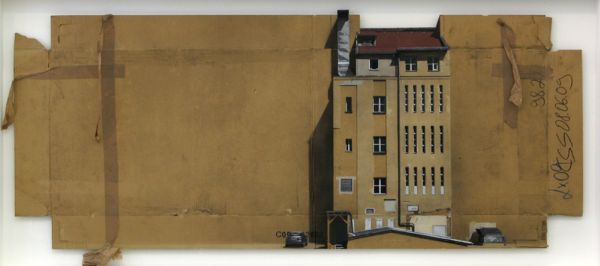 Artwork made using cardboard boxes is linked mostly with diorama, and at times this ordinary material can be used to make incredible works of art, as the artist named EVOL did. He used all kinds of cardboard boxes, electrical boxes, containers and other small surfaces to create many miniature urban cities across the world. The artist with the help of just simple things, such as stencils and spray paints makes extremely incredible, realistic cities on any found canvas, whether it is a cardboard box or any other surface.
While creating these miniature cities he takes care of including every little detail, which is mostly made with the help of spray paint, to make his work all the more lifelike. A reflection of the phone wires can be seen in the windows; shadows of people standing can be seen behind the curtains, the worn out balconies and window panes are clearly observed.
EVOL brings all the grit and excitement of city life to unlikely canvasses. The miniatures bring out the creativity and imagination of the artists; apart from this these tiny cities also bring us face to face with the urban world. A quick glance at this artwork puts you in a dilemma, whether they are just miniatures or real buildings.
Via: Huffingtonpost