Although it is very easy to recycle paper, paper waste is still a bulging problem. However, it is much better than plastic as it decomposes easily. Moreover, there are other options like eco-friendly paper too. Nevertheless, when waste paper is in the form of cardboard, then you have many creative possibilities. No matter whether you are an amateur kid or a pro, the form and flexibility of this material make it very easy for you to unleash your creativity. Depending upon your level of expertise you can create anything ranging from laptop case to lifelike cities from cardboard boxes. To inspire you, here are some ways of using cardboard boxes.
Lifelike cities from cardboard boxes from EVOL
Art in any form whether it is recycled art or work of art that include the use of everyday objects, all arouse our imagination and make us think as to what heights ordinary works of art can really achieve and cardboard art is one of them. Many artists and designers have used cardboard earlier to make different, innovative works of art such as old sculptures, cutlery, lamps to name a few but this time a Berlin based artist creates miniature apartments and cities from different cardboard boxes.
Artwork made using cardboard boxes is linked mostly with diorama, and at times this ordinary material can be used to make incredible works of art, as the artist named EVOL did. He used all kinds of cardboard boxes, electrical boxes, containers and other small surfaces to create many miniature urban cities across the world. The artist with the help of just simple things, such as stencils and spray paints makes extremely incredible, realistic cities on any found canvas, whether it is a cardboard box or any other surface.
While creating these miniature cities he takes care of including every little detail, which is mostly made with the help of spray paint, to make his work all the more lifelike. A reflection of the phone wires can be seen in the windows; shadows of people standing can be seen behind the curtains, the worn out balconies and window panes are clearly observed.
EVOL brings all the grit and excitement of city life to unlikely canvasses. The miniatures bring out the creativity and imagination of the artists; apart from this these tiny cities also bring us face to face with the urban world. A quick glance at this artwork puts you in a dilemma, whether they are just miniatures or real buildings.
Via: Huffingtonpost
Some more green gadgets made of recycled cardboard
Here are seven Eco-friendly recycled cardboard gadgets that can enhance your green statement choose them to make clean green planet.
1. The laptop case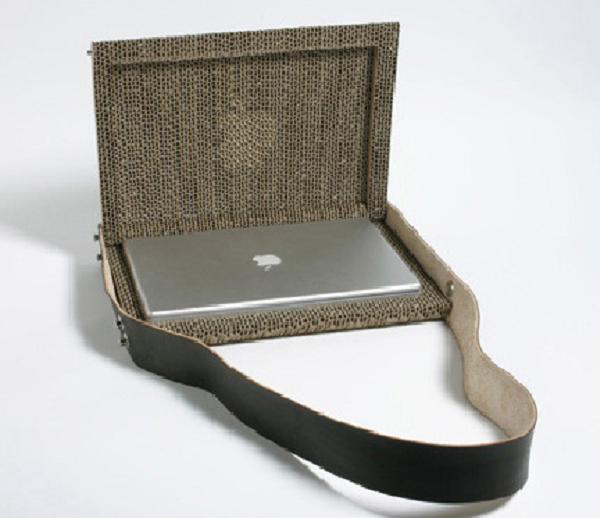 It is a wonderful creation of Giles Miller. The designer made this corrugated cardboard laptop case with 100% recycle material. This strong and handy laptop case is fitted with leather strap to carry and chrome buckles add more beauty. This designer case is very cheap and durable. A laptop case is a must, if you are traveling. It prevents any damage to the laptop while traveling and the long strap provided in this case helps to carry it easily on shoulders. Being made by recycle material, it is Eco-friendly and good for health and also easy to dispose and no effects on environment. The case is available in different sizes from 13", 15" to 17" MacBooks.
2. Eco-speakers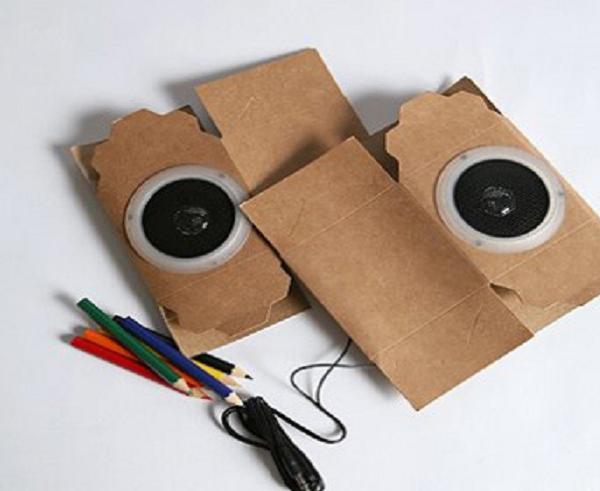 For all the music lovers and who care for nature this is Merkury Eco-speakers. These speakers have 70% of recycle materials. These wonderful gadgets cost less than $20. These speakers are very handy. These speakers can be folded flat so they can be kept anywhere and they occupy less space, they can be stored easily. Being light in weight, they can be carried easily and with these speakers there is an exciting offer of six-colored pencil completely free. These 9"speakers are good for use and they are Eco-friendly. These are innovative inventions which fulfill the go green message.
3. iPhone document scanner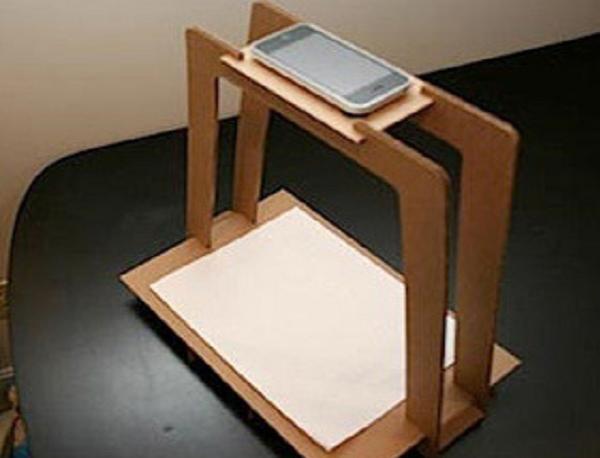 iPhone document scanner made simply by cardboard can make your work lot easier when you are clicking photos with it and scanning too. The shaky hands are out and this wonderful innovation of generation next is in. This cardboard scanner is very much Eco-friendly and can be recycled. In this period of E-wastage, this innovation of making iPhone document scanner out of cardboard is boon to all nature loving person. The stand is very light in weight and can be easily transported to one place to another. This iPhone document scanner is very cheap and it makes works lot easier. Therefore, forget shaky, hazy pictures and heavy stands and use this easy to make recycled iPhone document scanner.
4. DIY cardboard stand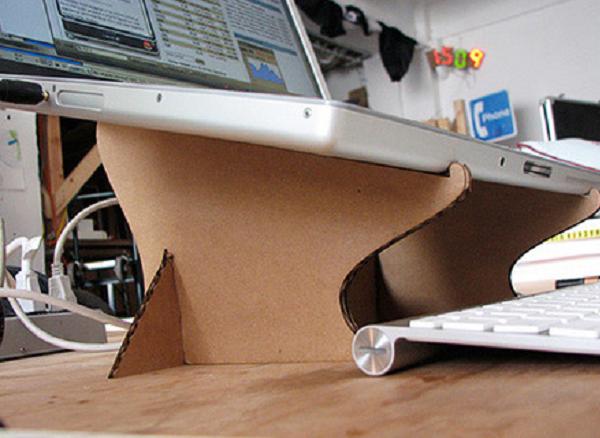 This is a cardboard stand that can hold your laptop lot cheaper. This is very easy to make. Just cut few cardboard in shapes and adjust them to make your laptop stand ready for use. This laptop stand is handy and can be displaced anywhere. This saves laptop from scratches from hard surfaces and reliefs your legs from holding this making work easy. Cardboard is natural substance which can be recycled and causes zero wastage and this is Eco-friendly too. This laptop stand can be made easily in home you just need three pieces of card boards, scissors. Adjust them in above manner and your DIY cardboard stand is ready.
5. Cardboard iPhone dock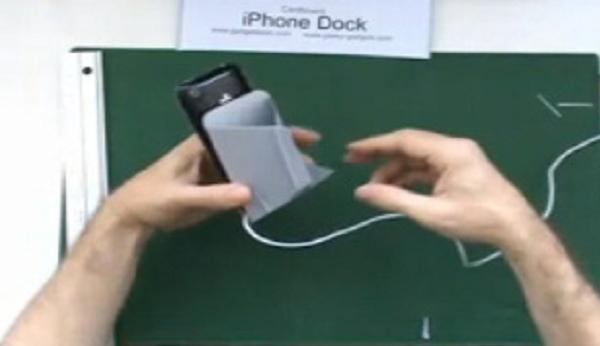 You must have been tired of your cardboard packing lying all around. However, with the DIY cardboard iPhone dock, you need not to have to buy an expensive dock for your iPhone anymore. All you need to do is to cut this DIY set into correct shape and assemble them. It will not only save you a lot of money but also will give your iPhone a stylish dock.
6. Pizza with computer power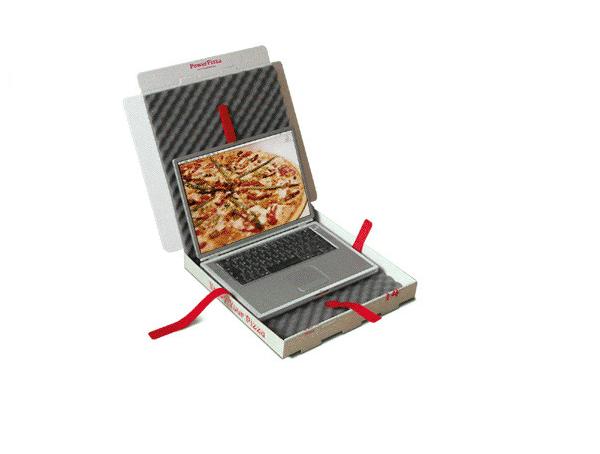 This is just wonderful innovation that uses the most notorious cardboard waste. Every year, people order hundreds of Pizza that comes in hard cardboard case. These cases usually find their way to utility bins. However, you can keep your laptop in this medium pizza cardboard box made covers. You can put some protection with foams to protect it from shocks. The box will not only provide you a suitable cover but also will prevent it from unfriendly stealers.
7. The laptop book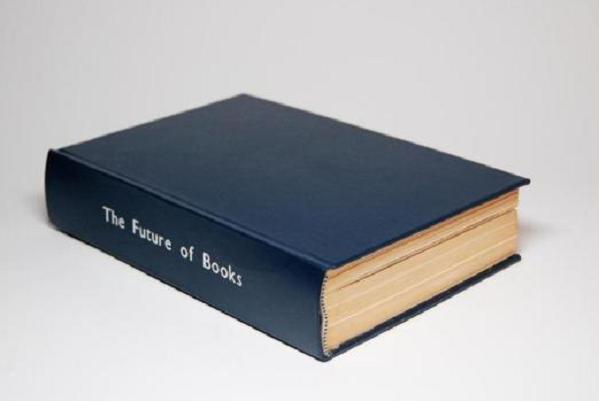 You must be thinking it is some costly iPad. However, this innovative design is brilliant in its way. It uses the old book that lies in your old piles of books. You can cut it in shape and fix your palmtop inside it. This will not only provide a hardy support to your palmtop but also will give it a new contemporary look. The theme is still in designing stage. However, who needs set designs, if you know how to carve out a design yourself. After all, DIY means "Do it yourself."
Final Words
Nowadays, everything is about Eco-friendliness. "Going Green" is the fashion statement today. To save the trees, we have to recycle plant products such as cardboard, papers, etc. Every year thousands of trees are being cut to get cardboard. Recycling these cardboard, we can save the trees and moreover the recycling will save lot of production cost. Being light in weight and easier to handle, cardboard can be used to make wonderful creations. These cardboard can be transformed into beautiful Eco-friendly gadgets.