Since the millennials give preference to sustainability in every field, the green trend is there in every field. Home appliances are no exceptions to this. Home appliances have a wide market. Furthermore, most of them are made out of toxic and other harmful elements. Therefore, there's a dire need to change this toxic nature of the home appliances. Right now, green technology is in to completely transform the way products were made. So here is a list of six home appliances made using recycled materials which are creating a buzz around.
6 – Home appliances made using recycled materials
1. Recycled milk bottle lamp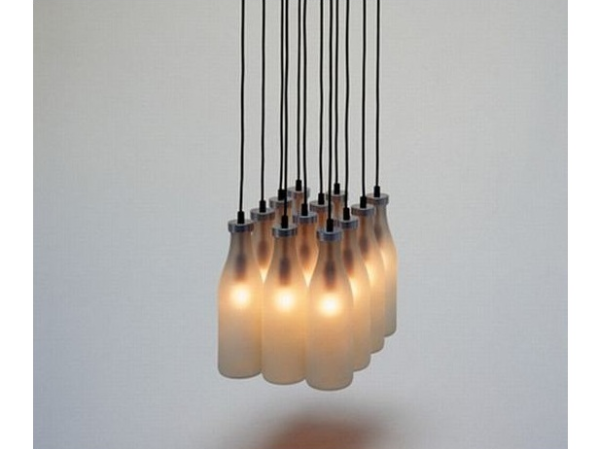 The milk bottles are one of the major items used in every home these days and the number is increasing rapidly. The used bottles were actually considered to be garbage and hence were thrown into the garbage which ultimately created land pollution and became a major cause for the landfills. So the recycling of these bottles was required and this particular way is really awesome. You can use these milk bottles and can easily transform them into lights. All you have to do is to cut down the base and a bit of the top part of the bottle and fix a bulb inside. Then you can make arrays of such lights and can plug those using wires. These bottles look gorgeous and ultimately add to the beauty of the house.
2. Lamp blob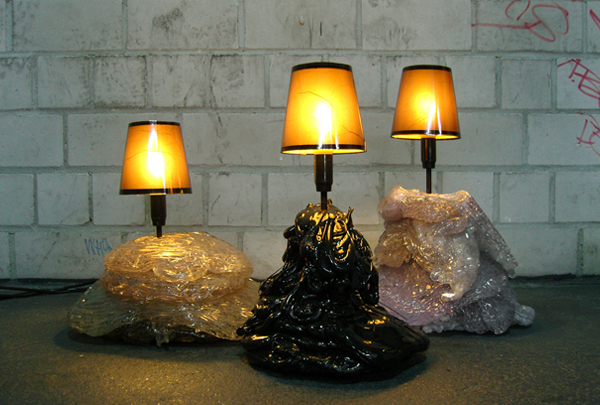 Now this is something cool made out of plastics. The plastics are considered to be one of the major sources of pollution as they are non-biodegradable and become a major source of landfills. There is practically no way of getting rid of them as they are so toxic that if you burn them they become a source of air pollution and if you leave them as it is on land they tend to make the landfills. So the only way out is going for recycling and this particular way is simply superb. The plastics can be easily utilized and can be made in the form of bunches that can form a lamp blob. These lamp blobs are really gorgeous and look attractive. They can be made into different colors which add a lot to the beauty of the house and the surrounding.
3. A La Lata bowl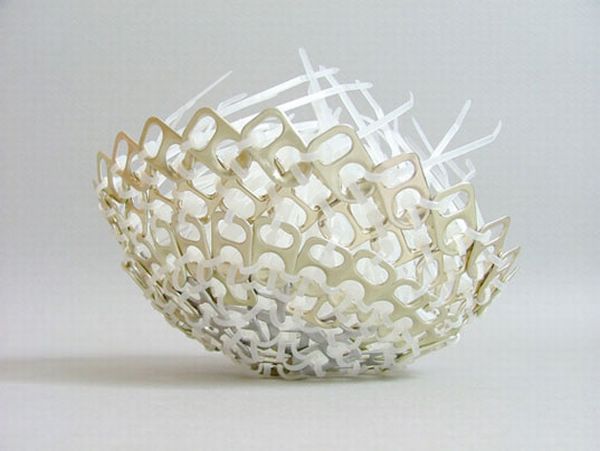 This is a cool bowl which is made completely out of recycled items. The bowl is one of the major items used in a house and this particular stylish bowl will completely transform the way bowls actually look. This bowl is completely made out of soda can tabs and the best part is that it is completely hand-made and the design given to this bowl is really stunning. This beautiful bowl is named A La Lata which means "to the can". It is handmade along with the zip ties which add to the beauty of this product. It is also available in various attractive colors and each color is specially chosen and suits all atmosphere.
4. Biodegradable vacuum cleaner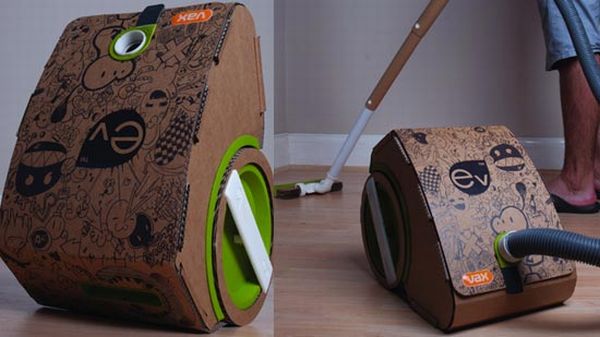 Now here is something which is actually a basic need for every house. The vacuum cleaner is mostly made out of elements and products which are toxic and tends to pollute the surroundings and environment. But this cool eco-friendly vacuum cleaner is the best alternative to all those traditional vacuum cleaners. This gorgeous device is designed by Vax and was highly appreciated for its green design. The imprinted designs on the cardboard surface of the vacuum cleaner are really attractive and the powerful battery makes it worth of adoration.
5. Recycled ReVIEW mirror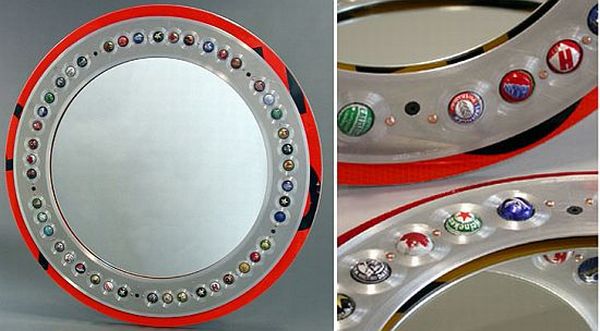 The festive season is on and these recycled products are a rage all over for their effective use and attractive design. This review mirror is one such accessory which is really gorgeous and is worth of using. Usually the entry place of the house is what makes the most of the house and if these review mirrors are placed there, they completely transform the basic looks of the house and add to the beauty of the house. The colorful rim of the mirror is made out of aluminum traffic signs and the accents of the mirror are made out of almost 45 recycled bottle caps and copper rivets.
6. Ultrasilencer Green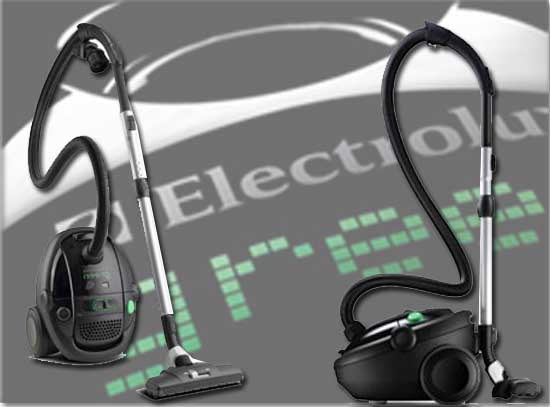 Electrolux launched the Ultrasilencer Green, the most energy-efficient cleaner on the market made of recycled materials. Electrolux Ultrasilencer Green uses 33% less energy and is made with 55% recycled plastic. The use of 55% recycled plastics reduces the energy consumed in the manufacturing of those plastic components by 90%. Even more important, a new, high-efficiency motor reduces the appliance's energy consumption by 33% compared to a standard 2.000W vacuum cleaner. All that adds up to saving tons of carbon emissions that would have been otherwise released in to the air and plenty of energy that can be used for better purposes.
According to a 2007 survey conducted by Electrolux, 70% of North American and European consumers want their appliances to be environmentally friendly. In addition, 76% compare the energy efficiency ratings of different brands, and of those, 93% said that the ratings strongly influenced their purchasing decision or was one of the main criteria. This is a trend that is more impressive than the product itself. This is not to diminish the product, but it is just the fact that such a trend is good news for all concerned.
Electrolux has done a fine job with this super sucker that is the world's greenest in what it does. This by no means indicates that the product is less than usual when it comes to style and aesthetics. It looks great, is easy to carry around and comfortable to use. While it may not yet be completely green, one can bet that such a high-performance, super green vacuum cleaner is not too far away. Till then, keep those brooms stored some where!
Summary
The Green is the latest trend in every field these days and there is no stopping to this green change. The 'green' word has completely changed the world as it was earlier. The green technology these days is incorporated on a high scale in home appliances. This green technology is highly appreciated in the field of home appliances and has ultimately resulted in a green and clean surrounding.