Living room plays an important part in most of the houses. Some of major activities like greeting guests, family gathering, reading, watching television, and more such relaxation activities take place in the living room. It is also referred as furniture rooms, family rooms. There is a many opportunities to update the living room in a virtually limitless way that would appear best and gives more comfort.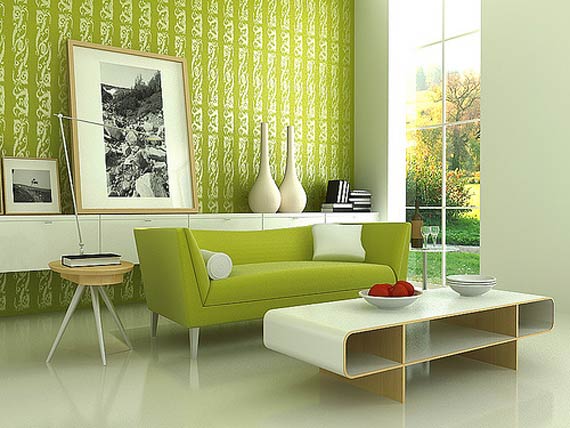 It is essential to remodel or renovate your living room in an environmentally friendly way that helps to stay energy efficient and same at the same time the user can get a better visual appeal of the room. Moreover, when planning to remodel the living room in a greener way, it is essential to consider the environmental impact of your preferences, and not make decisions based alone on aesthetics.Here listing the best environmentally friendly ideas for remodeling your living rooms
Flooring
The carpeted floor would give a warm feel and inviting appearance, but it has more chances to corner dirt and allergens in its fibers. It is identified as a workable health hazard, which it is better to go with other health and eco friendly options like bamboo or cork flooring
Bamboo flooring is one of the best choices for environmentally friendly flooring. Bamboo is harvested faster than the other softwoods because of its five year renewal cycle. The durability and hardness of this material makes it a sustainable option for an eco friendly makeover.
Cork has the form of hardwood that can also defend against mold. This type of flooring is totally eco-friendly where it does not absorbs dusts and fine for those having allergies. It is truly expensive, which costs around $2.50 per square feet. It is easy to install, very soft, excellent at absorbing noise and suits to all apartment living rooms.
Drapes
In recent days, most of the people have started to plan and jot down efficient methods to save on power bills. It is a good way in both the terms, which reduces household bills and helps the planet to stay healthy. Windows occupy as a largest resource of heat loss in a room/home.
Insulated drapes are among good options and when hanging them especially during winter months, the heat is kept inside of the room and the cold is left outside, thereby maintaining constant inside temperatures.
Heating and cooling options
The most important thing to keep in mind while remodeling a living room is space management. You need to consider the available space and the materials needed for it to change.
Other than drapes there are other similar remodeling ideas that help you to offer a little heat or break, which makes your room comfortable.
Setting a Fireplace is a good option that serves in a many ways during a chilly evening. They are functional and practical additions to room decorations, which is available in gas wood burning and electric varieties. Equally, stoves also give ample warmth to the entire living space. Pellet stoves, wood burning are extremely popular, while gas stoves work extremely fine. If you prefer to have the heating resource to be in the partition/wall, it is best to pick the fireplace. You can go for a stove, if you own a free-standing heating fixture.
Televisions
LCD or the recent LED television models are the best choice for setting in an eco friendly living room. They offers great picture and occupy lesser space. Moreover, there is two or three times less energy consumption in the LCD models, which is considered a greener option to fix in an eco friendly living room.
Furniture
It is essential to choose furniture that has non toxic stains, natural stains and finishes. Choosing covering and upholstery from organic and natural materials for the living room sofas and chair is one of the simplest methods to remodel your living room. You can also use fabric and frames that are made using sustainable substances.
If planning to buy new living room furniture, then avoid furnishings made with synthetic foam, laminates and plastic that include chemical resins and binders. It is necessary to check the frame piece of the furniture you buy is made oftimber, a tree that is used for production. Other natural materials like latex or bamboo frames are also acceptable.
Make sure you buy sofas, recliners, and armchairs with frames that are designed/modeled using traditional methods. It can hold less or no metal parts and adhesives. The end tables, coffee tables with drawers should depend on dovetail joints and not on glue. You can stain or repaint the wooden items by using eco friendly or organic products.
Conclusion
Remodeling or modifying your living room will give it an updated look. At the same time, with modernizing your home appearance it helps to protect the planet and presents a comfortable, healthier indoor environment for friends and family.