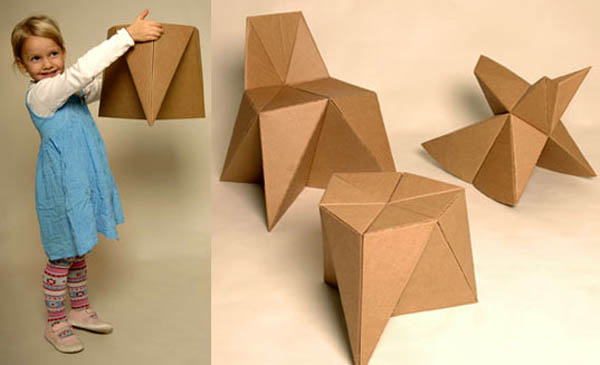 When planning a design for your home, you need to take into consideration budget, materials, requirements and style. Now, before plunging ahead and calling in an interior designer, why not stop to think about how much money you could save, if you were to take on the job yourself? True, the end result may not be as fine as the work done by pros, but the reward is even greater than the money saved; seeing your efforts turn into tangible results. What would make it even more rewarding is using recycled or environmentally benign materials to create furniture and other home décor items. This is especially convenient, when designing products for your kid's room. You will be able to teach them first-hand the importance of using Eco-friendly materials while may be even engaging them to help you out. Take a look at several environmentally benign DIY ideas for your children's room.
1. Cardboard furniture
Cardboard-based furniture is not just Eco-friendly but fun to use. Many younger children cannot be bothered with fancy designs and would rather have something functional to unleash their imagination on. Think back to the times, when a simple cardboard box was the basis for all your fantasies – you could turn it into a spaceship, a house, a cave or a boat.
When designing furniture out of cardboard, make it as simple as possible. Your child will probably use it as a plaything so try to build it without too many sharp edges or elaborate angles and designs.
2. Wooden furniture
Wood is one of the most prized materials in the world today. With consistent logging, wood has taken on a high price tag. As such, using reclaimed wood to create furniture is far cheaper than purchasing brand new material. You can find discarded pellets to create DIY shelves for your kid's room at junkyards, the streets and even your own backyard. Smoothen out rough edges and nail in the planks well so your children do not cut themselves or snag their clothes.
Aside from shelves, you can also build stools, tables and chairs. If you are a seasoned DIYer, then you can even carve patterns or engravings to add style. Top them off with comfy cushions for a cozy feel.
3. Locally sourced furniture material
For any DIY project that needs new materials, look for those that are sourced locally. Purchasing materials that are sold several states away will only increase carbon footprint as the amount of fuel needed to transport these materials is high. Items that are grown locally also help to cut down costs. This will not only boost your local economy but will save you a significant amount of money in shipping costs.
4. Bamboo furniture
Bamboo is one of the fastest growing plants in the world. This sturdy yet cheap material has for long been used in housing projects in South East Asia. If you have access to bamboo, then you can rest easy knowing that you are working with an Eco-friendly material. One of the best aspects of bamboo is its flexibility and durability. With a bit of know-how, you can fashion a cabinet, cupboard, table or chair for your children's room.
5. Papier mache
As messy as it may be, papier mache furniture is unique and very eye catching. You can use it to craft almost anything. You can use cardboard or metal for the base and the papier mache to coat it. Aside from furniture, you can also make a variety of items like pen stands, boxes, mirrors and book ends. When combined with cornstarch or PVC glue, papier mache products turn into hardy and surprisingly durable products that are fun to use and attractive to look at.
6. Bean bags
There is nothing more relaxing than lounging about in bean bags but many are too expensive to purchase. You can make your own bean bag with a heavy-weight fabric, muslin and yardage. You will also need a zipper and polystyrene pellets. The steps can be looked upon the internet and you will be surprised at how easy it is to set one up.
7. Chalkboard table
Let your kids unleash their creativity on a chalkboard instead of on the walls. You will need a table that is no longer in use for the job. Sand it down, paint it with chalkboard paint and it is good to go. The best part about this DIY project is that you do not need any additional material aside from the paint. You get to reuse old furniture and turn it into something that your kids will enjoy using.