Refinishing kitchen cabinets is not a tough task if you understand the basic requirements of your home. The same can be done in an environment friendly manner with natural resources being utilized in refinishing of kitchen cabinets. A range of options exist that can help one refinish the kitchen cabinet in an environment friendly manner. The refinishing process can be extensive or limited to refinishing of doors and drawers and coating the cabinet boxes as per individual needs. Before we discuss various ecologically sound and environment friendly ideas on refinishing the kitchen cabinet, it is imperative to understand the objectives of refinishing the kitchen cabinets.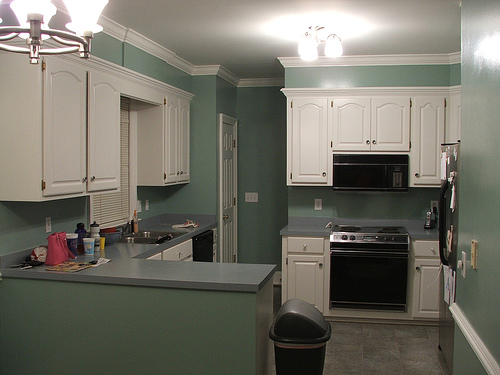 Objectives
Improvement in air quality
Going for ecologically friendly ideas while refinishing kitchen cabinets, help you improve the air quality of your house. As the need for new plywood and particleboard is minimal, you do a lot of good to yourself. Formaldehyde present in plywood can cause respiratory problems and for those allergic to the same, the use of plywood can have serious health consequences.
Judicious use of resources
In case you decide to go for refinishing the kitchen cabinets, you opt for an eco friendly solution as minimal waste will go to the landfill. The old drawers and doors are reused. This is a great idea as one can save resources in terms of money and time, besides contributing to environment conservation.
Below are listed some of environment friendly and ecologically sound ideas that can be adopted while refinishing the kitchen cabinets:
Going in for water based finishes
Use of species as red oak, European steamed beech, alder, maple, and cherry is a good idea. These can be used in case one is thinking about refinishing the kitchen cabinet. Use of these species is advised as they emit limited volatile organic compounds. The natural colors give your home an aesthetic look besides improving the air quality of the home.
Using no added urea formaldehyde (NAUF) wood
Going for no added urea formaldehyde (NAUF) wood is a good option. This wood can particularly be used for refinishing kitchen cabinets. The same is available easily in the market and one can find a range of designs and varieties.
Opting for veneered doors
Veneer is unique in the sense that it is actually cut from a log and is made into thin sheets. The veneered doors can be installed escorted with no added urea formaldehyde (NAUF) core or MDF. The use of NAUF core and MDF offers a solid wood shine that is hard to replicate. You can also opt for RTF, which is an environment friendly product. This is specially used in coating the front portion of cabinet boxes.
Bamboo
Bamboo is not only environment friendly but also gives your home an aesthetic appeal. It has emerged as an alternative to the customary wood that was being used since long. Besides bamboo is a sustainable material that benefits from cutting. The nostalgic touch that bamboo adds to your home is hard to replicate.
Melamine
Another low cost environment friendly material for use in refinishing kitchen cabinets is melamine veneer. This is made for wood particles and resins. The unique advantage of melamine is that it is durable, is heat resistant, and is available in a range of styles and colors that match individual tastes.
Aluminum
Coating glass cabinets with aluminum panes has also emerged as a preferred choice of homemakers in the recent past. The smooth stainless look can be achieved at minimal cost through this innovative idea.
Thermo foil
Another ecologically sound idea is to redesign the kitchen cabinet using a thermo foil. This flexible vinyl applied to wood not only creates a strong exterior but it is also considered a cost- and eco friendly option.
Lyptus
This is among the best environment friendly options as the wood strength is equal as that of maple. The material comes from eucalyptus hybrid tree in Brazil and it is ranked among the best when one thinks about refinishing the kitchen cabinets.
Conclusion
Refurnishing the kitchen cabinet is an environment friendly idea, as one need not cut down trees for designing of the cabinets. Designing a fresh cabinet is a costly affair, which one can avoid in case you opt for refurnishing the existing cabinets. An excellent way of connecting with the environment and contributing to the cause of environment conservation, going for refurnishing is indeed a smart choice.