Green structures are beginning to gain popularity as the world is realizing the impact conventional buildings have on the environment. Designers have presented us with many architectural concepts, all seeking to be self sustaining and non polluting. While most ideas have remained in the conceptual stage, they offer us a way out of our current existence. Realizing the importance of conserving the environment may have come later than was hoped, but at least it's propelled us to start taking action.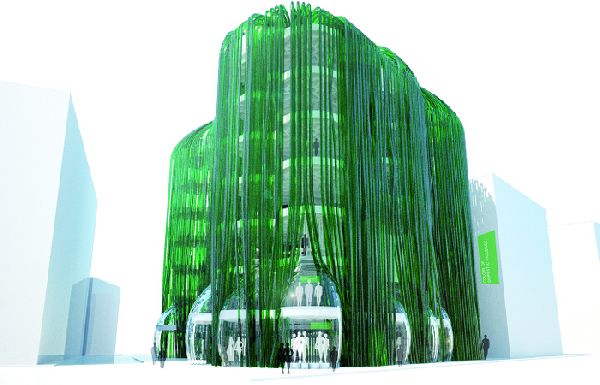 ecoLogic Studio is a firm that has conceived of a green mega structure called algaeBRA that's reminiscent of a large weeping willow tree. Vertical fibrous struts and ETFE foils fall over the building giving the illusion of leaves like that of a weeping willow. Interestingly, they drape in such a way that penetration of light is compromised in no way. This is made possible due to a clever partitioning system. What the occupants will witness is a gradient of color, natural light and coolness. ecoLogic Studio has striven to make it as green as possible with the use of artificial materials.
In addition to the partitioning of the building, algae farming will also be conducted on the façade which will help in radiation control, on site carbon sequestration as well as renewable energy generation. Water appears to play an important role in the functioning of the building, facilitating thermal storage and heat regulation.
ecoLogic Studio is hoping that algaeBRA will give the Benetton Group a site specific building that incorporates sustainability with architectural styles of past Iranian models and geometric patterns. Notice the dome like structures toward the base of the building as an example. The fibrous façade can also be manipulated to accommodate changes in weather and temperature. This means that the same level of resources used in the structure of the building can be maintained without having to install additional equipment.
Via: EcologicStudio