With a steadily improving lifestyle, it might be hard to tone down our material demands. However, if we indulge in them thoughtlessly, it would leave a very bad impact on the environment. Therefore, we should take the middle way. Rather than cutting down on our needs or harming the environment, we should start making eco-friendly choices. For example, one of our most pressing needs that leaves a very devious impact on the environment is transportation. One way of tackling it is by making our vehicle more eco-friendly just the way Mk1 Kick Scooter did it.
Mk1 Kick Scooter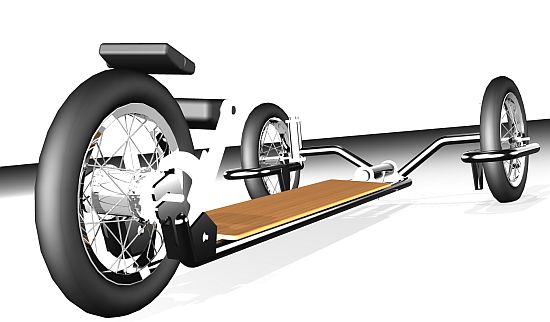 Eco Factor: Zero-emission kick scooter designed as a daily commuter.
Skateboards are undoubtedly a green way for a thrilling experience, but the lack of brakes makes them impractical in a busy urban setting, and the tiny wheels are terrible on anything but smooth surfaces. They are, however, wonderfully easy to transport.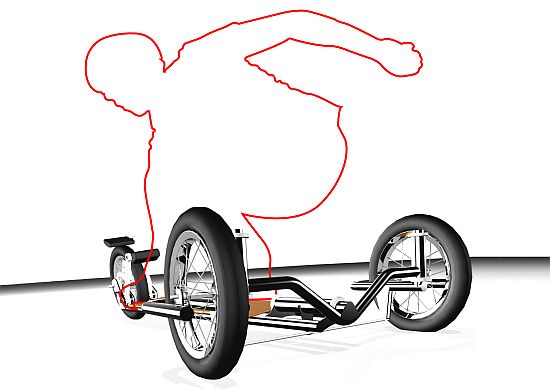 Industrial designer Ryan Mischkulnig has tried to bring all the features required to make kick scooters a means of daily travel in a machine he calls the Mk1 Kick Scooter. The Mk1 Kick Scooter combines these features in a package of minimalist function-first style. The deck is underslung so that it sits upright and balanced as soon as any weight is applied.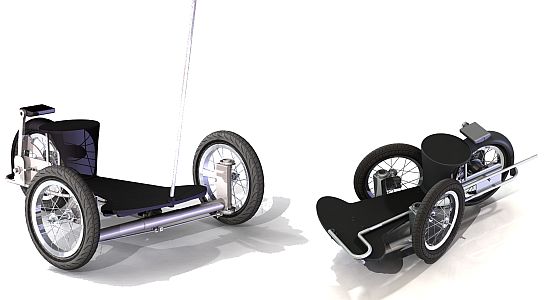 Steering is by leaning, but unlike a skateboard, the front wheels turn separately so that steering is smooth with no tire scrubbing. Drive comes from a quarter turn crank with a chain to the rear wheel. You have to pull it back into an upright position by a small spring. Braking is by a second crank arm applying force to the top of the rear wheel.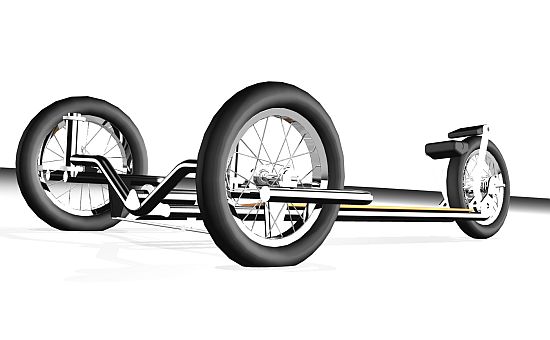 Based on analysis carried out on the compact scooter, the cruising speed of the scooter is around 22kph, directly comparable to the cruising speeds of many amateur cyclists. Weight too, due to the relatively small wheels (12″) and the 2D frame is only 9kg, using mild steel to minimize costs, far lighter if you use an alloy for the frame and rims.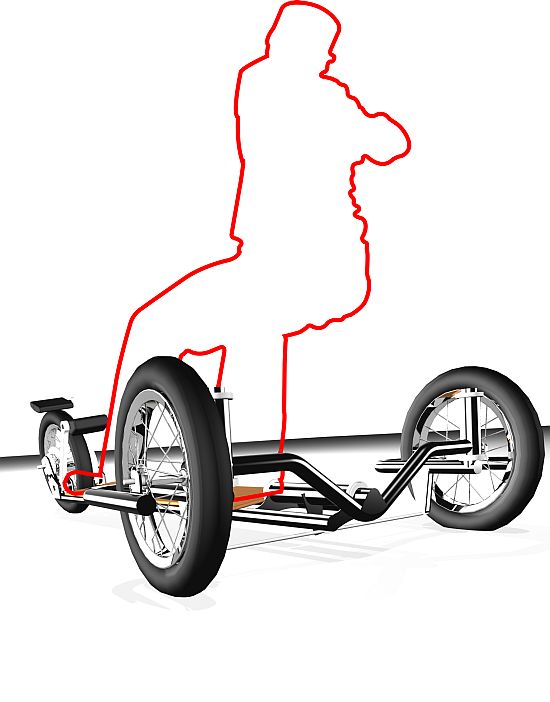 Most importantly, the design of the scooter is such that all components, every bolt and bearing except for the frame and cranks, are stock standard bicycle components. This minimizes the scooter's build cost and opening the door for kit-form building. This would provide the opportunity for enthusiastic owners to recycle waste bicycle components in the scooter's construction.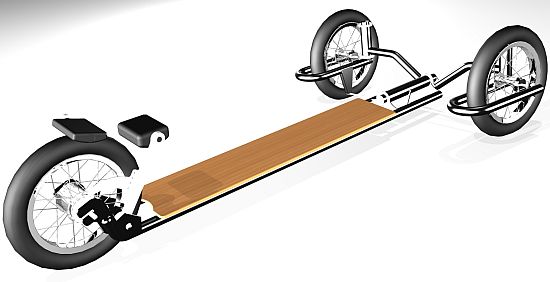 Thanks: [Ryan Mischkulnig]
Read More: Skateboards recycled into amazing pieces of art
Some more skateboards similar to Mk1 Kick Scooter
1. Dry Leaf: Brazil's eco-friendly skateboard!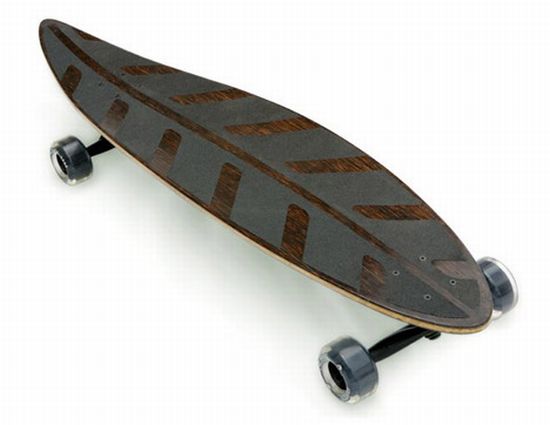 If you blaze the turf on your skateboard, chances are you don't give two hoots about the environment. Maybe that's taking stereotyping a bit two far, but still ollies leave little time to go out of way and fight for earth's cause. Well how about contributing to sustainability without any extra effort, you game then? Anticipating a yes, let me show you a revolutionary skateboard design – the Dry Leaf.
The sustainable skateboard comes from Brazilian innovation group Let's EVO and materials developer Fibra Sustainable Design. The skateboard is clearly modeled on a 'Dry Leaf' (wonder what that mens for the mechanics though). The cover layers are from Papunha Veneer – material produced from waste of palm-heart industry. The second layer is a composite that is 70% natural fibers (like jute, malva and curaua) and 30% polypropylene. 3-ply Organic Mosso Bamboo forms the mani body of this longboard. Even the binding is eco-friendly. It consists of a vegetable-based adhesive originating from species like castor oil plant, soy and corn.
Coming from Latin America, the skateboard has been christened Folha Seca (Dry Leaf in English). Henrique Monnerat, Bruno Temer, Claudio Ferreira, Pedro Themoteo and Thiago Maia are the brains behind this sustainable skateboard. Soon enough the design will go into commercial production and I have little doubts that for those wishing to dominate the scene and save the planet, Dry Leaf will be the preferred choice.
2. Omni Skate for an eco-friendly ride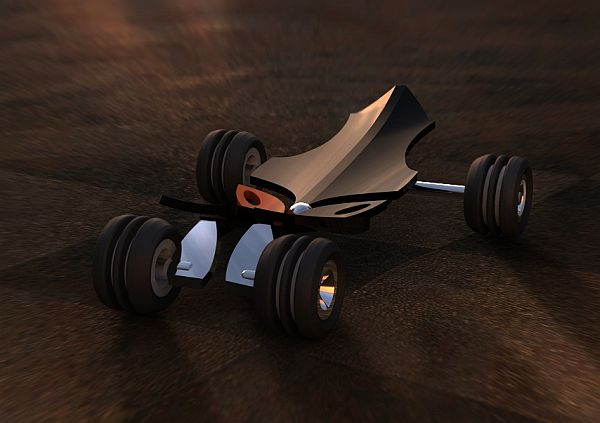 Skating and skateboarding is a great recreational activity, which comes injected with a lot of fun.  There is a sea of skates present in the market in a variety of colors and designs.
Moving around lanes on skates has always very exciting and makes heads turn in surprise. But, it's time these skates got an environmentally-friendly touch in this eco-conscious world. Eduardo Murara Nauiack has designed the Omni Skate that will be dipped in clean and green features.
Skateboarding fulfills the craze of surfing in the absence of a water body. The novel design will be brought to life using polyester and aluminum that are easy to recycle and can also be produced without much difficulty. These easily available materials give the overall design a brawny appeal and make it long lasting. The boards and the gear system would consist of Aluminium, while the tires on which Omni will roll come to life using polyester.
Nowadays, people prefer to move around in their vehicles even if they have to cover a short distance, thanks to the unavailability of an alternate mode of transportation that is effective as well as user-friendly. Omni Skate will prove to be an efficient product and will make sure that the addition of CO2 to the environment decreases with its presence.
The Design
The design comprises of torque system that will make skating on Omni all the more enthralling. The gears in the design produce torque true oscillation. They conceal nicely under the front board and consist of two ratchets, which produce continuous movement. The movement is produced as one ratchet moves forward while the other moves backwards. One of them will lend torque to the axis and the other will spin in false. When the user stops the movement he will enjoy the ride as both spin in false. Place the most confident foot on the front board and perform movements from left to right as done on a surfboard. This will let the rack move the gear system and in turn produce torque to the front axis and then forward it to the front wheels.
Omni Skate will make moving around the city pollution free and also lend a sense of excitement. So, enjoy a roll whenever you feel like and keep the environment away from the clutches of pollution.
3. Designers craft skateboards from recycled paper
In life many times it happens that what we plan is not the outcome. Alberto Villarreal, who leads a Mexico City based firm, AGENT, recently has been part of such a game play. To celebrate a decade of their work AGENT was preparing a book. However, due to a printing error hundreds of them became useless. The mistake became a reason to recycle books. Furthermore, 11 designers and firms were invited to turn books into artistic designer objects. The designers roughed out many ideas. However, in the end a skateboard named "EOSkate" was designed using the paper by mixing it with resin. The outcome was result of the collaboration with Guadalajara's EOS Mexico. a firm founded by two brothers, Sebastian and Mauricio Lara.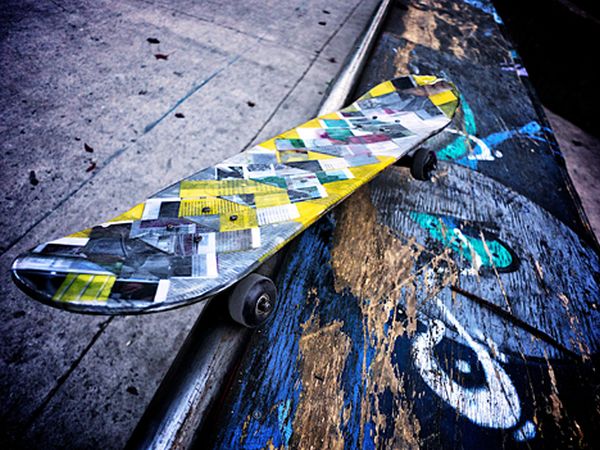 As told by Villarreal, the mistake was seen as opportunity to experiment with the available material. The colorful pages of book encouraged them to go for graphical content but as the experimentation begin with the paper new things came up. Since its inception didn't follow a logical process so no one knew about the outcome. However, new ideas came out while experimenting and analyzing the paper properties. At start paper was cut and folded resulting into tons of woven designs of graphic content.
Read More: Why to opt for eco-friendly transportation?