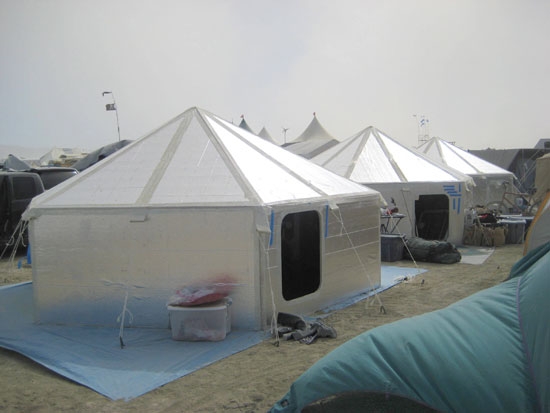 Eco Factor: Emergency shelters make use of ecofriendly technologies.
HOMErgent has developed a range of emergency shelters that can be used to provide temporary living space for people who have lost their homes in a catastrophe. The easily transportable, flat-packed, high-quality shelters make use of existing ecofriendly technologies for heat and power.
Based on a "hexayurt" design, the shelters are equipped with solar, wind and geothermal energy generators to provide users with off-grid energy. The company claims that the unique shelters can be deployed like a tent but last like an automobile and live like an apartment.
The robust shelters have an estimated lifetime of about 20 years and are resistant to fire and moisture. The shelters' unique design allows them to withstand over 70mph winds, and they are user-repairable with replaceable components.
Via: Dvice