Wrist watch is a small accessory, which can build or break your outfit style, poise and posture that grabbed attention. Men hardly wear jewelry, so a watch is an only way to reveal his personality. Many of them have a collection, so as to wear a proper timepiece that accentuates their outfit on a specific occasion.
How to pair clothes and wristwatches?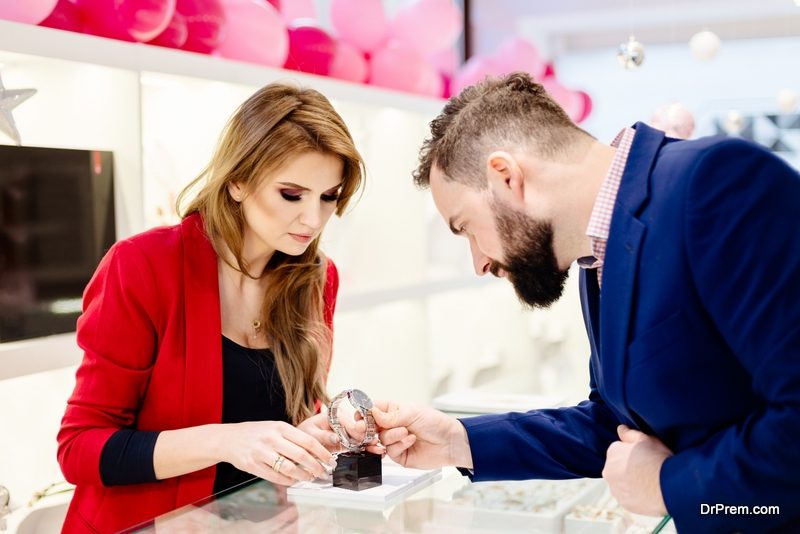 Watch needs to be an addition to your outfit instead of standing apart from it. It is useful to tell time, which can even be seen on your Smartphone. However, a true gentleman wears watch not only to see time but also to reveal their personal style.
Match watch with outfit
To understand this aspect for get familiar with different watch types, there are two types of digital watches having LCD display showing numeric forms and have plastic/rubber straps. It is actually a fitness tracker kind of watch that pairs well with the athletic wear. This kind of watch is suitable with your casual wear; no matching is needed.
Analog watches with hours and minute hands are formal and classic. Businessmen choose Hamilton Jazzmaster analog models because it blends with every kind of suit.
Analog watches category for men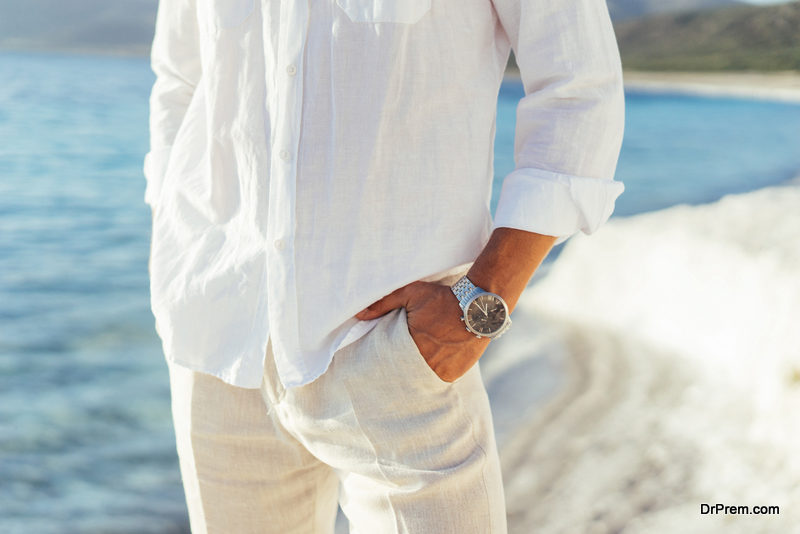 Dress watch – A plain white dial with Roman numerals or hash marks or no numerals looks simple, sleek, and sophisticated. No extra features, but a thin black strap adds elegance.
Racing or driving watch – Size is medium to large, which clearly sports Arabic numerals. Case is steel and strap is either leather or metal.
Diving watch – The watches feature medium sized face, deep water resistance, easy to read hash marks or Arabic numerals, and metal bands.
Field watch – Field watches are designed for rugged environment. Small to medium size face with Arabic numerals and canvas or leather strap.
Pilot watches – It has oversized dial, luminous hands, legible numbers and dates. Specially designed for cockpit use and the strap is leather.
Watches, outfits and events
White/black tie event – Small watch with minimal embellished dial and a black leather strap is fine.
Business dress – Simple, classic silver or gold watch having thin dial with no/limited complication and leather strap can be worn with dark conservative suit.
Not totally casual – With button down shirts [no tie], sports coat, khakis, leather shoes, dark denim, etc. you can choose large dial watches or timepieces with more complications. Every kind of watch mentioned above can be worn.
Casual – All kinds of wristwatches, except dress watch will look good with casual clothes. If you plan to engage in physical activity, then choose field watch.
Wearing a Smartwatch means wearing phone on your wrist, which may cause more distraction when communicating with another person.
Watch strap and outfit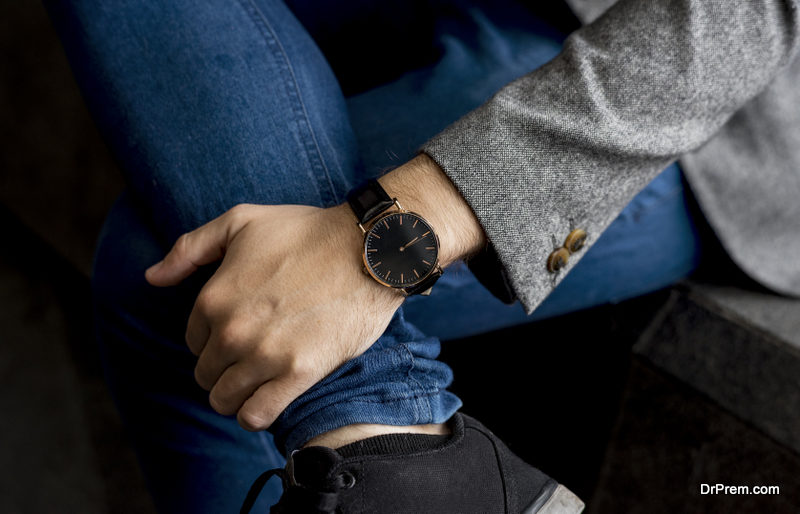 Silver or white gold with silver band is not correct for majority of formal events but it can complement your dressy occasion outfit.
Leather is right for formal wear but black is more appealing than brown.
The color of leather strap needs to match with the shoes and belt.
Metal straps go well with black or brown shoes but you will find that silver blends well with shoes and clothes in blue, black and gray shades, whereas gold goes best with earth tones like brown, beige, and tan.
Article Submitted By Community Writer