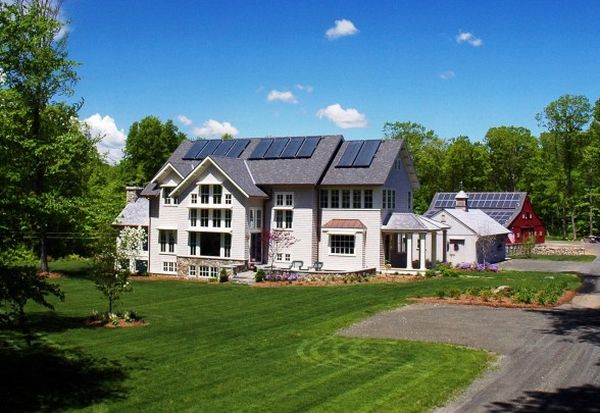 The futuristic eco friendly houses aim at conserving vital non renewable sources of energy. This also implies that these green projects target at cutting down of domestic electricity bill. The success of these green homes lies in the fact that they never compromise with the basic requirements of living conditions in such projects.
Material wise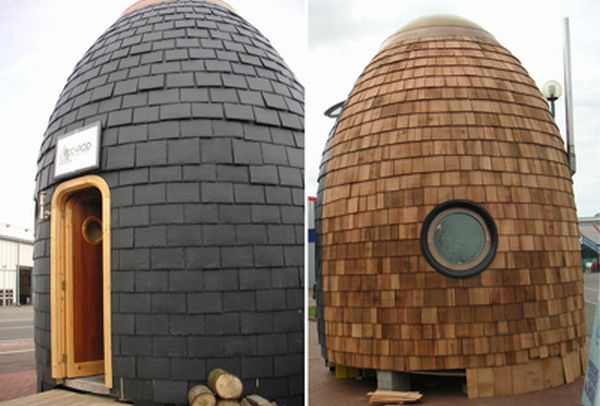 1. La Casita Encantada
La Casita Encantada echoes creativity along with eco consciousness. This unique cottage had been built by 78 years old Maria Ponce and her 102 years old husband, Prudencio Amaya near El Transito in El Salvador. In order to fight poverty the couple made use of recycled plastic bottles to build their hut. But, it became the glaring instance of an eco green house which is visited by thousands of tourists.
2. Phoenix Commotion Houses
Brainchild of Dan Philips and his better half Marsha, Phoenix Commotion Houses offer low cost low homes with a green label. Any scrap material that you could ever think of can become a part of the exoskeleton of these houses. Thus, the base material includes bricks, broken ceramic tiles, thrashed woods, wine corks and the list is endless. These houses are extremely durable and are constructed by consulting all house experts like architects, plumbers, electricians and engineers.
3. Big Dig House
The 51 years old civil engineer, Pedini from Boston is a green activist who makes use of discarded top shelf materials like concrete, steel, cement, etc. in making public houses, public parking spaces, replacement bridges, etc. This time it is Big Dig House, a 4300 sq. ft. home that he has built atop a hill in Lexington, Boston. 600,000 pounds of discarded steel and concrete went into the making of this green home.
4. Eco-pod house
This project boasts of its water harvesting system. Built by Aidan Quinn, the pod has solar panels fitted on top. These panels capture solar energy to heat up the water. A wind turbine generates power from wind energy. A wood burning stove is also kept handy for instances when wind is not blowing. The dry toilet is worth praising. The tiles that make up the surface of this eco pod are made from recycled car tires.
5. Beer bottle house
The attempts of the eco conscious enthusiast, Tito Ingenieri from the city of Quilmes is immensely praiseworthy. He has been making eco green houses from discarded beer bottles since nineteen years. So, he could save the landfills from getting dumped with six million beer bottles so far. A special feature of the houses is that the wind arising from the river makes the beer bottles whistle to denote whether water level is rising up or not.
Energy wise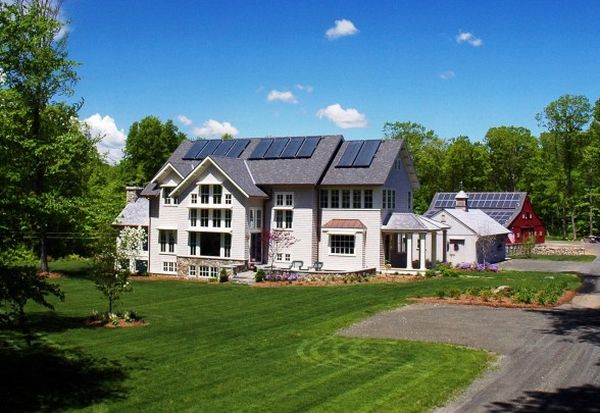 1. InVision Zero by Dow Chemical
A zero energy consumption home has been built up in Michigan by Dow Chemical Company and Cobblestone Homes. The features that make this green house energy efficient are its air sealing products, solar shingle by Dow, geothermal heat pumps, solar water heating arrangement, LED lighting and highly energy efficient gadgets throughout the home. Hence, the house is estimated to save $3,507 for electricity charges together with prevention of 44,855lbs of carbon footprints annually.
2. Green Tomorrow House by Samsung C&T
This eco green house is a great achievement of Samsung C&T in Yongin, Gyeonggi. This green house dispels the use of electricity or any other sources of fuel. It has 68 energy saving and energy generating systems as green replacement.
3. Icynene Integral to Connecticut's First Net Zero Energy Home
This green home in Connecticut is an exemplary green project that uses no fossil fuel or electricity to meet its energy requirements. Icynene spray foam insulation is used on the walls to meet the energy requirements, which is a green alternative.
4. Empowerhouse
A joint effort of the eco conscious community, Empowerhouse will be segregated into two green projects. The first one will be part of Solar Decathlon and the second one will be constructed as a collaborated effort of Habitat for Humanity in Deanwood. These zero emission houses are self sufficient and will save almost 40% less energy by virtue of their eco conscious architectural design and green gadgets inside it.
5. E-Cube house
This green home is the effort of Ghent University of Belgium. Easy to assemble and dismantle, these houses are energy efficient, affordable and leave no carbon footprints.
Design wise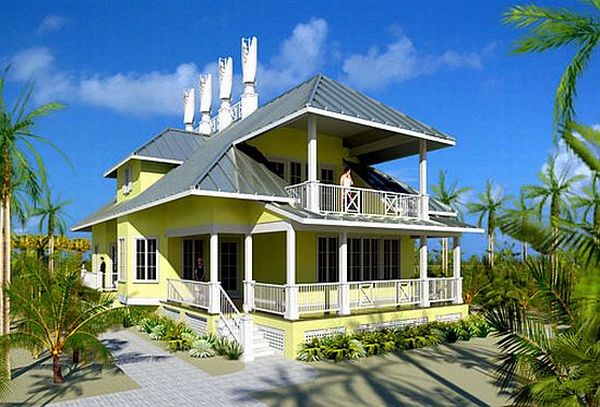 1. Landhouse
These Landhouses, the brainchild of Mark Merer comprise of waterproof exoskeleton with insulated panels inside. These trap sunlight to meet the energy requirements of the residents inside. They are available in three sizes to suit different customer needs.
2. EDGE house concept
Edge House, situated in Checquamegon Bay in Bayfield in Wisconsin reflects its rainwater harvesting schemes and solar power generation system. Designed by Revelatiions Architects, Baltic birch plywood has been utilized to create its framework. The rain screen and the shutters are made from indigenous white oak wood. This green dwelling also features geothermal heating and cooling, insulated exterior shutter door to minimize energy loss at night and air to air heat recovery arrangement.
3. The Pearl
Designed by David Fanchon, this green house features a functional dome. This dome acts in capturing solar energy together with the provision of shade. Its south facing location assists it in trapping sunlight to the optimum. The automatic venting system helps to trap solar energy in the winter months too. The timber paneling in the interior cuts off heat retardation.
4. Eyelid Home
A normal house got green makeover in Melbourne, Australia. Credits should be given to Fiona Winzar Architects who gave the house an eyelid shaped roof. This specialized roof regulates the internal heat and retains the privacy of the residents in it. The solar panels, water saving toilets and temperature regulating insulation are other attributes that make Eyelid Home truly green.
5. Affiniti Architects Home for Chub Bay
This green home, still in the concept stage will be solely powered by solar and wind energy once it is finally erected. The four wind turbines and the highly efficient solar panels will fulfill the energy requirements of the house. Among the other eco credentials, the metal roofing will work towards reduction of cooling cost and the tankless water heating system will take care of hot water requirements.
Designed for the future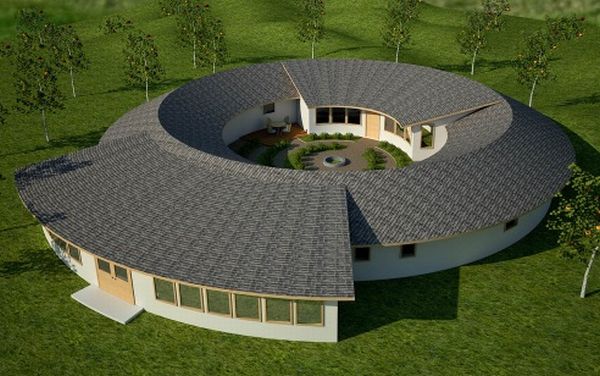 1. Lake House
Conceived by Emre Senoglu, Lake House will aim to recycle natural resources. The most prominent example of this is the rain water recycling arrangement found in Lake House. So, in exchange of minor emission and energy consumption what the residents will get is more energy that will be conserved and used repeatedly to meet their every day requirements.
2. Torus Design concept house
Inspired by the movie Thrive, Torus Design will be a green project that aims at developing renewing energy and food production methods to feed the growing population. Built with 2,224 sq. ft of internal area and 1,520 sq. ft of external area it has enough room to house bigger families too. The eco credentials of this green house are rainwater collection barrels, organic food forest and self sufficient features.
3. Solar powered House by Fabi Architects
Fabi Architects have come up with the ides of affordable housing concept with green credentials. Thus, the prototype solar houses made by them, known as "House of the Furniture" will have numerous provoltaic panels that capture solar energy. The angle of the wall and the roof of this prototype house are wisely done to maximize the availability of sunrays. Highly insulated timber frame forms the basic material of this house. It further comes with FJI beam. All these aim at reducing energy loss, exposure to maximum natural light and curtailing unwise use of energy.
4. ReVolt House
It is an intelligent green housing project conceptualized and developed by the students of TU Delft, an institution of Netherlands. It works towards reducing the pressure of the teeming population on land. ReVolt House is a houseboat equipped with solar rooftop that traps sunlight to meet the energy requirements of people living inside it. Wind power helps to compensate for the lack of solar energy on cloudy days as well.
5. House for 2050
This is a green housing plan proposed by M&A Architects. It was showcased at the Materials & Technology Exhibition, Tabriz International Exhibition Co., Iran. The concept of "Houses of 2050" emphasized on use of wind and solar power in place of petroleum. The root factor behind this idea was that petroleum will be exhausted by 2050. Thus, provoltaic glasses at the exterior of these houses will be set up to trap solar energy during day time and provide illumination at night. Wind energy will also be harnessed to create electricity by wind turbines. There will also be options for storing the same for future use for "Houses of 2050".