Every family on earth aspires to have a home in their life time. Having a home is like realizing their long standing dream. A home is like heaven on earth for every family. And the doors are integral part of that heavenly abode. A typical home consists of interior and exterior doors. The exterior doors enhance aesthetic beauty and give elegance to a home. Hence selecting a suitable exterior door for your home is very important as it also involves security aspect. More often than not people neglect important aspects like security, durability, strength and sustainability over external beauty of a door. But while selecting an exterior door you should take care of every aspect. The external door should also comply with the architectural design of the home.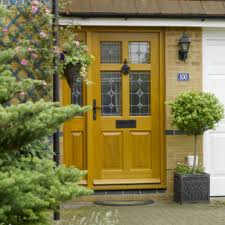 Several factors govern the selection of exterior doors. Surrounding environment, weather, location and budget are a few important factors that affect selection of doors. Out of these factors, the dominant factor takes the final call on the selection. For instance in regions where severe weather conditions prevail, doors must be selected in accordance with the weather, so that they can endure such hostile conditions. The location also plays major role since homes located in urban areas need more secure doors than countryside areas. After considering these factors, you should take a call on which door fits in your pocket best. There are several types of exterior doors available in today's market. Here are few important types of doors.
Wooden doors
Doors made from wood are being used from ancient times. Wooden doors are still the major players in market around the world. Though several others types of doors are available in the market, wooden doors will hold their place for some more time to come.
pros
Wooden doors can be easily modified according to the need of home. They can be easily chiseled to form decorative designs. Different accessories like glass, steel, fiber and plastic can be fitted on them to give elegant look. They can also be painted and polished easily. If proper care is taken, they can withstand long spells of harsh weather and remain durable.
cons
Though wooden doors give elegant look to homes, sometimes they fail in other aspects. Wooden doors catch fire easily. They also warp and crack. They can be easily broken with hard equipments posing security threat. They are susceptible to termite attack hence they need regular maintenance so that they remain intact. They can't be recycled or redesigned. The cost of Wooden doors varies in accordance to the source. Most of the time they are costly and can't be afforded by common people.
2. Steel doors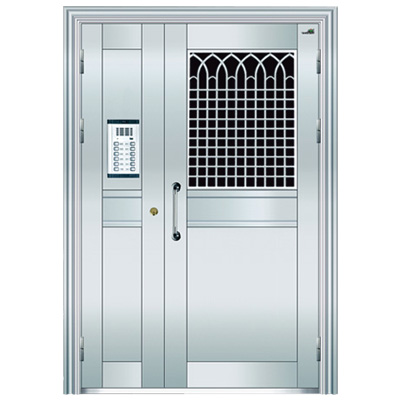 Steel doors are gaining popularity around the world and they are highly preferred after wooden doors. Dwindling forests and high cost of wooden doors is drawing people to look for other options.
pros
Steel is high on strength. It can withstand hard blows from sophisticated equipment. Steel doors are fire proof. They can't be easily broken hence ensuring full proof security. They can be easily painted to give different looks. Steel doors can endure harsh weather conditions like hurricane and tornadoes. They are recyclable and environment friendly. Wide variety of steel doors are available in the market at affordable rates. They are low on maintenance.
cons
Steel doors are susceptible to corrosion. They don't give as good aesthetic look as wood. Steel doors have nil or minimum decorative possibilities. They don't look elegant on mansions and other big houses.
3. Fiber glass doors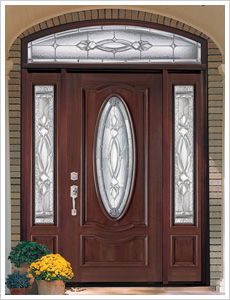 Fiber glass doors are relatively new to the market. They are slowly but steadily replacing wood, as they can be made to look like wood.
pros
They are durable, secure and fire proof. Fiber glass doors resemble wood doors but are a lot more cheaper than them. They are maintenance free.
cons
Though Fiber glass doors look like wood doors but they don't give the feel of wood. Fiber material is considered as choking hazard. Aesthetically they can't compete with wooden doors.
4. PVC doors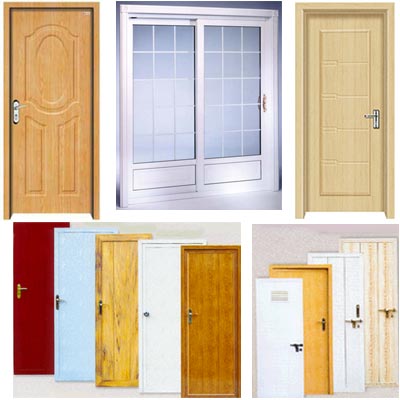 You can't ignore plastic in today's world and doors are no exception to that. Doors made from plastic are widely used in third world countries.
pros
They are durable and fire proof. They can be easily dismantled and carried. They are cheaper than any other doors available in the market. They are maintenance free.
cons
PVC or Plastic doors are choking hazards and are not environment friendly. They are not suitable for big houses. Security is major concern since plastic doors can be easily dismantled.
5. Glass doors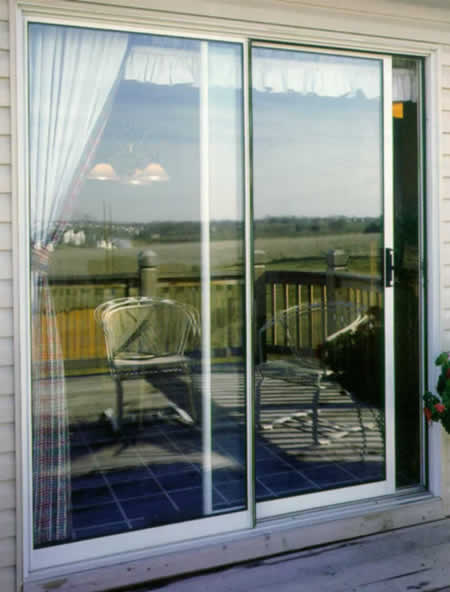 Sliding glass doors are new trends among urban architectural designs. They give beautiful look to a home allowing light to penetrate freely.
pros
They are fire proof. Sliding doors give modern look to homes as they can be automated. They allow light to penetrate thus saving valuable electrical power.
cons
Glass doors are not meant for big houses. They don't have much decorative possibilities. Glass doors don't provide privacy and they are not secure.
6. Medium density fiber board
Medium density fiber doors are also popularly known as MDF. MDF is eco-friendly and can be easily affordable. It is easy to paint and work on for decorative purposes. Extensive research is still going on in developing MDF doors.