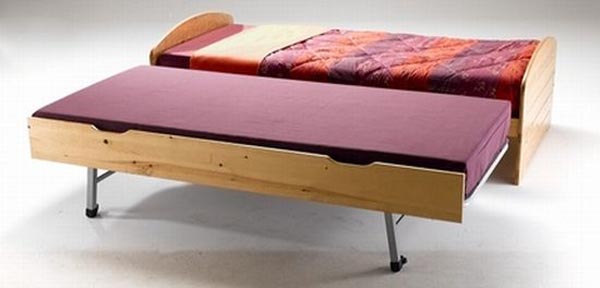 Modern eco friendly products aim to cater to all aspects of living. From vacuum cleaners and furniture to clothes and shoes, everyone has a chance to go green. Now, green beds appear to be making it big by combing eco friendly materials and comfort for a restful sleep. This way, not only do you do your bit for the environment but you get closer to nature as well. Have a look at some of the best eco friendly beds we've seen that could easily trump those made using non-green materials.
Eco-friendly Topaze pull-out bed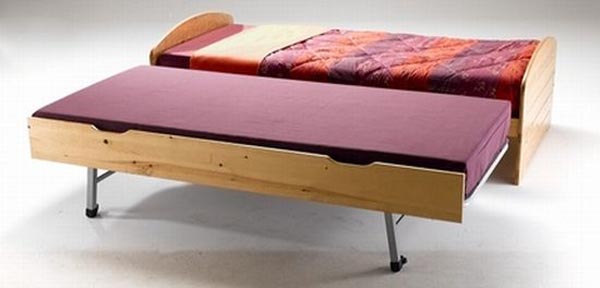 We could all do with an extra bed despite small living spaces. The eco friendly Topaze is a pull-out bed that's a good space saver while at the same time providing you with an additional place to sleep. It's stylish and handy and is made using ecologically harvested wood and a metal frame. The top level features a simple head and footboard while the bottom can be pulled out to make space for unexpected guest. What's unique is that the second bed can rise to the level of the first owing to the automatically opening legs. Buyers can choose from gross sanded, tinted wenge, white lacquered, natural and varnished natural cellulose.
Organic bed for Tonin CASA

Italian architect Angelo Tomaiuolo has designed SLEEPY, an eco friendly bed that's contemporary and compact. The bed was created for Tonin CASA's line of contemporary wooden furniture. It's made out of what appears to be a single upholstered eco fabric though parts of it differ in finishes. The raised headboard is encased in the same colored fabric as that of the body and below the headrest is a space for pillows and a mattress. The overall design combines comfort with contemporary fashion that would go well in modern homes with a minimalistic look.
Oeuf Sparrow Trundle Bed brings you closer to nature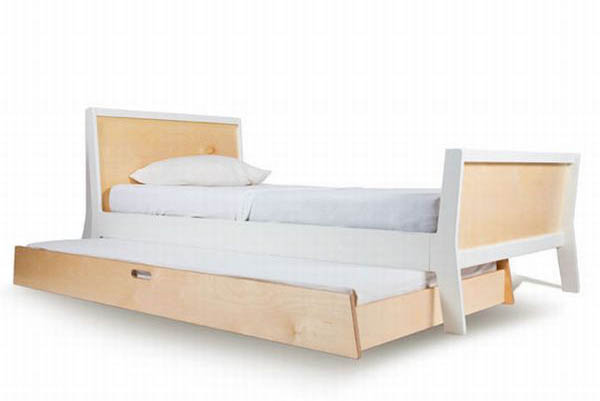 Oeuf Sparrow Trundle Bed is another space saver that's ideal for small rooms. It features a top level and a bottom that can be pulled out. The wooden bed has a natural birch finish that gives it a simple and basic appearance. The frame has been constructed out of Baltic birch plywood and solid birch from sustainable sources. The Sparrow Trundle Bed is also ideal for children as it makes use of a water-based non-toxic coating and conforms to safety standards of Canada, the United States, Europe and Australia.
Ecotypic Bed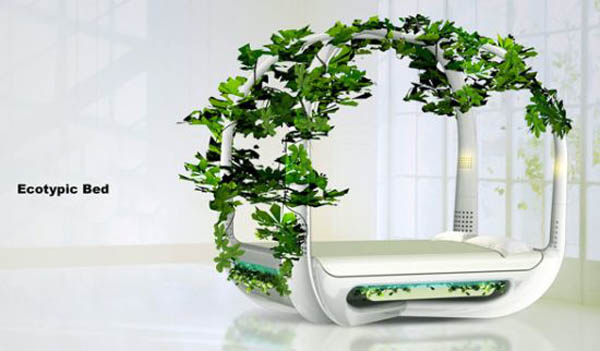 If you've always wanted to feel close to nature but can't make the time, Ecotypic Bed could just help you realize your wish. The cleverly designed bed allows users to grow plants for added freshness while providing them with entertainment. A flower box at the bottom lets you grow plants to creep up the side supports. Integrated speakers on the pillars provide soothing music as you relax while LED lights offer illumination for reading. A sport ring underneath generates kinetic energy to power the speakers and the lights.
TiZ Bed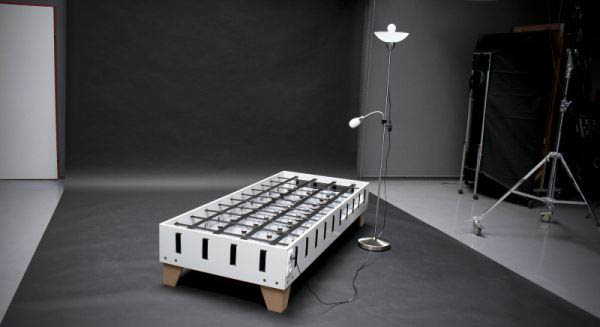 Join Massimo Vignelli has designed a unique bed that makes use of linear electric generators instead of bed springs to produce energy to illuminate a lamp that's plugged into the bed's frame. Energy is produced through movements made on the bed and is stored in a charger that's used to power the lamp. There has been no word on just how much energy TiZ Bed can produce but Vignelli's effort is appreciable as it offers users a chance to create their own power.
Sustainable Buden bamboo bed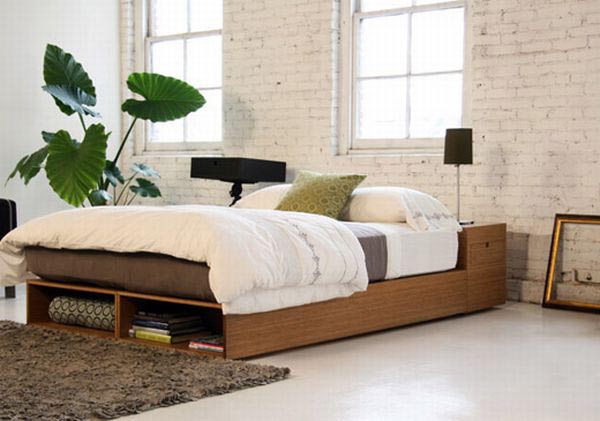 The Buden bamboo bed is a product of the Buden bed company. It features storage space at the foot of the bed, ideal for small rooms that lack such utilities. It's simple and contemporary looking and comes in a range of sizes like cal-queen, queen bed, queen size, twin bed and full bed. They're a little on the pricey side costing about $2,290-3,580 but considering they're made out of sustainable bamboo, it's a reasonable price to pay. Buyers can also get themselves a floating coffee table for $748.
Amenity Muir Bed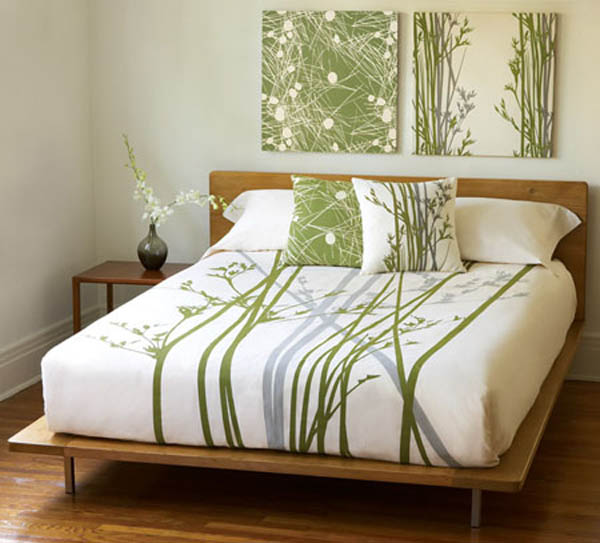 Nicole Chiala has designed a beautiful eco friendly bed for Amenity using reclaimed Douglas Fir wood, water-based materials and finished with low VOC. Named after conservationist John Muir, it is constructed by local artisans, features a high headboard and is available in twin or cal-king sizes.
Eco-friendly bed by John Wiggers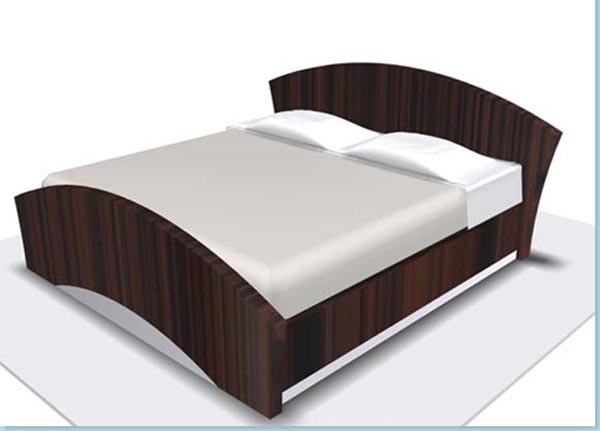 The Irenic bed is a product of John Wiggers's design that's made using sustainable wood and a non-toxic dark brown finish. It has an arched head and footrest that's classic in style. It's available in king and queen sizes and features a quartz stone on the side railings sourced from India's Narmada River, which is believed to have healing powers.
Seagrass Sleigh Bed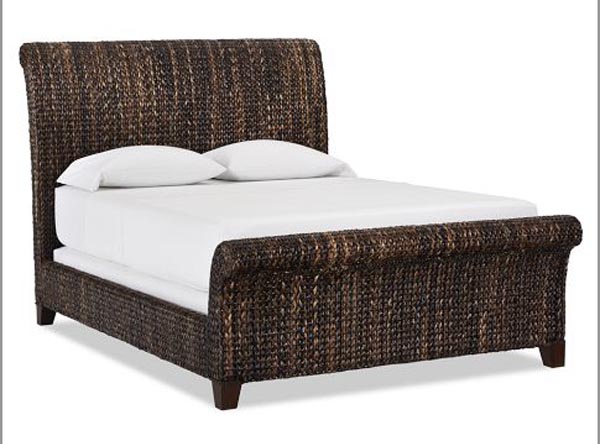 Pottery Barn has designed a unique and extremely beautiful bed made out of seagrass and resembling a sleigh bed. It sports a woven natural seagrass layer and is coated with two layers of clear lacquer to make it moisture resistant.
Grass bed for the lazy environmentalist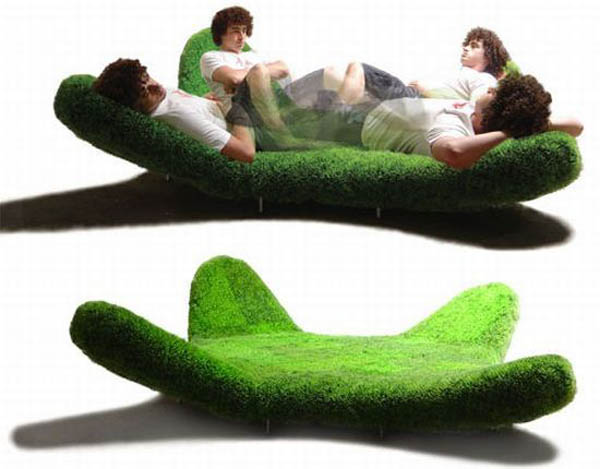 Get back to the basics with this star-shaped grass bed that makes for the perfect recreational zone. It features short metal stands and raised backrests. We aren't sure if it needs to be watered or if it's even in production. All we know is that it looks like a plush and relaxing piece of furniture.